What is Lipomed?
A ground-breaking 4 – 1 Body contouring solution
Face and body contouring comes to Aesthetics of Essex/ Rayleigh. With high intensity (100KHz), we can achieve great results in minimal time with zero down time! Within one 20 minute session fat cells are broken down and the skin in the area tightened to achieve up to a 4 inch loss!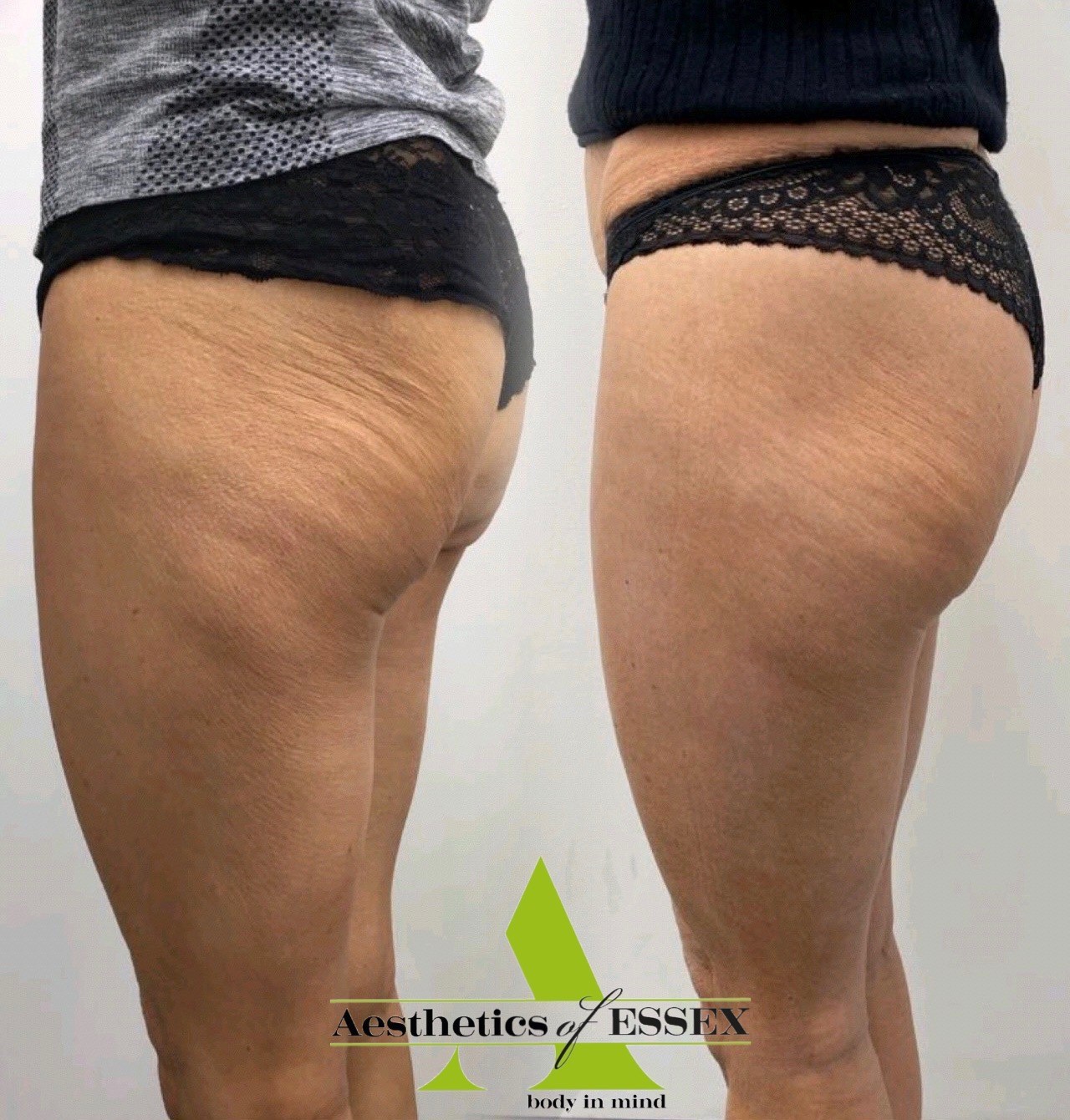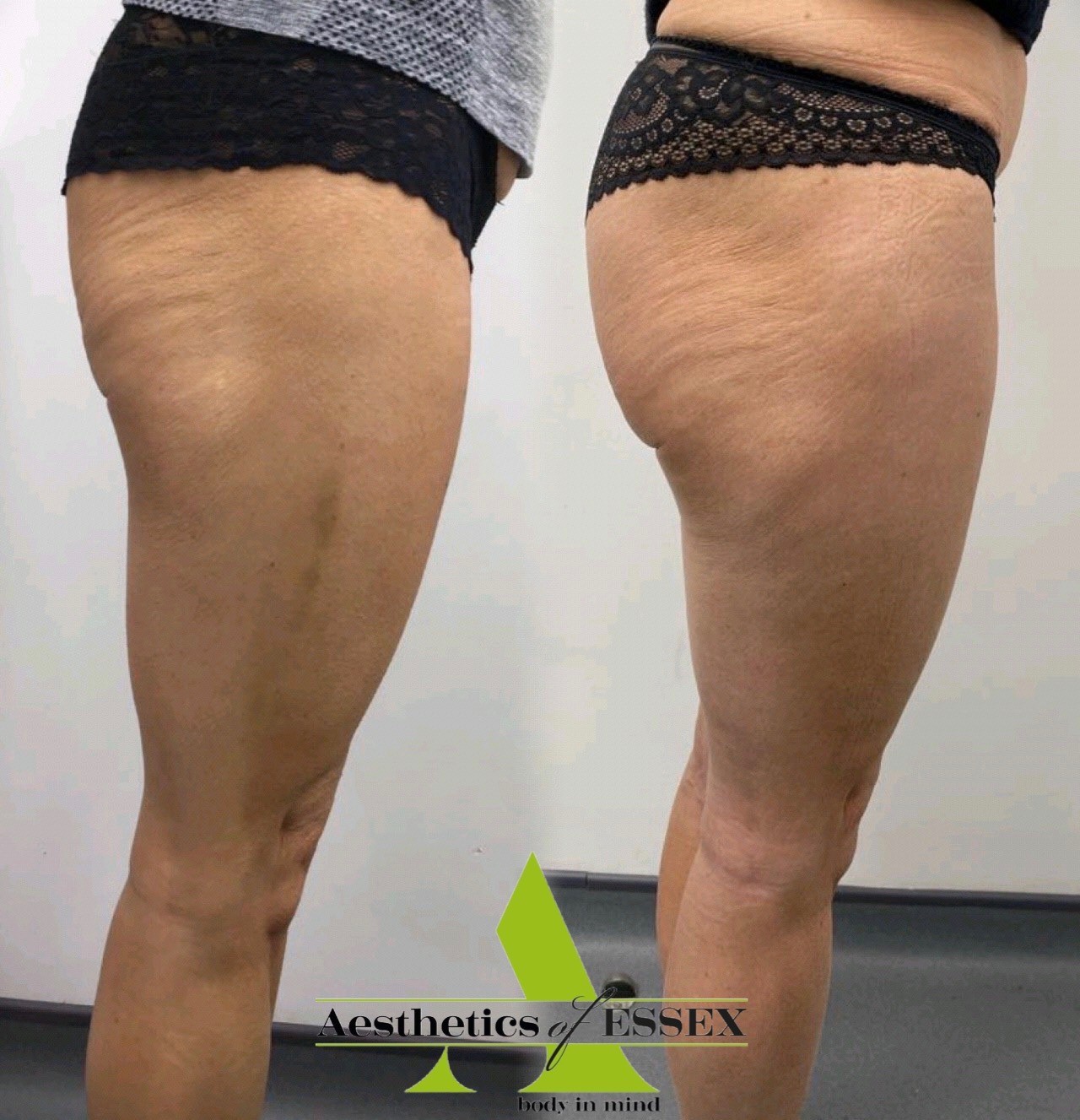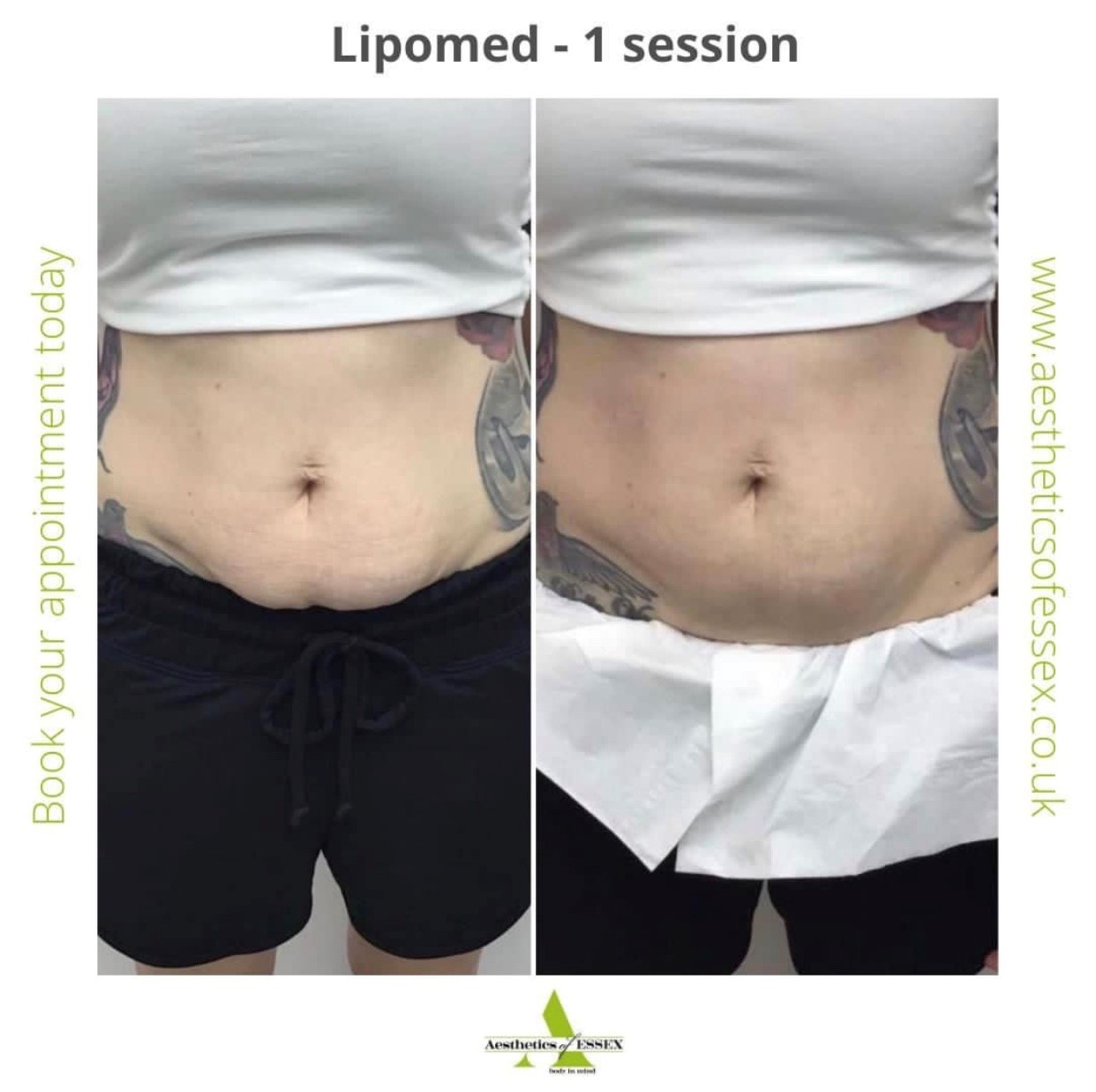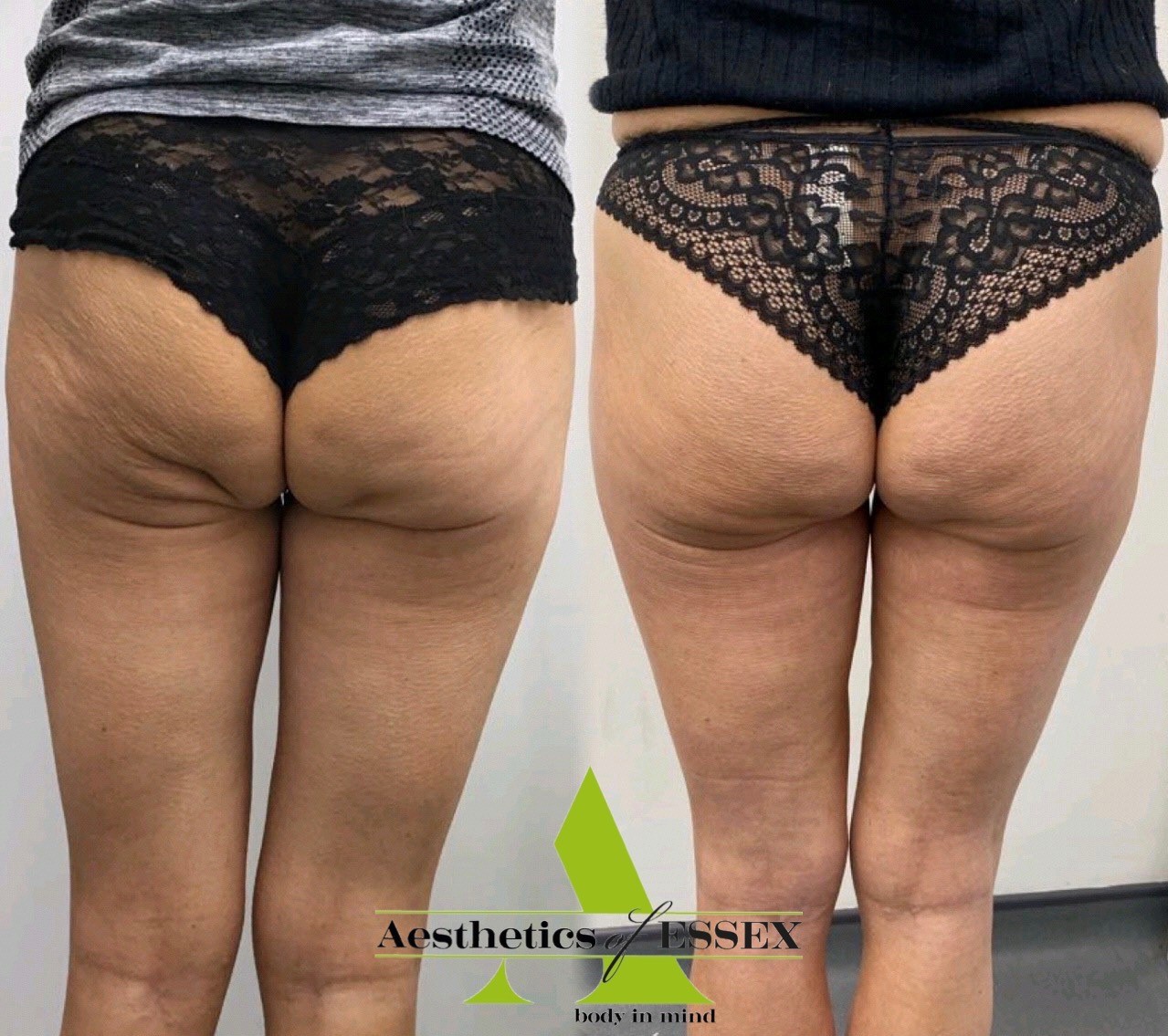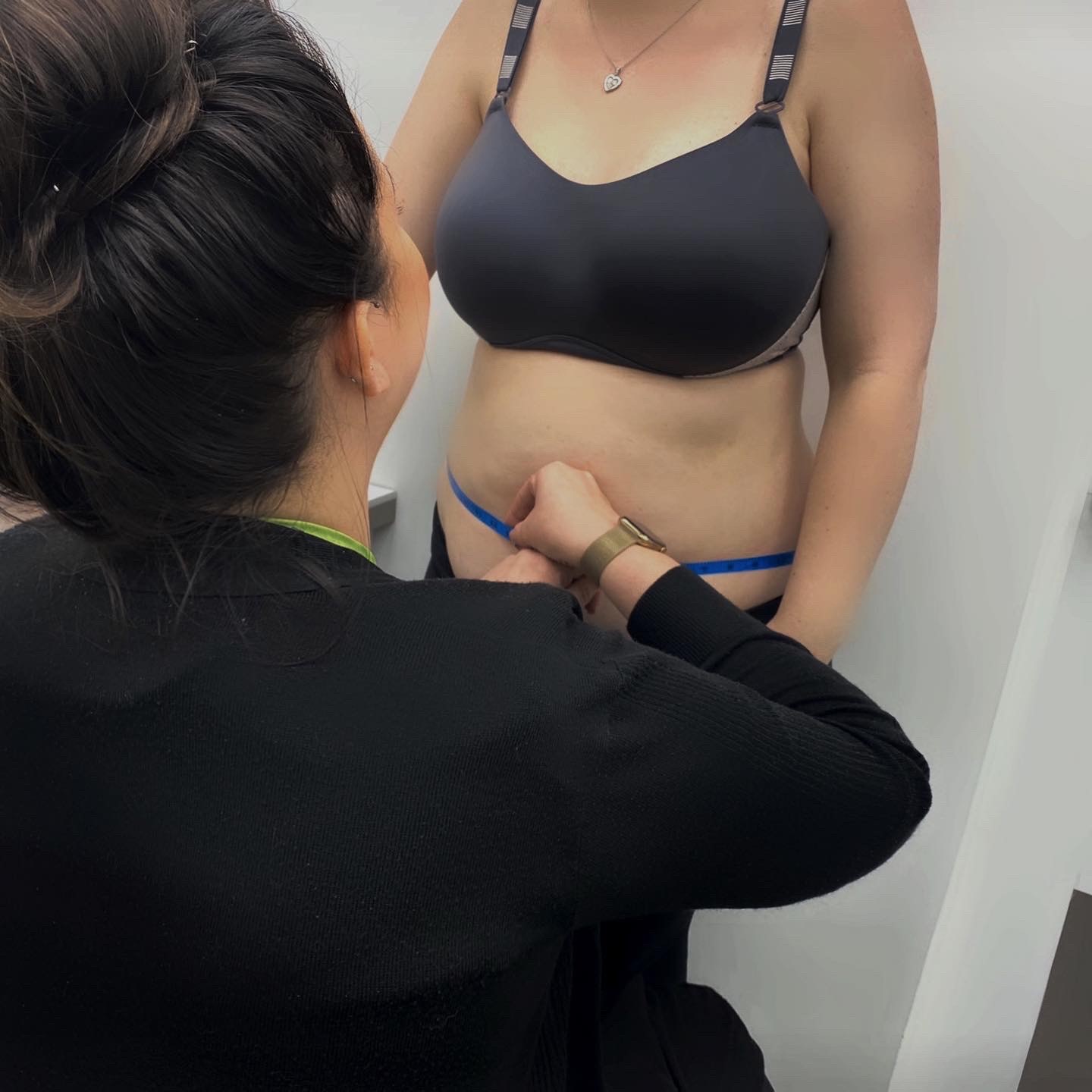 How Does It Work?
Cavitation – break down the fat! Cavitation uses Ultrasound to disrupt the fat cell membrane turning the fat cell into a fatty acid. The fatty acid liquid is used as an energy source and the rest of the fatty acid that is insoluble is transported to the liver to be processed.
Radiofrequency – tightens the skin! Heating the area to 40 – 45 degrees stimulation fibre contractions within the connective tissue that creates collagen and elastin.
LED – Rejuvenates the skin! LED light speeds up cell production making the skin turn over stronger and faster resulting in fresher looking skin in the area.
Vaccum – Lymphatic drainage! A suction is applied to the skin which causes lift and stimulation to the underlying tissue structure. Vaccuum suction is aimed at improving blood flow to the area and kick starting your lympatic drainage which in turn flushes out toxins in the area.
Frequently Asked Questions
What Should I Expect During My Consultation?
During consultation, you will be asked to fill out our specially designed consultation form. This will help our practitioners to determine your exact needs.
It is of up-most importance to us that you feel comfortable during your consultation and treatments so we will get to know you, your routine and your goals before we decide whether this is the correct treatment for you!
What are the Treatment Areas?
Stomach
Flanks
Thighs
Buttocks (lifting)
Arms
Chin
Breast (lifting)
What Can The Machine Target?
Instant Inch-Loss
Cellulite Reduction
Skin Tightening
Facial Lifting
Breast Lifting
Buttock Lifting
Does It Hurt?
No, not at all. Infact, many people find the treatments relaxing! The applicator is gently pressed onto the skin a moved around the area of concern the most you will feel is suction and slight vibrations.
How Long Are The Treatments?
Each body area takes 20 minutes of treatment. Some people will benefit from a double session if the treatment area is larger (this will be decided at consultation with your practitioner.)
We recommend 6 treatments per body area.
How much is it?
PAY AS YOU GO £99
PACKAGE OF 6 £300 (Special offer)
Certificates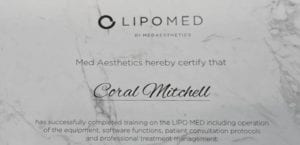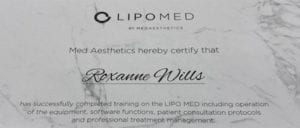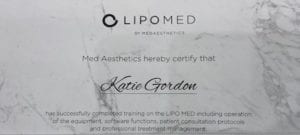 It is important to us that all our clients feel safe and in good hands when they come to Aesthetics of Essex.
Please do feel free to ask to view your practitioners full certificate when you are in clinic.
Summary of your Treatment
Procedure Time
30 Minutes Estimated
Full Recovery
24 Hours estimated
Duration of Results
3 - 6 months
Sensitivity Period
1 Hour
Risks and Complications
Infection, bruises, drooping brow, allergic reactions (e.g. swelling)