What is blepharoplasty surgery?
*Please note that we're only offering upper eyelid surgery treatments at the moment. We aren't treating eyebags at this time.*
Also commonly known as an eyelid reduction or eye lift.
Blepharoplasty is a type of cosmetic surgery, designed to remove excess eyelid skin.
As we get older, our muscles slacken and our skin loses its elasticity. It's a natural process that happens to everyone; but for some people, excess skin and fat start to gather around the upper eyelids and lower eyelids – causing significant folds and creases, saggy upper eyelid skin and bulging bags around the lower eyelid. Not only can this make you look older, severe sagging can also limit your peripheral field of vision.
Eyelid surgery Blepharoplasty aims to reverse this effect on the upper and lower eyelids. A tiny skin incision is made along the natural crease of the eyelid, allowing excess upper eyelid skin and tissue below the eyes to be removed. And as such, eyelid surgery can help to reduce or eliminate any vision problems and makes the eyes appear more youthful and alert.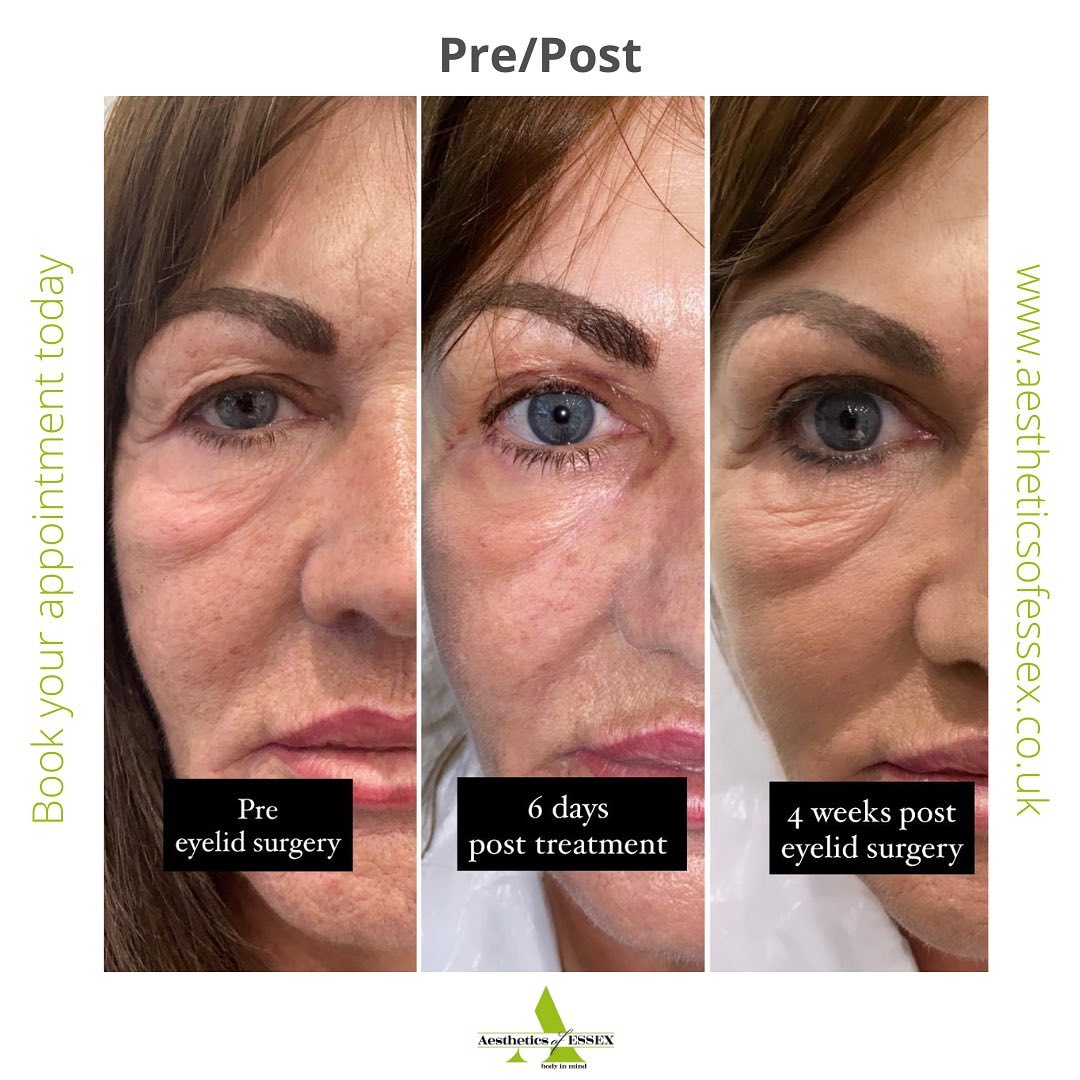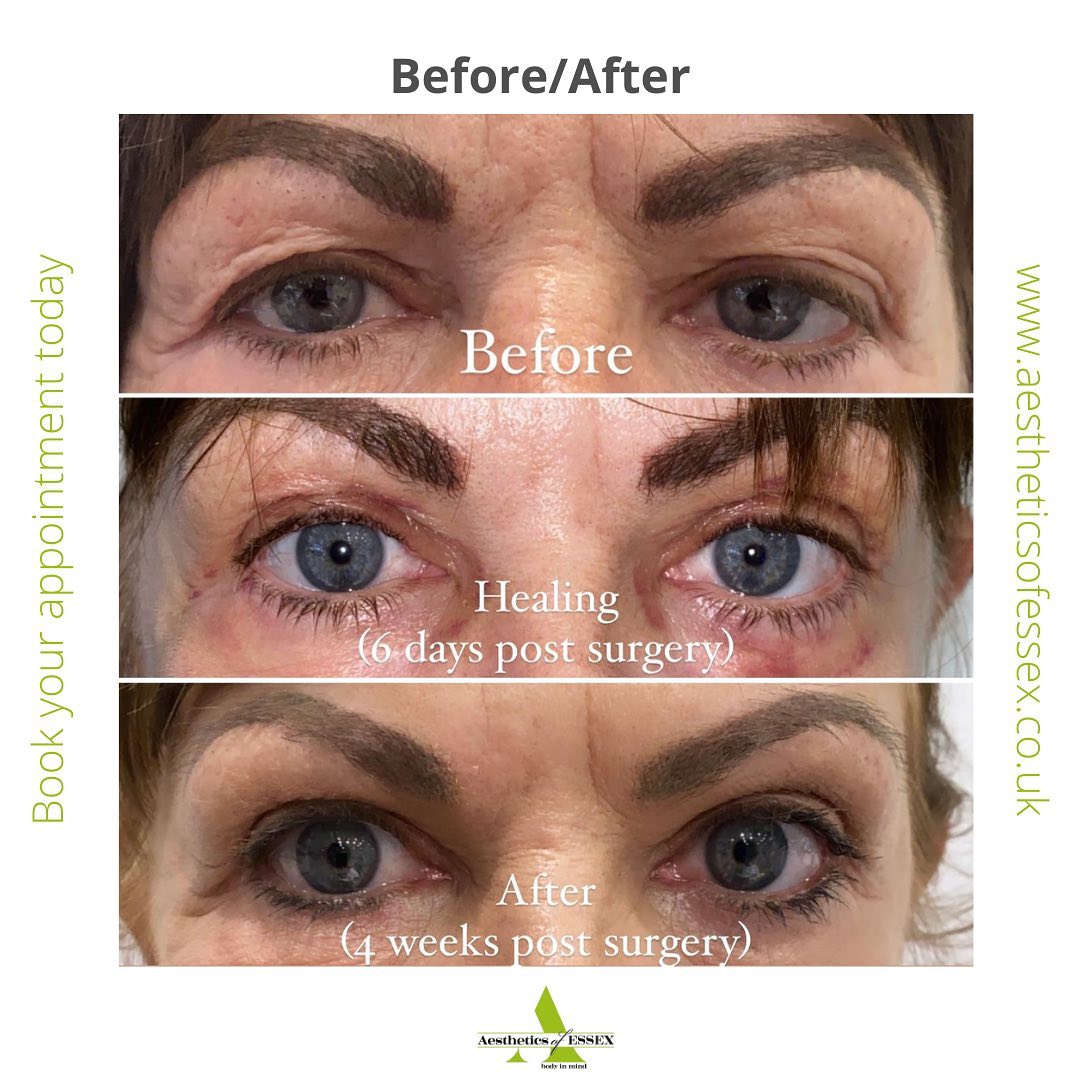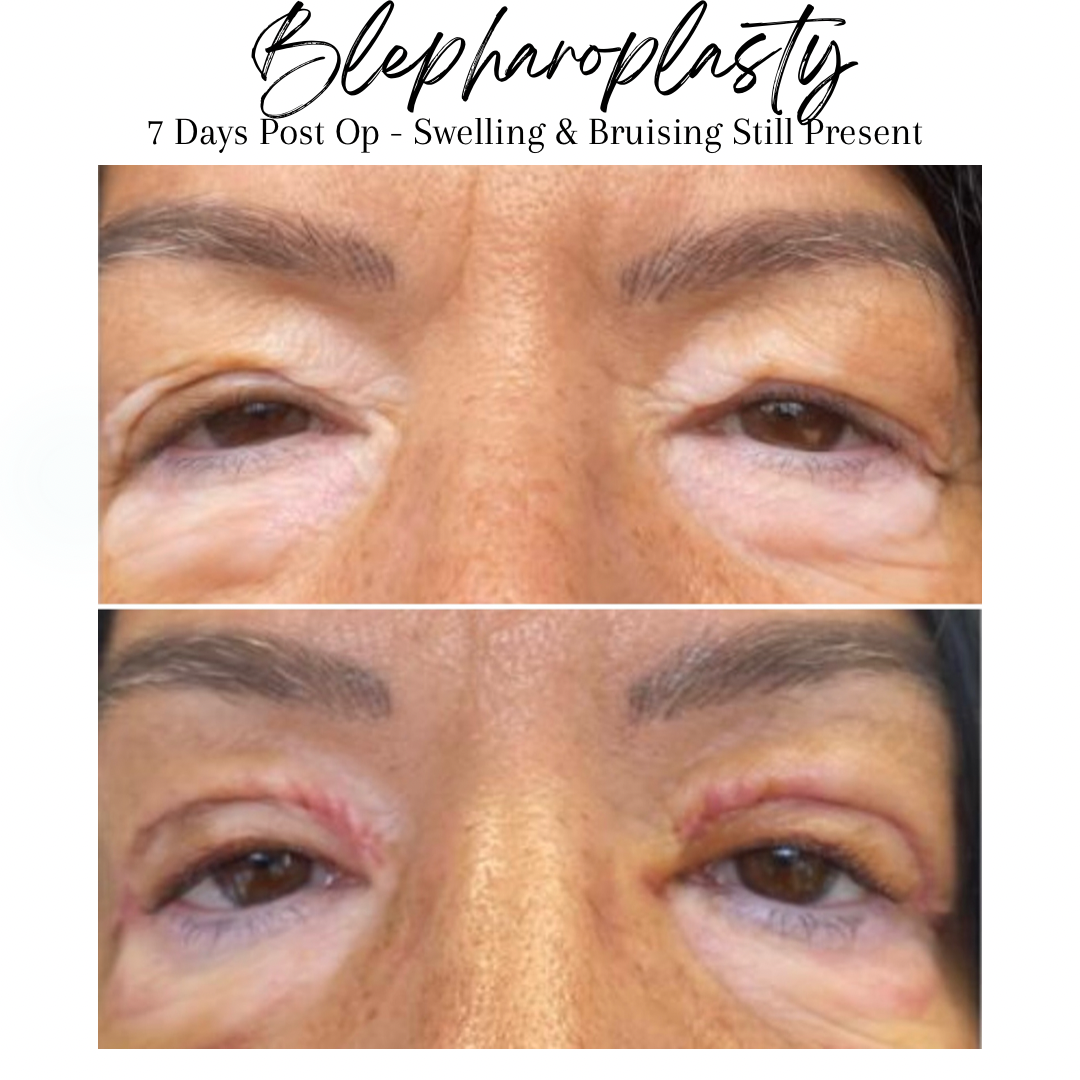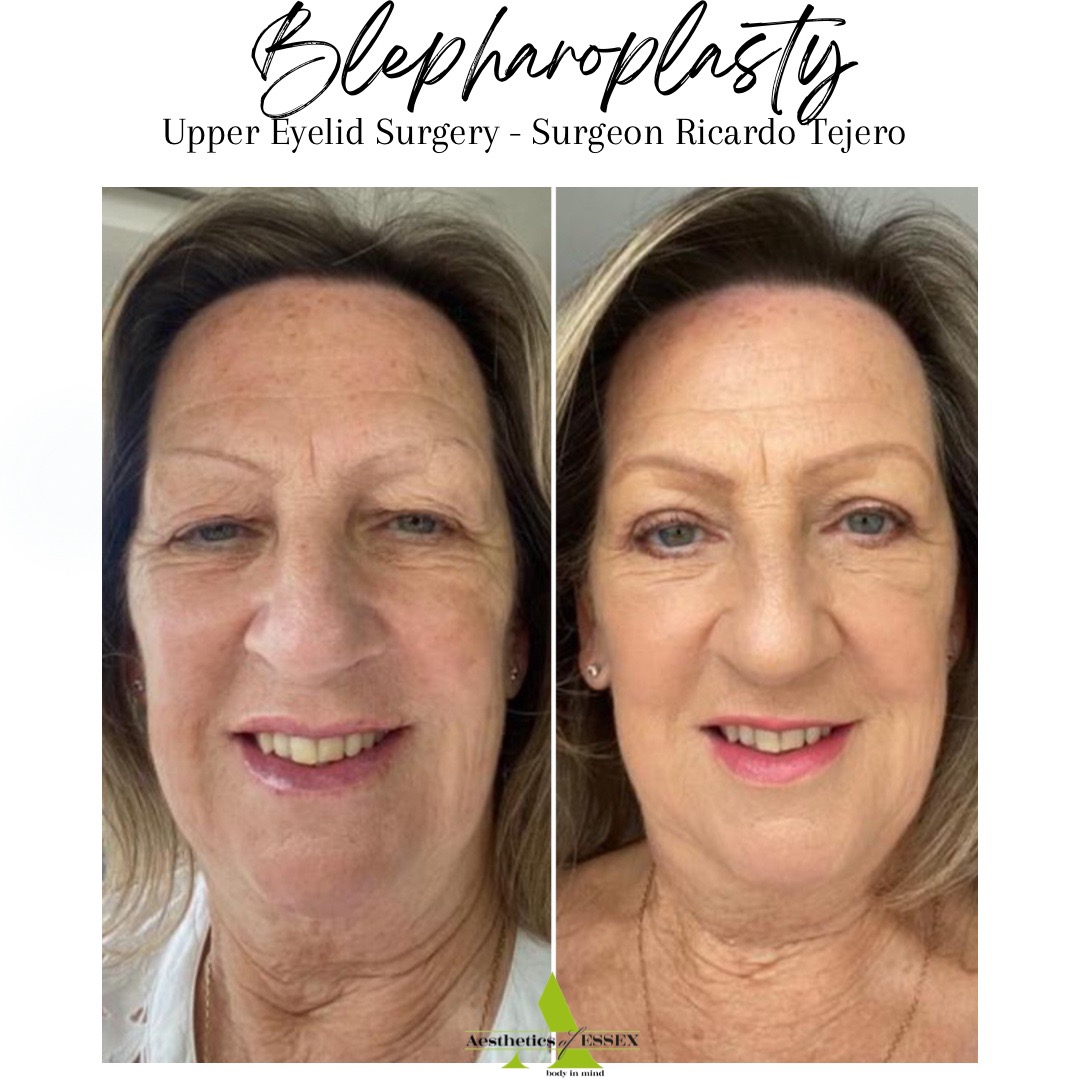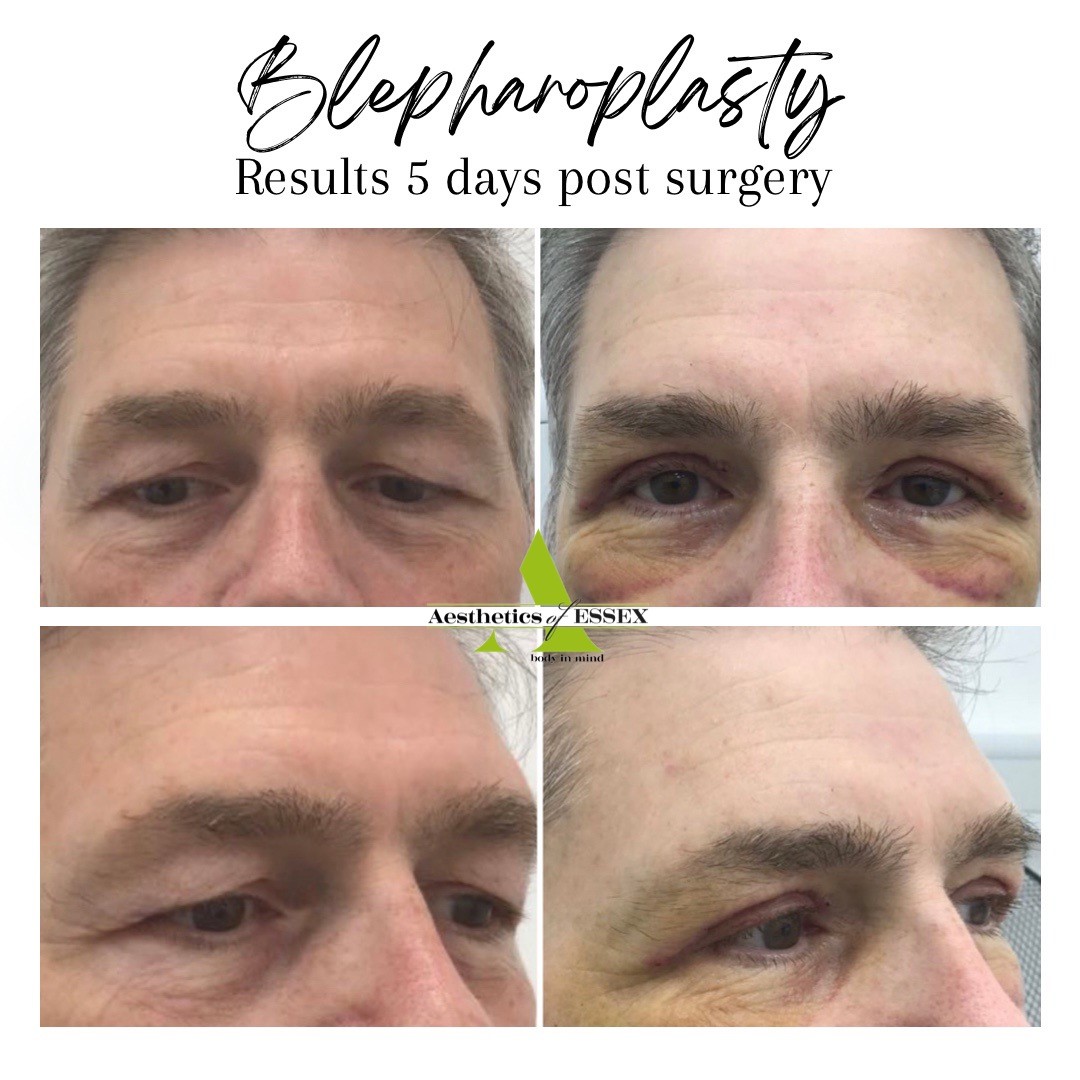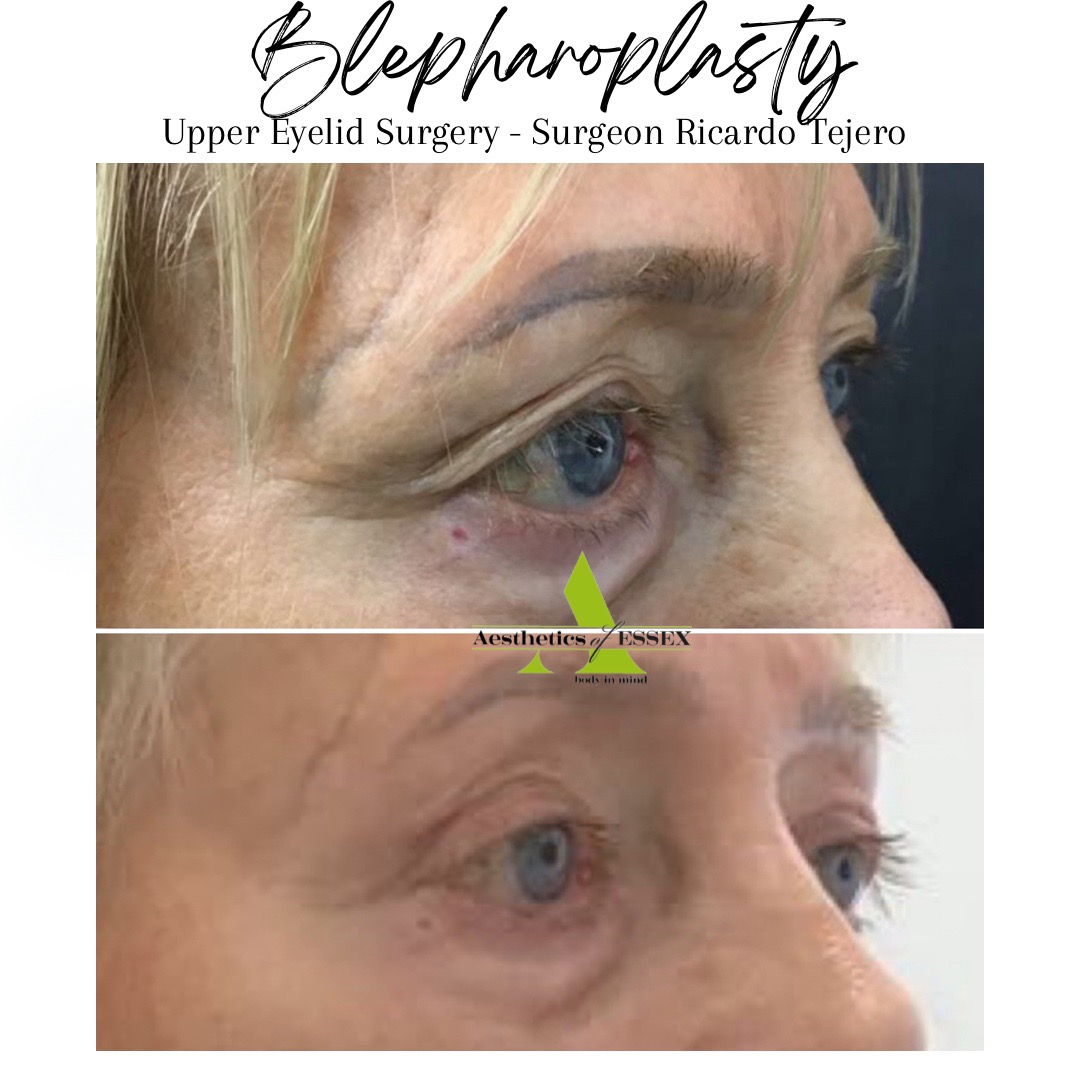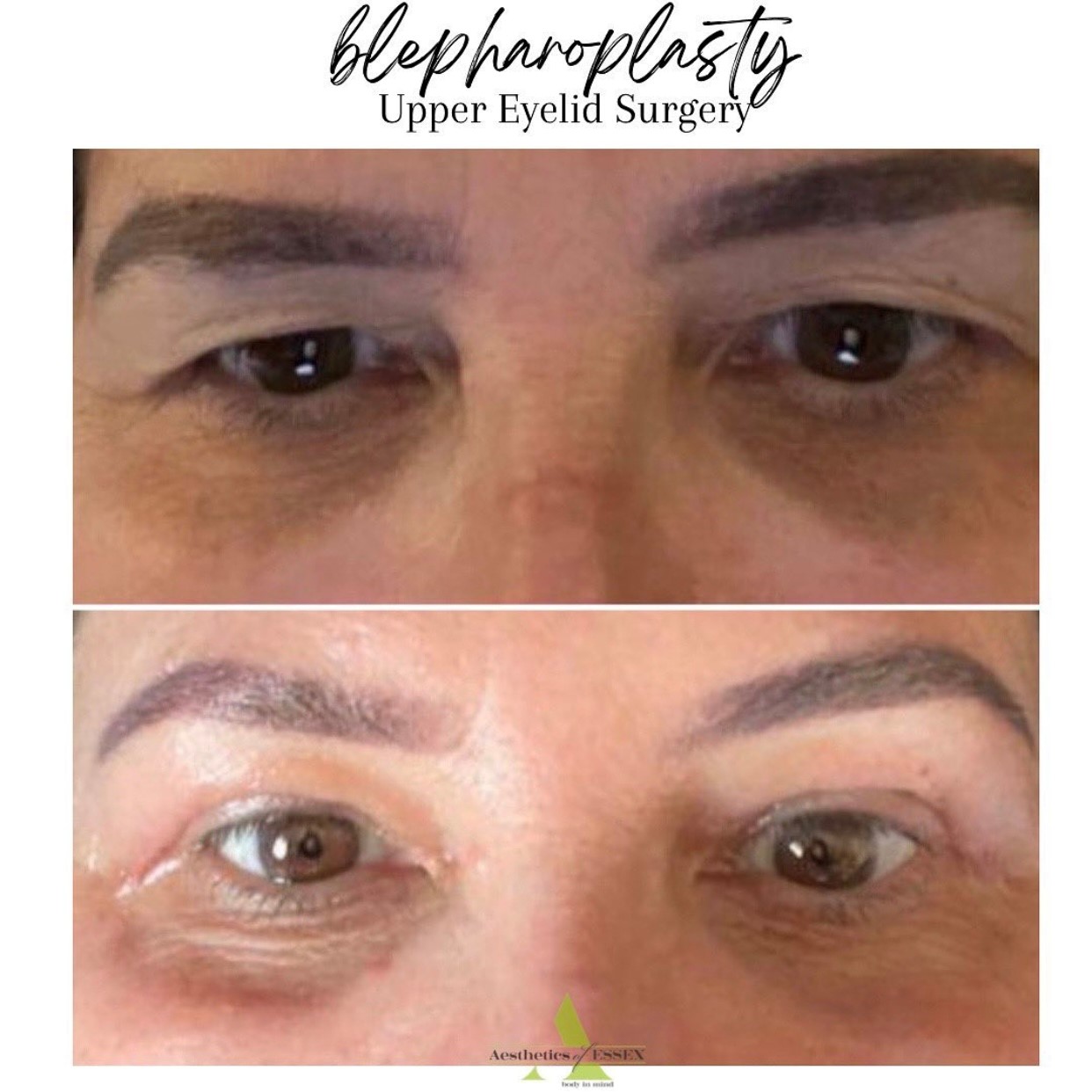 Blepharoplasty at Aesthetics of Essex
If you'd like to improve your hooded eyelids and sagging eye bags – and think you could benefit from upper eyelid surgery – look no further. Performed by our skilled plastic surgeon, Ricardo Tejero, blepharoplasty is a treatment that we now offer at our aesthetics clinic in Rayleigh.
Perhaps sagging skin is starting to interfere with your eyesight? Maybe severe eye bags run in your family? Or maybe you just wish to turn back the effects of age and brighten up your look? Whatever your reason for wanting an eye lift, we're here to help. Our team are highly qualified and experienced in this type of surgery and can perform the treatment safely and successfully to remove overhanging upper eyelid skin.
Organise your eye lift today
Choosing to have any kind of cosmetic surgery is a huge decision and one that should be given some careful thought. Therefore, before booking an appointment for blepharoplasty, it's important to discuss your suitability with an expert and consider whether it's the right treatment option for you.
We ask all clients to pop in for an initial, complimentary consultation. This is an opportunity for us to establish your goals and talk you through the full eye lift procedure, so you know exactly what to expect. And you can then make a fully-informed decision about whether you wish to go ahead.
For more information about blepharoplasty surgery, or to arrange a consultation, please feel free to get in touch at any time. You can either give us a call on 01708 225555 or send an email to info@aestheticsofessex.co.uk  and we'll respond to your enquiry as soon as possible.
Frequently Asked Questions
Am I a suitable candidate for blepharoplasty?
Ideal candidates are in good health, with realistic expectations about what can be achieved with this procedure. Blepharoplasty is typically performed on clients aged 35 and over. But if droopy eyelids run in the family, you may decide to have eyelid surgery much earlier in life. It can be used to:
remove excess skin and fat from the upper eyelids
remove excess skin and fat from the lower eyelid
reduce eye bags
reduce lines and creases around the eyes
improve peripheral vision
To establish whether blepharoplasty surgery is the right treatment for you – and the results you wish to achieve – the best option is to book an initial consultation with our team of experts, here at Aesthetics of Essex.
How is eyelid surgery performed?
Blepharoplasty is performed by our plastic surgeon, Ricardo Tejero, in the minor operations room in Rayleigh.
Detailed information on the procedure can be found in our blog – Blepharoplasty 101. But essentially, a small incision is made along the natural crease of the eyelid. Excess skin and fat are then removed from the eyelid and your sutures will be removed five days post-treatment by our nurse.
Who is Ricardo Tejero?
Ricardo Tejero (GMC  No. 4286916 full registration) is an extremely well-educated and highly qualified plastic reconstruction surgeon, who specialises in intricate hand surgery. Although originally from Spain, Dr Tejero is fully-fluent in the language and has spent many years working with the NHS.
For example, he has worked at:
Guys & St Thomas Hospital
Chelsea & Westminster
University Hospital Birmingham
Countess of Chester Hospital
Stoke Mandeville Hospital
Addenbrook Hospital
Diana Princess of Wales Children's Hospital
Reconstruction surgeons are well-known for being perfectionists, due to the accuracy and steady hand needed when treating the delicate bones, for instance in the face and hands. This is why Ricardo is truly the best at creating a beautiful and subtle eyelid/brow lift. And if you choose to have blepharoplasty at our clinic, you can rest assured, you're in very capable and experienced hands.
Is blepharoplasty painful?
Eyelid surgery is either performed under local anaesthetic (with sedation) or general anaesthesia. So, you won't feel any pain during the procedure itself. Some swelling, irritation and bruising may occur post-treatment; however, painkillers, eye drops and ice packs can be used to minimise discomfort.
How much does blepharoplasty cost?
This depends on the extent of the surgery. We currently charge £1,950 for an upper eye lift. But for more information, it's worth booking a consultation. This gives us an opportunity to discuss your needs and wishes, recommend the best course of treatment, and provide further details on the cost of your specific eyelid surgery.
What does post eyelid surgery recovery involve?
Your surgeon will provide you with detailed instructions regarding post-operative care. It is crucial to follow these instructions diligently to promote healing and achieve the best possible results.
Applying cold pressure on your eyes can help to reduce swelling and you should try to keep your head elevated and protect your eyes, particularly when sleeping.
You should also keep the surgical area clean and be sure to attend your follow up appointments with your surgeon to assess how the healing process is progressing.
It's crucial to consult your surgeon for a personalised post-treatment care plan based on your specific needs to speed up the healing process.
Summary of your Treatment
Procedure Time
30 Minutes Estimated
Full Recovery
24 Hours estimated
Duration of Results
3 - 6 months
Sensitivity Period
1 Hour
Risks and Complications
Infection, bruises, drooping brow, allergic reactions (e.g. swelling)