What is Dermapen
The Dermapen micro-needling pen uses sterile, individually-sealed, disposable needle cartridges for optimal patient safety and comfort. Every Dermapen needle tip is actually made up of 12 smaller needles, which use proprietary technology to penetrate vertically into the skin.
This treatment creates collagen to the skin, by using micro-needles, the skin reacts as though it has experienced trauma, although extremely superficial, the skin cannot recognise this so it then goes through the healing process, stimulating bundles of new collagen, which then heals the scars and discolouration, fine lines and impurities that are deeper in your dermis, and the more treatments you have the better your results are over time.
WHAT IS IT USED TO TREAT?
The Dermapen is used for improving fine lines and wrinkles on the face, neck and décolletage, to address and reduce the appearance of surgical, acne or trauma scars anywhere on the body. It can also be used to treat other scarring such as stretch marks. In some cases it is also used to address pigmentation problems. Also, notably it is suitable for all skin types. The pen head adapts its length depending upon the skin condition and area on the face to maximise its result.
HOW LONG DOES IT LAST?
You're able to see significant results from your (1-2 hour long) treatment straight away, you'll notice the redness, and the warmth of the skin as it will remain slightly inflamed for the next few hours, (everyone is different, so some client's redness may go down in as little as one hour, but the longest your redness should be present is 48 hours) and during the healing process, the results become quite apparent, however it is necessary to keep up on your treatments, as in most cases more than one treatment is needed for more deep rooted skin concerns, such as severe scarring, but most will see an improvement, especially on very superficial skin concerns. Spacing each appointment for your treatment 4-6 weeks apart will let your skin heal an appropriate amount of time to achieve maximum results.
You will notice your skin improving over the next 6-12 months as you continue your treatments, and if you notice your results starting to come to a standstill, then perhaps we may need to go deeper with the Dermapen or your skin has healed substantially so if the areas you want to improve are very superficial they may have reached their full potential.
SIDE EFFECTS AND RISKS
During treatment will feel a vibration on the skin.
After treatment, a tight, sun burnt sensation can occur and can last up to 24 – 28 hours
Redness
Low risk of hyperpigmentation – A sun protection of factor 50+ must be purchased prior to treatment.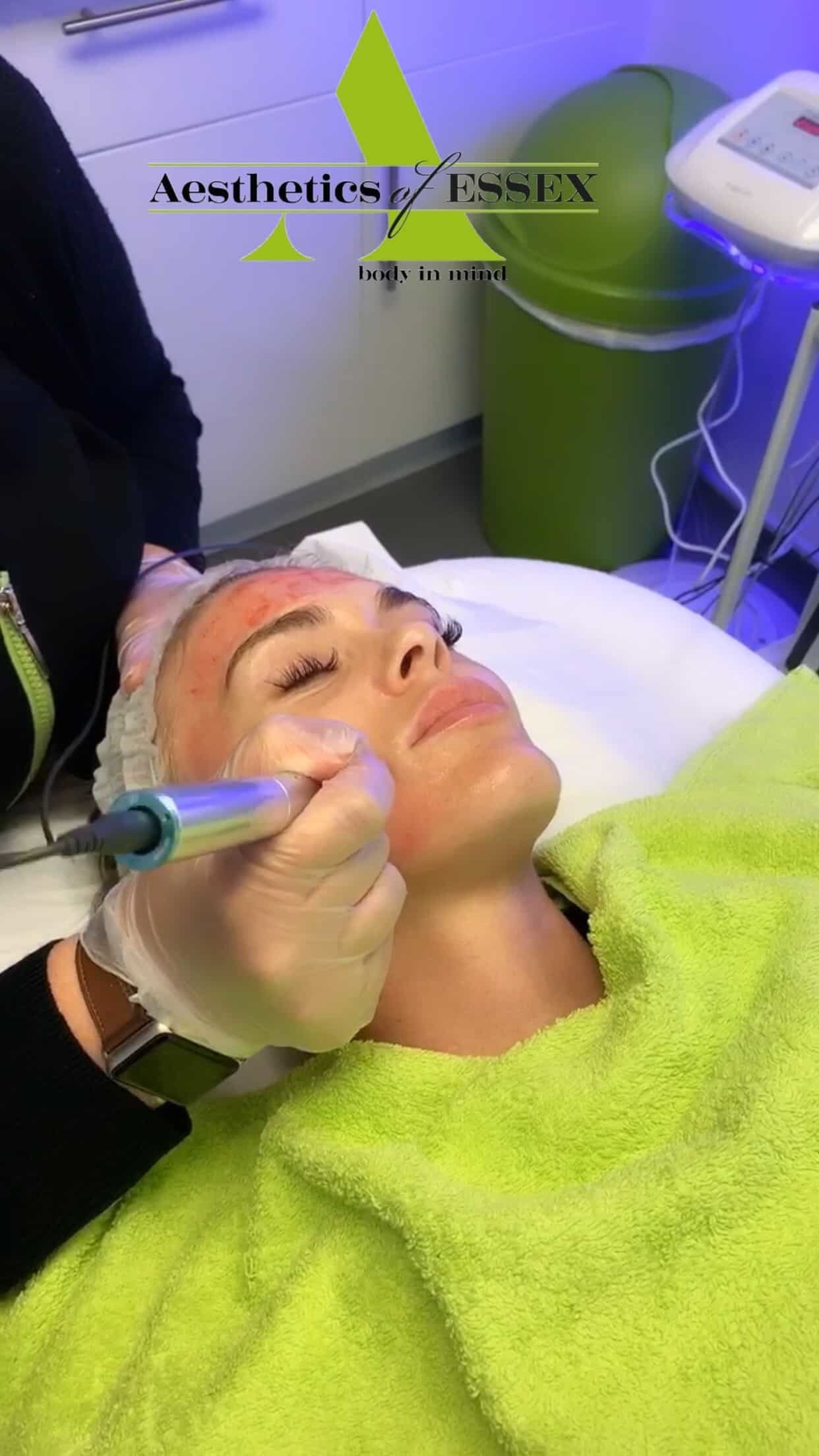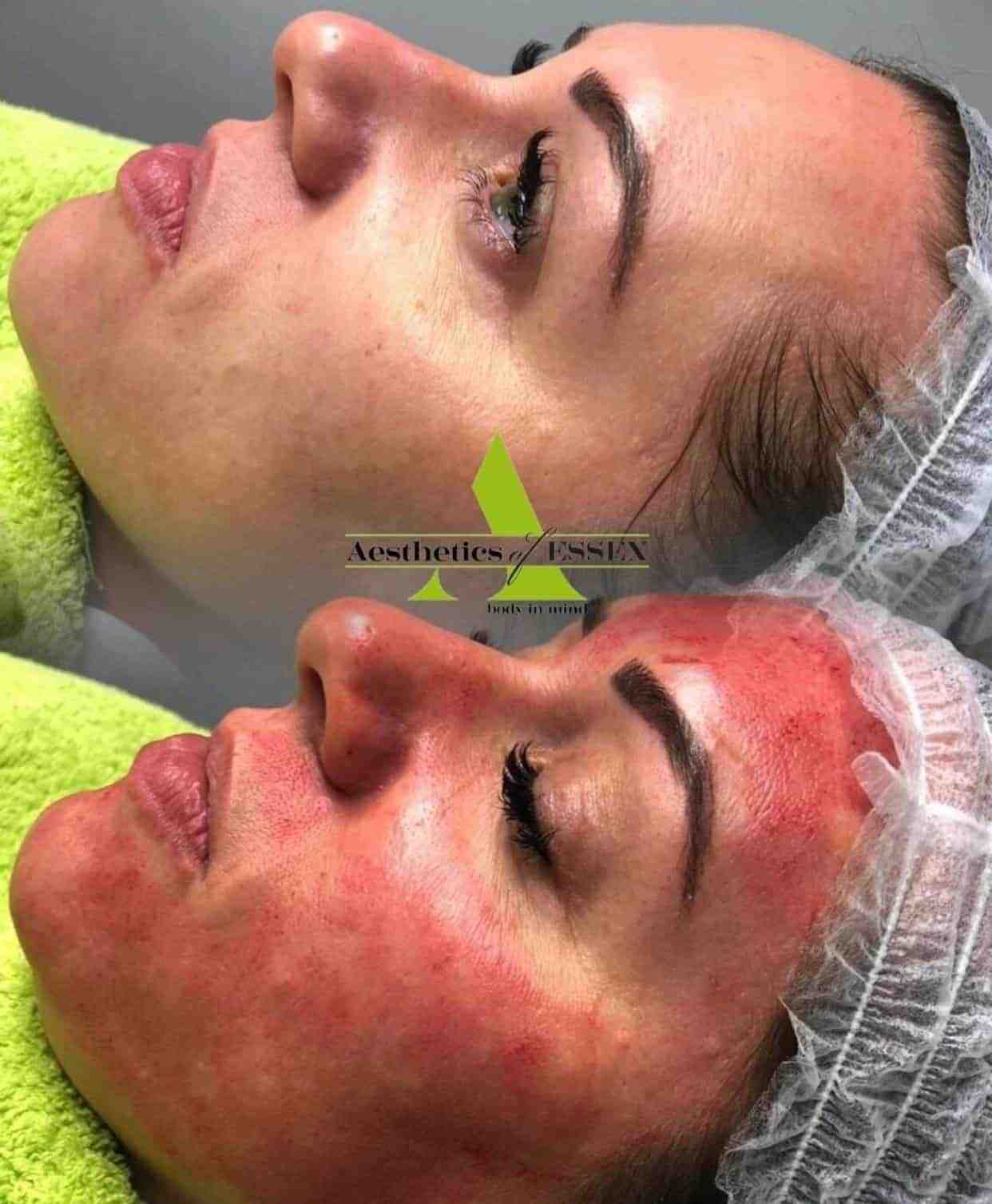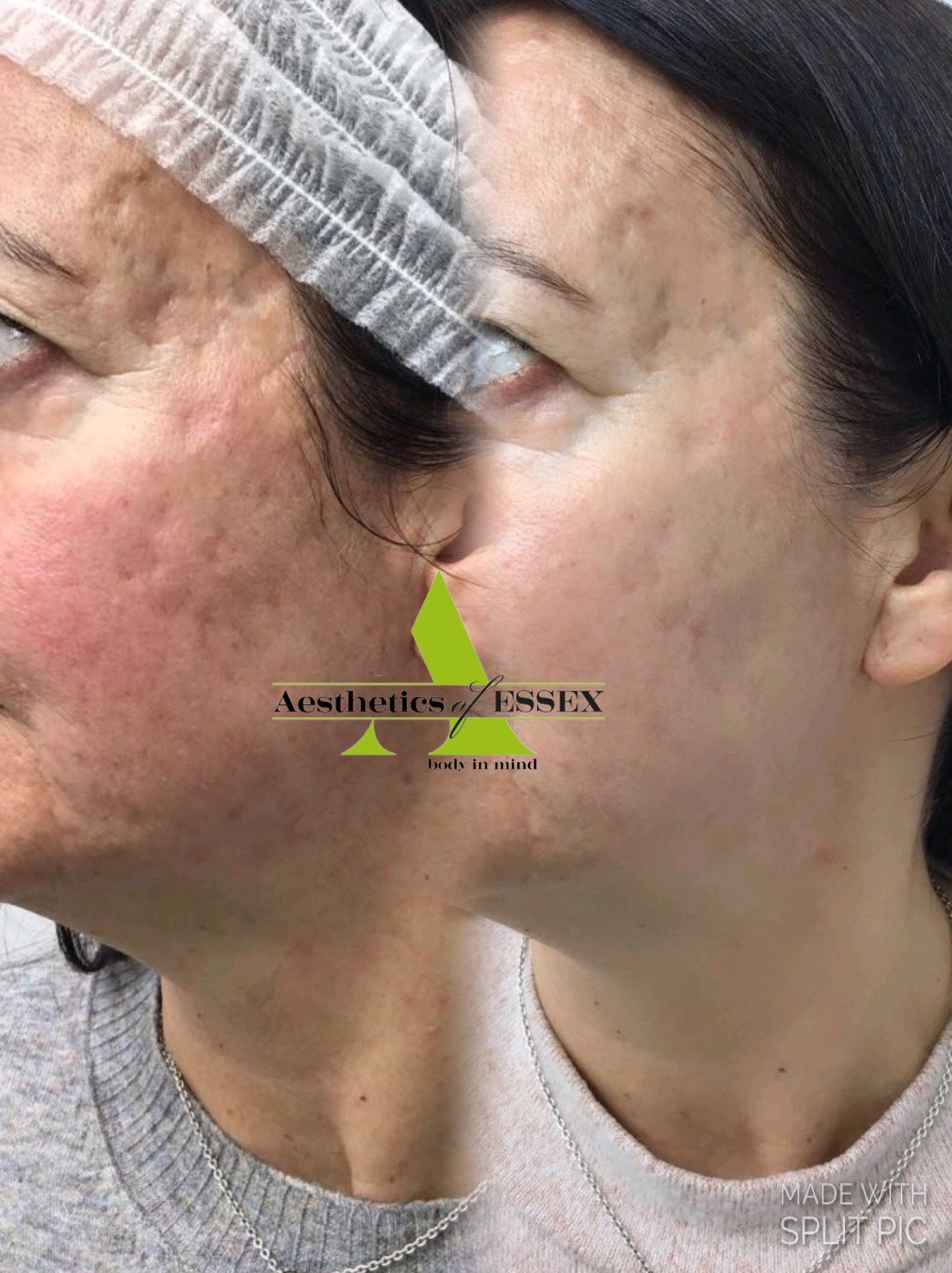 Frequently Asked Questions
How Many Treatments Will I Need?
Although you see great results from one treatment alone, we advise that you have at least 4 to achieve optimal results. Treatments will vary depending on the skin concern.
Am I Suitable for This Treatment?
There are some reasons you may not be suitable for this treatment which include;
– The use of blood-thinning medications
– The use of photosensitive medications
– Autoimmune diseases
– Pregnant or Breastfeeding
– Active acne
– Rosacea
– Open wounds in the area
*All contra-indications will be discussed at consultation*
How Much Does it Cost?
£150 for one treatment
£400 for 3 treatments plus a Heliocare SPF 50 worth £31
The Procedure
The number of treatments needed will vary depending on the skin concern being addressed, however a treatment programme would normally consist of 4 – 6 treatments every 4 weeks apart for skin rejuvenation, 6 treatments every 6 weeks apart for acne scarring and 4 – 8 treatments every 4 – 6 weeks apart for stretch marks.
For those not suitable for this treatment:
– As long as you are generally healthy, and you aren't currently dealing with active acne or skin infections, please let us know as we cannot cause further trauma to the skin until you are healed from this, as it could cause further damage or heal the area too quickly causing overproduction of histamines, which will cause raised scarring or hyperpigmentation.
– Tell your practitioner if you have a history of conditions such as herpes simplex (cold sores).
– If you are pregnant or breast feeding, we would not recommend this treatment, it's not necessarily dangerous, but it's advised to be cautious during this time, as your hormones can affect your sensitivity and healing process.
– If you are having other cosmetic treatments such as dermal fillers it is advisable to either wait for a week after having the filler injections before embarking on a Dermapen treatment programme, or alternatively have the Dermapen treatment first, leaving a minimum of two or three days before embarking on the dermal filler treatment.
What areas can it be used on?
Certificates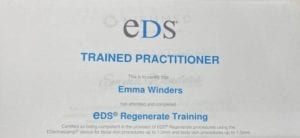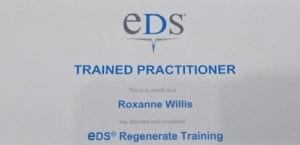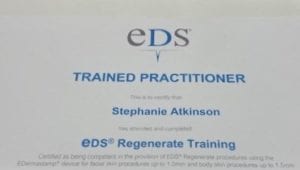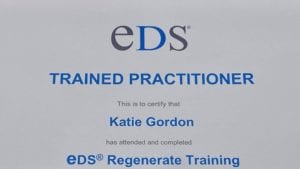 It is important to us that all our clients feel safe and in good hands when they come to Aesthetics of Essex.
Please do feel free to ask to view your practitioners full certificate when you are in clinic.