About Zo Skin Health Skin Care
Unwanted signs of aging are caused by external factors and the natural breakdown in skin function. Signs of aging include fine lines and winkles, sun and age spots, loss of elasticity, loss of skin hydration and uneven skin tone.
There are many factors that impact how fast our skin ages. The main factor is high sun exposure accumulated before the age of 20. Our skin takes 10 to 30 years before the real damage of our youth is revealed. Visible characteristics include pigment changes, added blood vessels, wrinkles, dry skin and brown spots (also known as sunspots)
With this skin care range, you can target and improve signs of aging & skin pigmentation, transforming your skin with advanced skin care products and treatments that make your skin healthier from within. We guarantee you will notice younger looking and acting skin!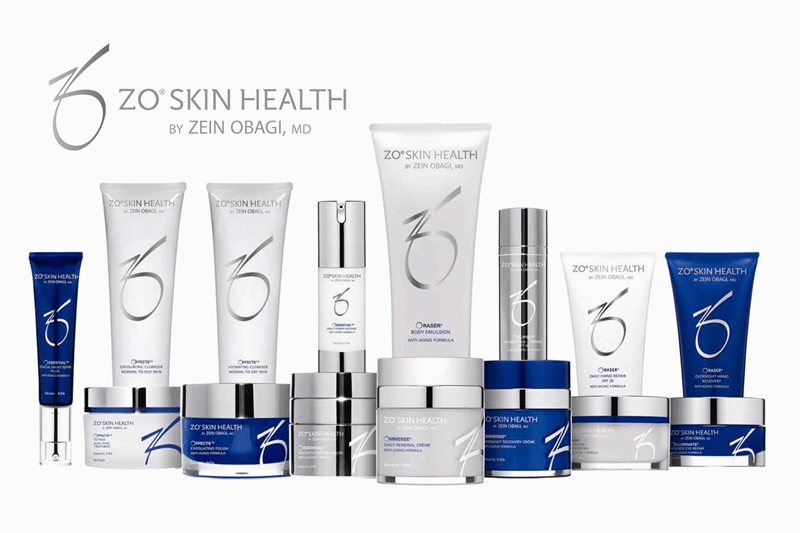 Dr. Obagi
Dr. Obagi is the ZO Skin Health, Inc. medical director and is responsible for the development of new skincare treatments, protocols and product to achieve healthy skin. He is a board certified practicing dermatologist and head of the Obagi Skin Health Institute in Beverly Hills, CA., and an author and educator that has presented more than 200 skin health lectures throughout the world.
For more than 35 years Dr. Obagi has defined and continues to advance skincare to include the concept of creating and maintaining healthy skin as opposed to just treating disease and damaged skin.
He conceived and brought to market the world's most recognized brands of physician dispensed skincare products – the original Obagi Nu-Derm® and Obagi Blue Peel® kit – and has redefined the concept of skin health to include solutions to maintaining truly healthy skin.
Frequently Asked Questions
The hustory of Zo Skin Health Inc.
The Products
There's a product for each stage of a good skin care regime all designed and formulated with ingredients that help to improve skin tone and texture, reduce the appearance of wrinkles and encourage collagen production. This range includes:
Cleansers: Zo Health Cleansers are suitable for all skin types with ingredients that have been optimized to combat multiple skin concerns. They remove impurities, hydrate and rejuvenate without disrupting your skins natural moisture barrier and are contain antioxidants that help protect the skin from the harmful effects of daily exposure.
Exfoliators: Perfect for helping exfoliate dead skin cells and increase epidermal turnover for a smoother, more even complexion, Zo Health exfoliators are formulated with vitamins and antioxidants to help maintain skin barrier function.
Serums: Zo Health Serums work to restore skin elasticity and decrease collagen degeneration, containing proprietary peptides that trigger and boost collagen production. Lines and wrinkles are reduced with these soothing, calming and anti-aging serums.
Moisturisers: Day and night moisturisers are available in this skin care range and come packed with pure retinol, powerful anti-oxidants and soothing agents that repair the skin barrier and rejuvenate the skin. Zo Skin Health Moisturisers increase hydration in the skin and create a barrier proven to lock in moisture and provide protection against free radicals. All helping to relieve dryness and fight signs of ageing.
Sunscreen: Zo Health sun protectors provide broad spectrum UVA/UVB defence. Helping shield skin from the aging effects of high-energy visible (HEV) light and release an antioxidant complex which provides all day protection. They also provide additional support to restore lipids and enhance skin barrier function. High factor sunscreen is the best preventative way of combating signs of aging and wrinkles and these contain a universal tint that reduces the appearance of skin imperfections and leaves the skin silky soft.
Enhancers: These are additional products that you can purchase to enhance and compliment the results of your Zo Health skin care program. Zo Health enhancers include a daily hand cream, eyelash serum, body polish, eye cream and hand conditioning treatment.
The full Zo Skin Health skin care range is available at our clinic. Call us to book your free skin analysis and find out which of these fantastic products are a essential in helping you achieve better, healthier skin.
Summary of your Treatment
Procedure Time
30 Minutes Estimated
Sensitivity Period
24 Hours Estimated
Risks and Complications
Soreness, skin irritation
Results
Will see results after first peel, best results after full course of peels