What are anti wrinkle injections?
Line and wrinkle treatments have been used as a cosmetic treatment since the late 1980's and have revolutionised the industry, making a treatment with no recovery time and very few risks widely available. For the best line and wrinkle treatments Essex can offer, look no further than Aesthetics of Essex.
Lines and wrinkles are a natural and unstoppable part of the ageing process. While they are inevitable with age, they can be prevented and reduced accordingly. As mentioned above, wrinkle relaxing treatments have been produced as a cosmetic surgery since the late 1980's and have transformed the industry for the better, providing a treatment with zero recovery time and very few risks.
Wrinkle relaxing injections can combat both fine lines and deep wrinkles, helping to get rid of those pesky frown lines and crows feet. In no time, you will feel more comfortable with your refreshed and younger self.
This treatment reduces wrinkles and expression lines between the eyebrows, around the eyes and across the forehead, creating smoother skin and a younger appearance. Our proven technique delivers stunning results!
The procedure:
The procedure involves injecting into the muscle and temporarily relaxes the facial muscles for approx 3 – 6 months. It prevents the formation of wrinkles and causes existing lines to soften, forming a smoother, youthful appearance.
The treatment is non-invasive with virtually no recovery time necessary; you can resume your normal activities immediately after treatment. All consultations are carried out by our trained and experienced therapists, such as Debbie Mills, prior your treatment.
We at Aesthetics of Essex can offer you a free-of-charge consultation courtesy of our dedicated, knowledgeable team who are more than happy to answer any questions. We are here to ease you through your decision making and the eventual process you would undergo. The procedure of our line and wrinkle injections in Essex are quick and non-invasive.
To register for a free-of-charge consultation with one of our experts, or to just discuss a general query, please contact us on 01708225555. If choosing to undergo line and wrinkle injections in Essex, Aesthetics of Essex will ensure that you are in safe and trusted hands.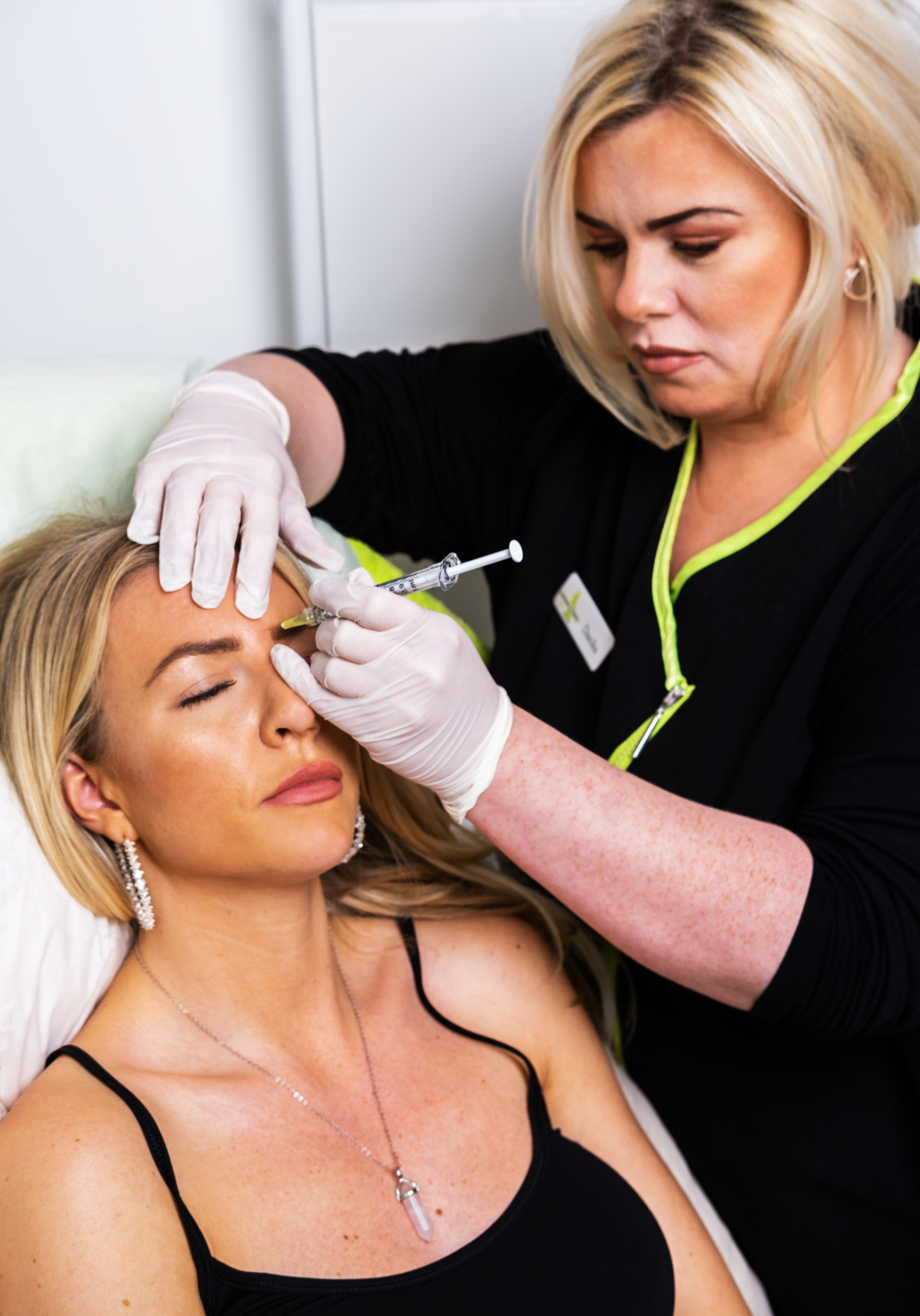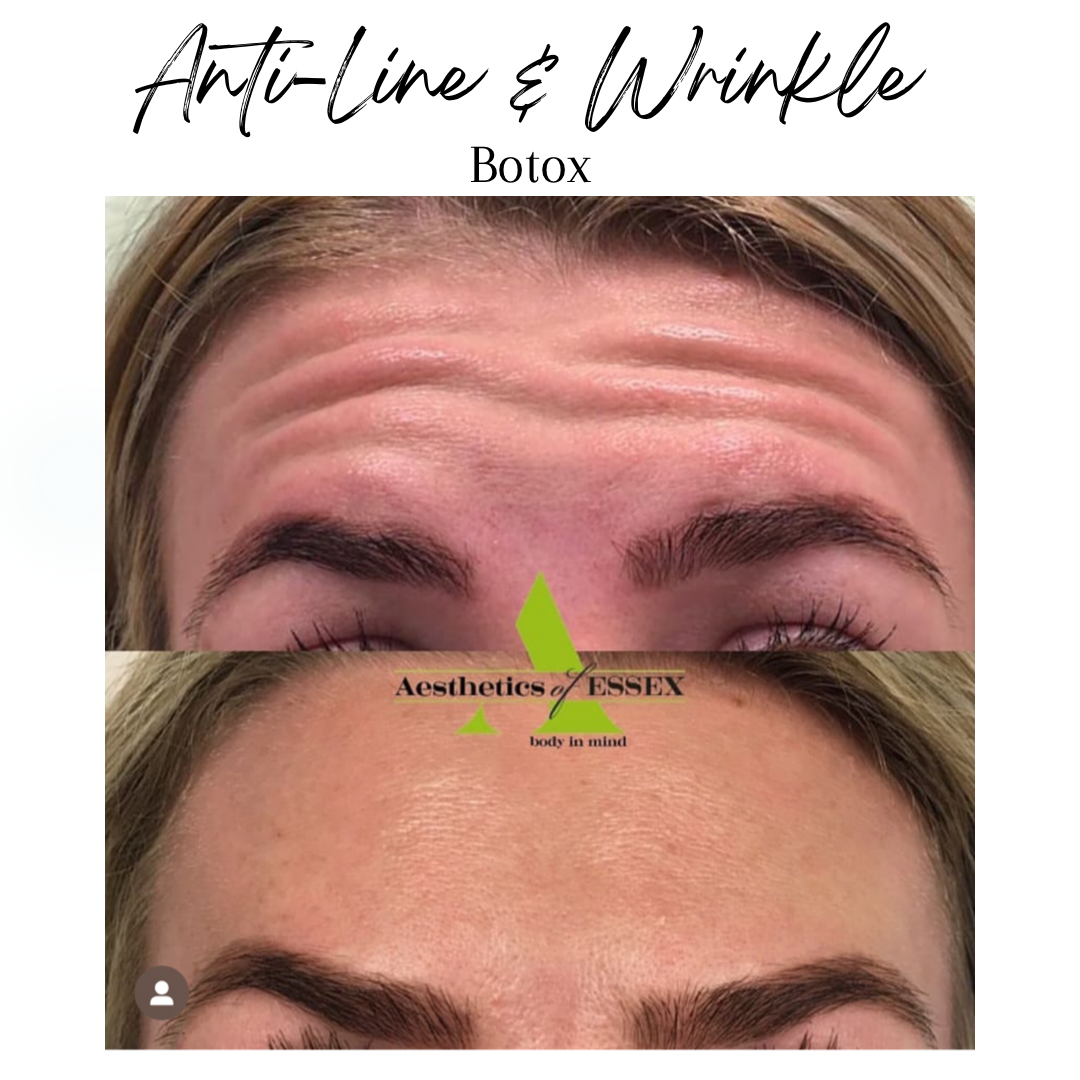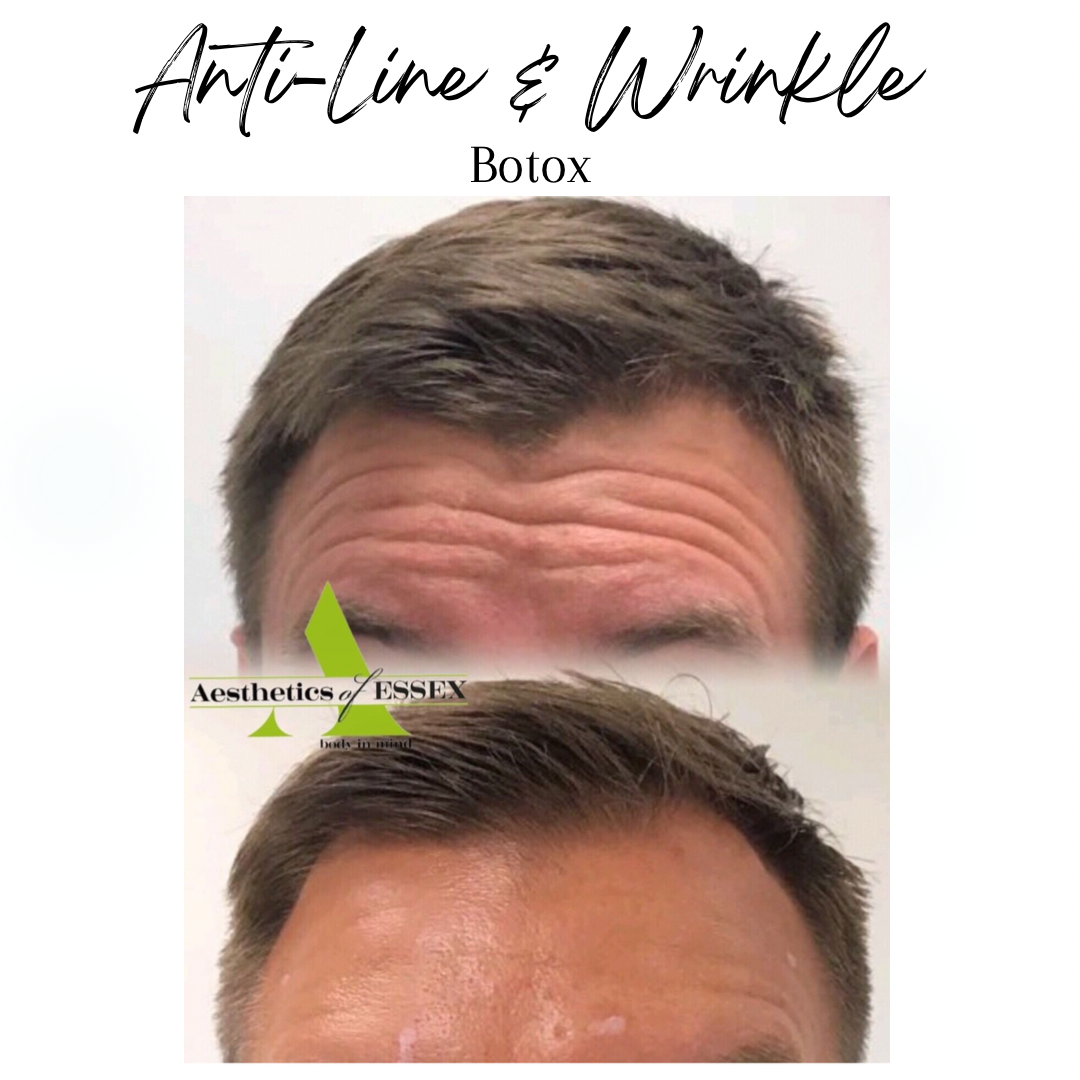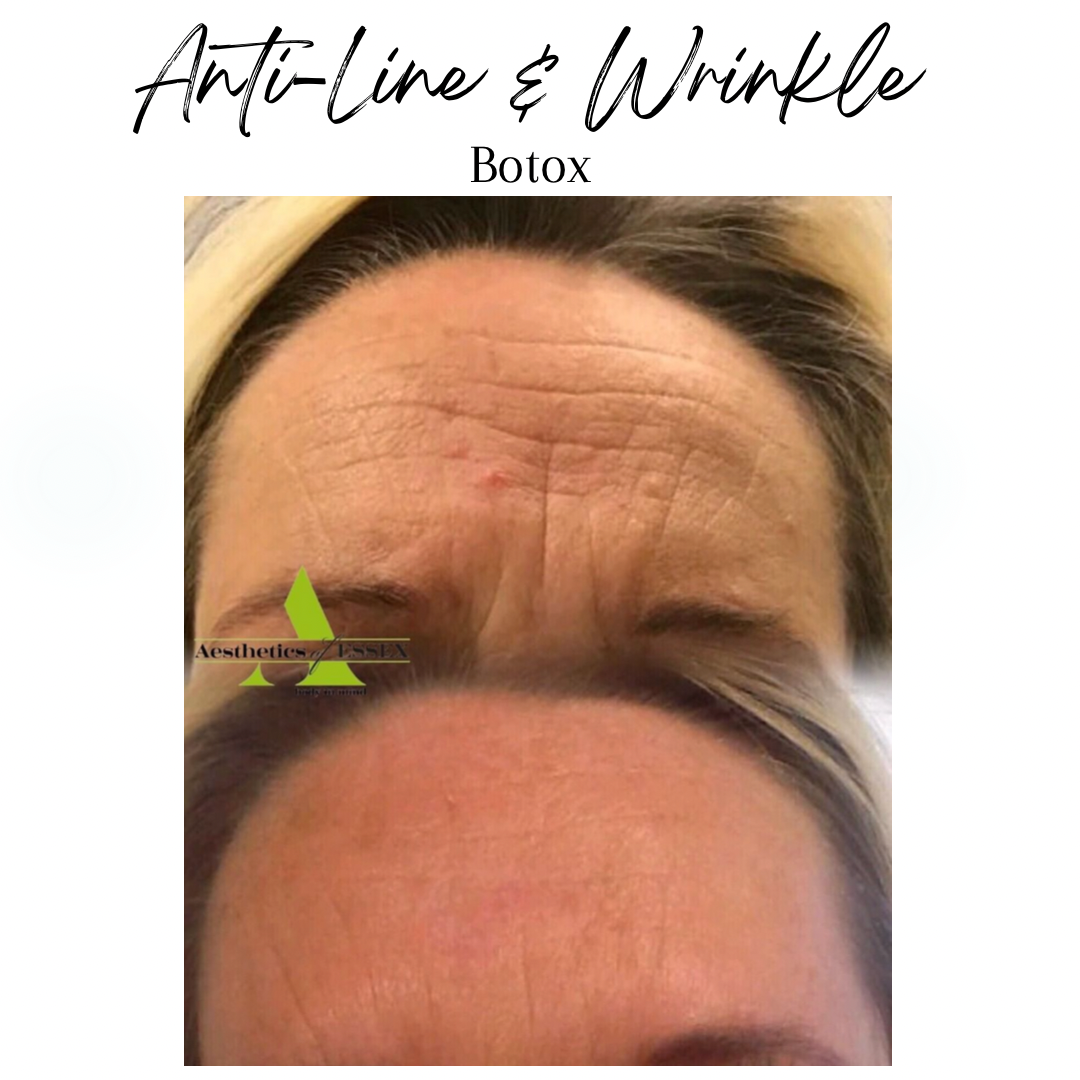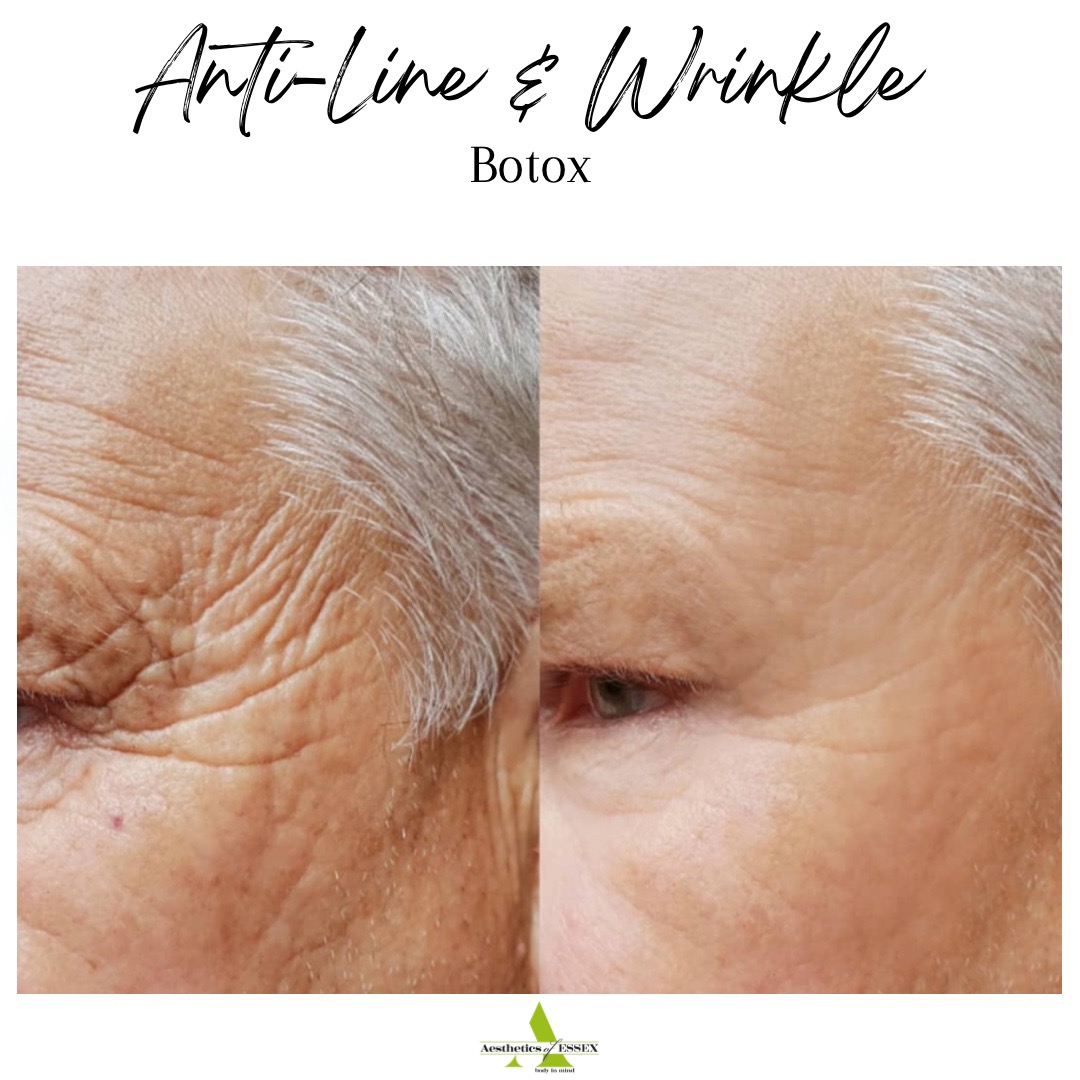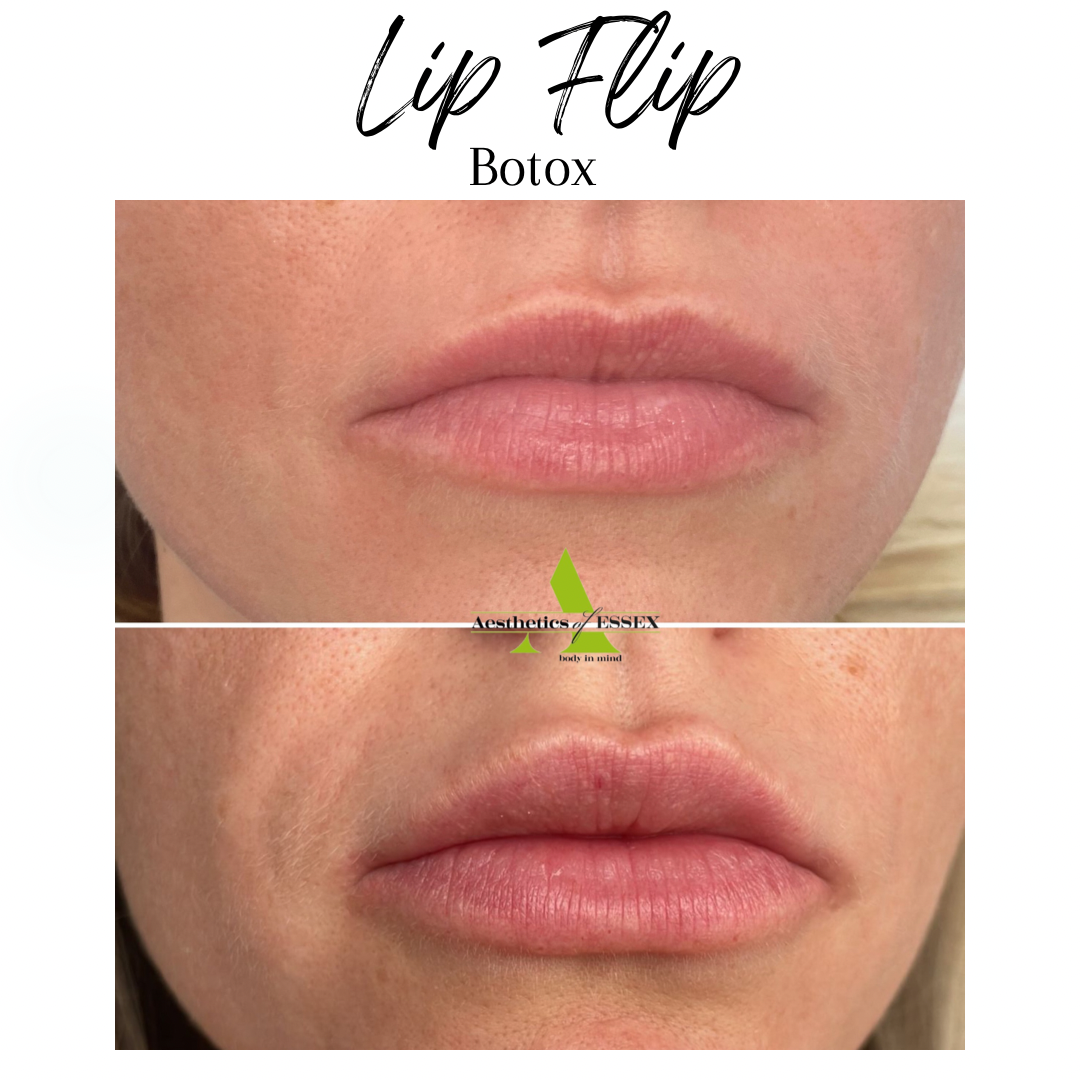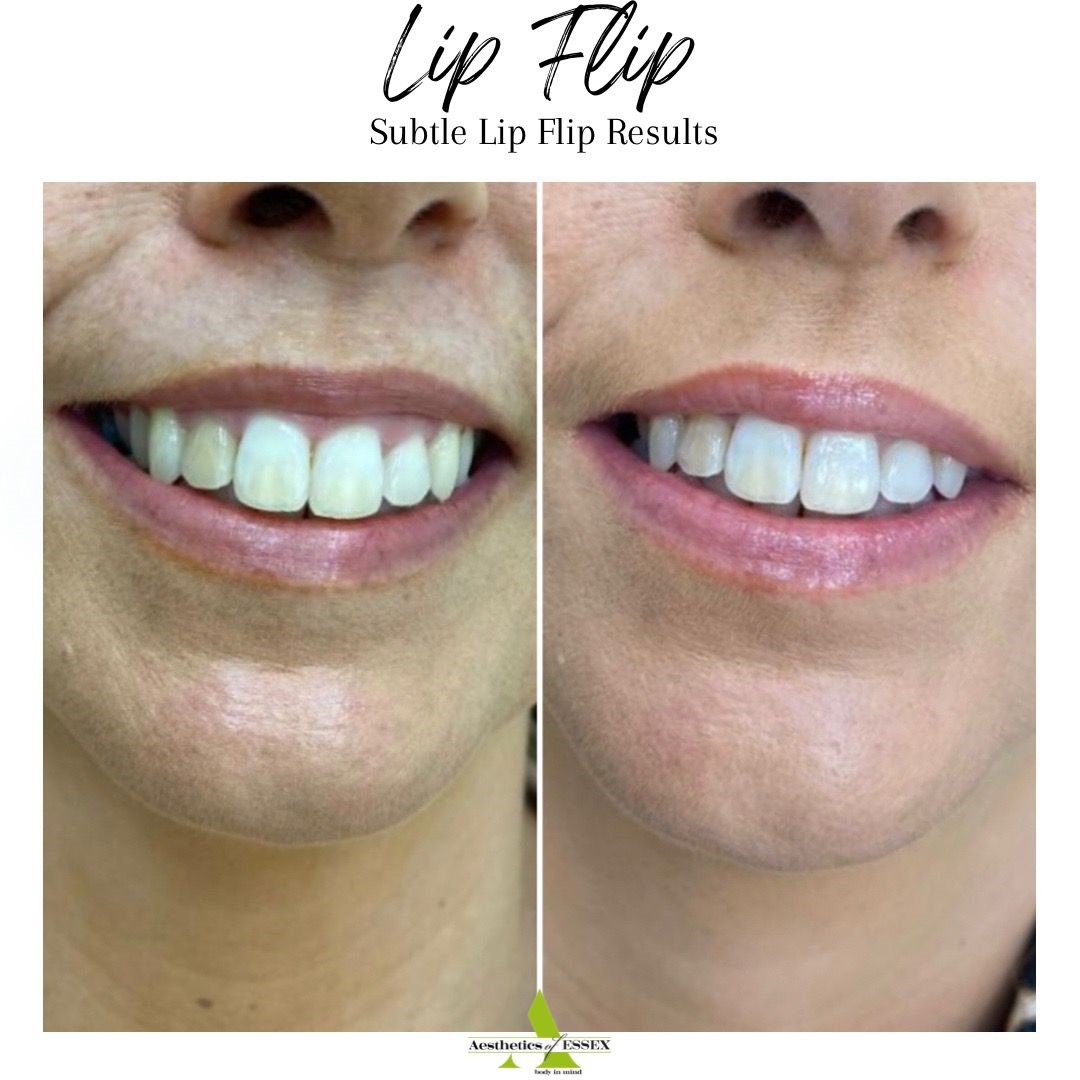 At Aesthetics Of Essex we also offer a, 'Lip Flip'. During a lip flip procedure, one of our nurses injects Botox into parts of your upper lip. After about a week, the injections make your lip look fuller or "poutier" without adding any volume to your lip. Lip flips generally look more natural than lip fillers.
For the best line and wrinkle treatments Essex can offer, look no further than Aesthetics of Essex.
Frequently Asked Questions
Do anti-wrinkle injections hurt?
Each individual has a different pain threshold. You will be advised to discuss your concerns at your pre-treatment consultation. A local anesthetic cream is sometimes used for added comfort. On average people describe it as a small sharp scratch and it is over very quickly.
How long will the treatment results last?
Approximately 3 – 6 months. The duration of results largely depends upon the area being treated and the products used. Other factors can also have an effect, such as skin type, lifestyle, age and the degree of correction sought.
What Should I Expect During My Consultation?
During the consultation, you will be asked to fill out a medical health questionnaire as it is our duty of care to make sure this treatment is the correct treatment for you and your body. Our Nurse will let you know what to expect, inform you of the procedure's pre and post-care and any further information you may need to know.
You will be encouraged to explain your desired outcome of the treatment and our Nurses will give you their expert opinion.
You can then take the time to give full consideration to the treatment. Remember, we are here to support you and help you make the right choice for you!
What are the Treatment Areas?
Glabella (inbetween your eyebrows)
Forehead
Crowsfeet (around your eyes)
Underarms (excessive sweating)
Forehead (migraines)
Gummy smile
Lines around the mouth
What is the difference between facial muscle relaxant injections and dermal fillers?
Both are temporary injectable treatments. Facial muscle relaxant injections are used to relax the muscles that underlie the lines which become more visible through movement and age. Dermal fillers are used to lift out wrinkles that stay when the underlying muscles are relaxing and to restore skin volume and add contour to the aging face.
A general rule of thumb is anti line and wrinkle injections are used for the upper face and dermal fillers are used on the lower face.
Anti-wrinkle treatment video:
How much is it?
1 Area – £110
2 Areas – £160
3 Areas – £210
Crowsfeet – £160
Crowsfeet plus ONE other area – £185
Bruxism (Teeth grinding) – £360
Gummy Smile – £110
Top up two weeks later if needed (Top up price may vary for Bruxism and gummy smile) – £25
Hyperhidrosis – £550
Who will carry out my Anti-Wrinkle injection treatment?
Debbie Mills is our senior nurse injecting anti-line and wrinkle treatments, dermal fillers, and lip fillers in Essex.
She has over 17 years experience as a nurse practitioner of aesthetic medicine and trainer of Doctors and Nurses in aesthetic medicine.
Clients feel warmth and confident with Debbie's professional manner, and always comment on how pleased they are with their natural-looking results. She takes her time to advise her clients, and assesses every treatment individually to ensure the results are suited to your own facial structure, enhancing your best features.
Debbie is popular in the UK media as a high profile practitioner, with appearances in TV documentaries, radio programmes, as well as featuring in press interviews. She is highly regarded, and has a wide number of clients including celebrities.
It is important to us that all our clients feel safe and in good hands when they come to Aesthetics of Essex.
Please do feel free to ask to view your practitioners full certificate when you are in clinic

Summary of your Treatment
Procedure Time
30 Minutes Estimated
Full Recovery
24 Hours estimated
Duration of Results
3 - 6 months
Sensitivity Period
1 Hour
Risks and Complications
Infection, bruises, drooping brow, allergic reactions (e.g. swelling)