What is ThermaVein?
ThermaVein is used to treat visible facial veins (known as thread veins) and is also an effective treatment for skin pigmentation on the face. It's a highly effective option, recommended by Dr Hilary Jones!
Skin pigmentation and broken blood vessels that appear on the face are known as thread veins. They can be the result of exposure to the sun, part of the ageing process, hormones or just simply genetics. Regardless of the reason why they appear, thread veins can be quickly and easily removed using ThermaVein.
ThermaVein is an instant, permanent yet very safe removal treatment to remove red and purple thread veins, spider veins and other skin conditions in an effective way.
Typically used to treat the face, it takes a different approach to alternative vein treatments, such as laser vein removal. It uses thermocoagulation to seal off the vein walls and cause the veins to disappear. While lasers present the possible risk of bruising, scarring and pigmentation (and the possible need for multiple treatments), ThermaVein treatment offers immediate and consistent results, with no known side effects.
The procedure
The treatment for face veins is a simple and accurate procedure. The Thermocoagulation process is administered to each vein individually using a fine skin probe.
ThermaVein delivers a tiny microwave current which travels 1.5mm into the treatment area. By exposing a pigmented lesion to a short light pulse, the temperature of the skin is raised enough to breakdown the cells. The technique causes the vein to close and then the current causes it to instantly disappear.
This treatment can also be used on thread veins that occur on the body.
It's an effective treatment for thread vein and spider veins on the legs, chest and can treat anywhere on the body.
A typical treatment should only usually take around 15-20 minutes. The patient will see an immediate improvement in their condition.
ThermaVein at Aesthetics of Essex
ThermaVein is a unique, proven and exclusive piece of technology – which is why we're incredibly proud to offer it to clients at our Upminster clinic. It can be used to treat multiple skin imperfections on the face and body. So, whether you're tired of facial thread veins or looking to remove skin tags or age spots, get in touch today!
Either call us on 01708 225555 or 01708 222224 to book your free consultation. Or, alternatively, send an email to info@aestheticsofessex.co.uk to find out more.
ThermaVein is a fast and effective treatment and it could be just what you need to get rid of thread veins once for all and boost your confidence.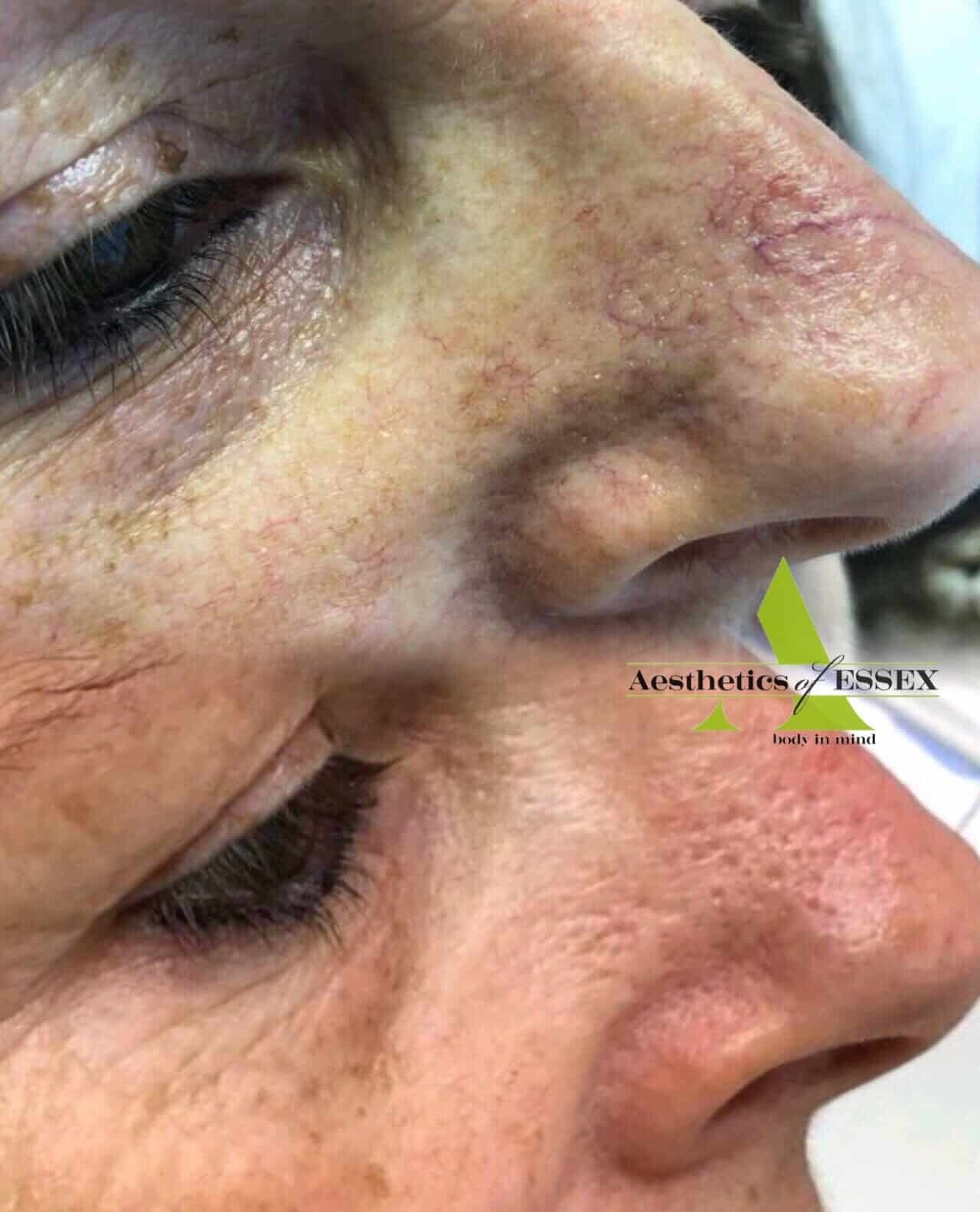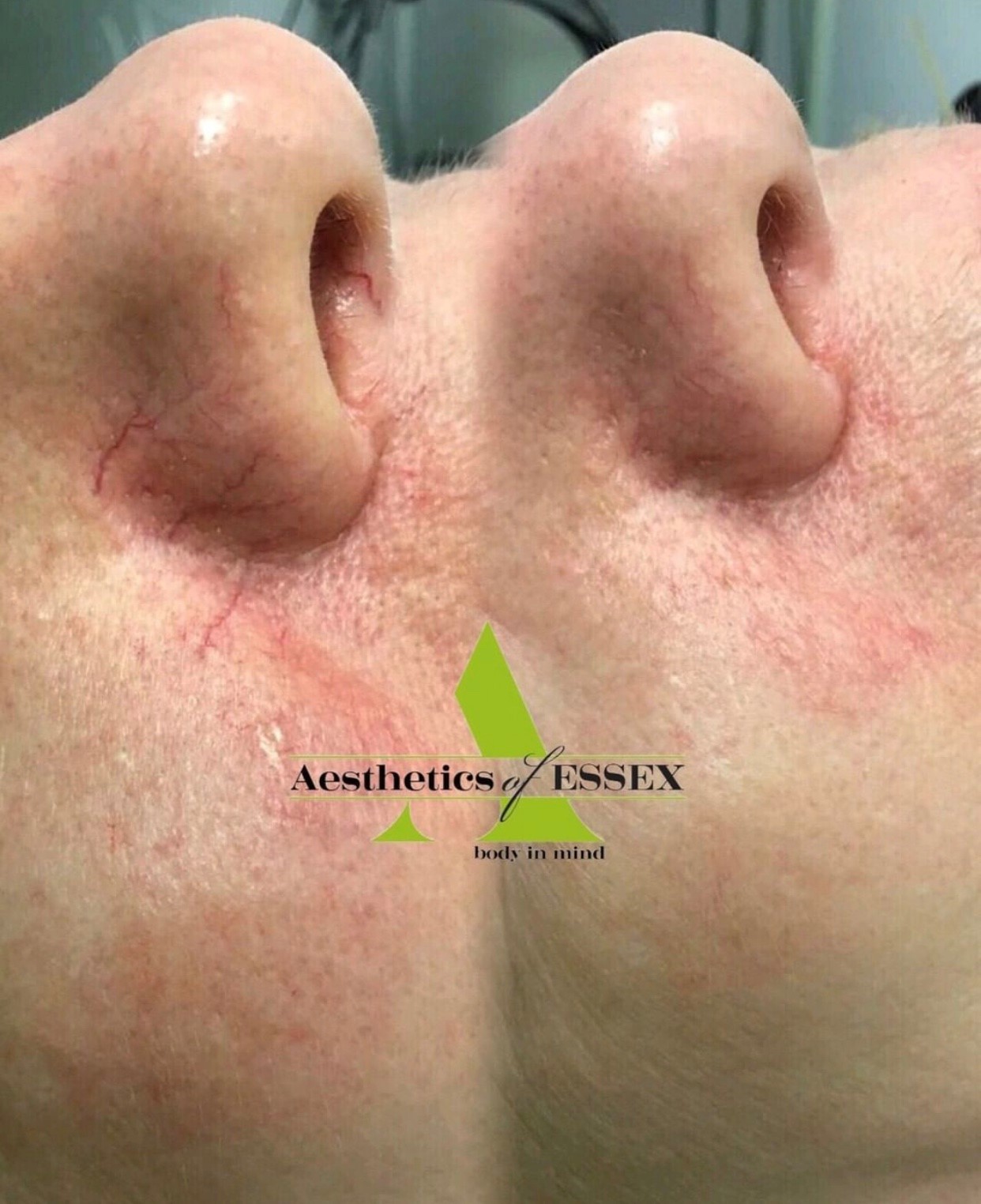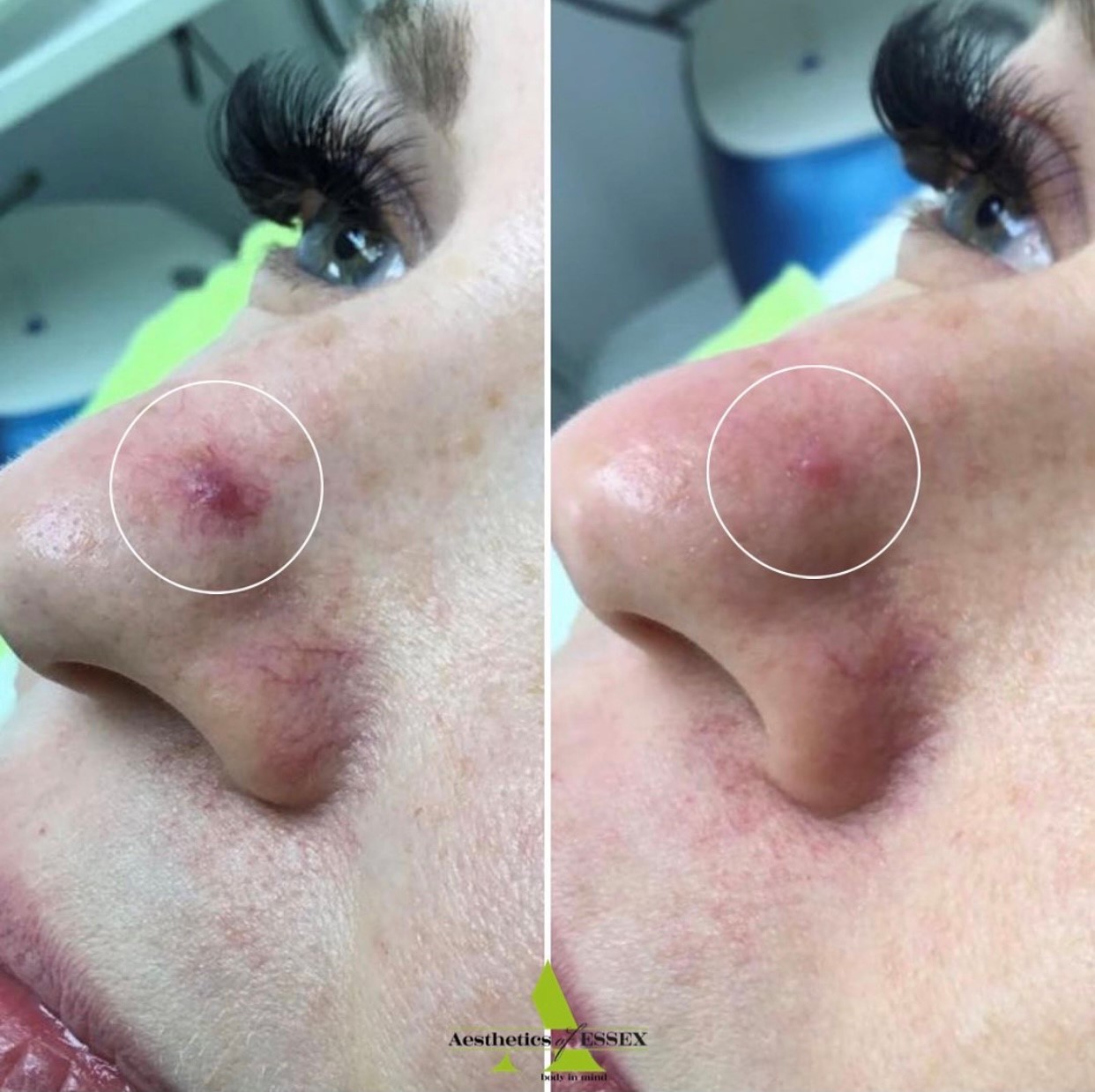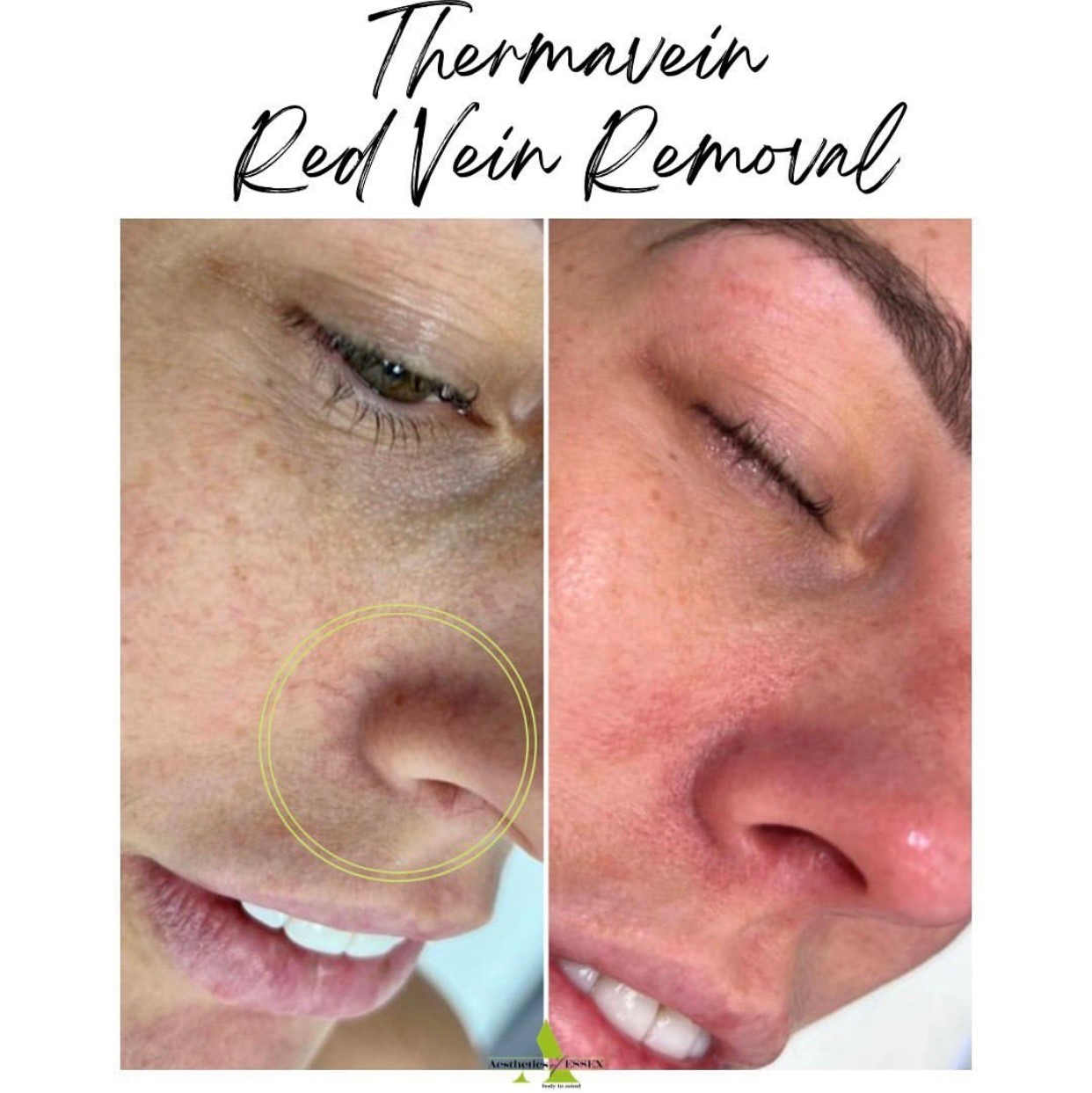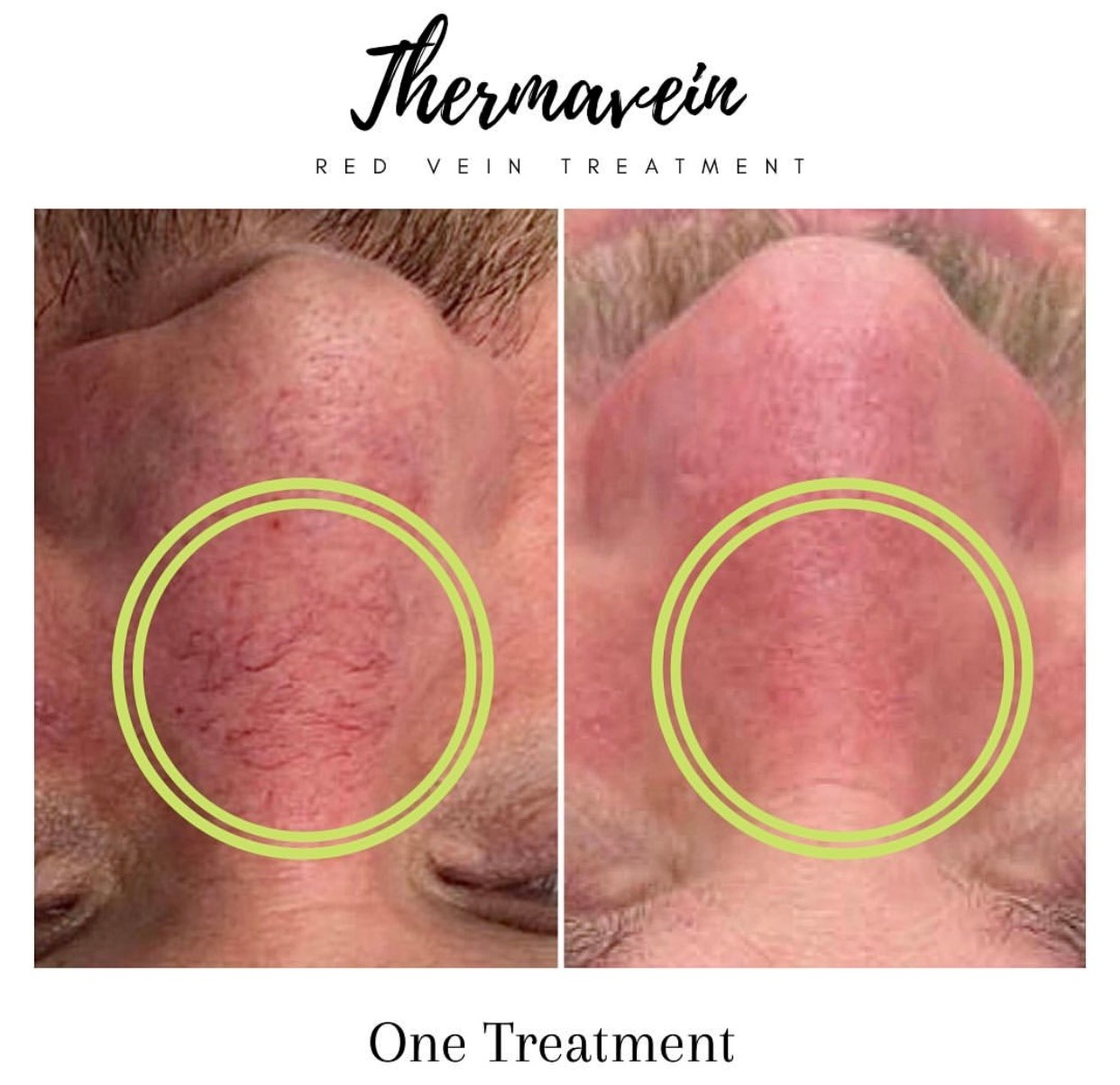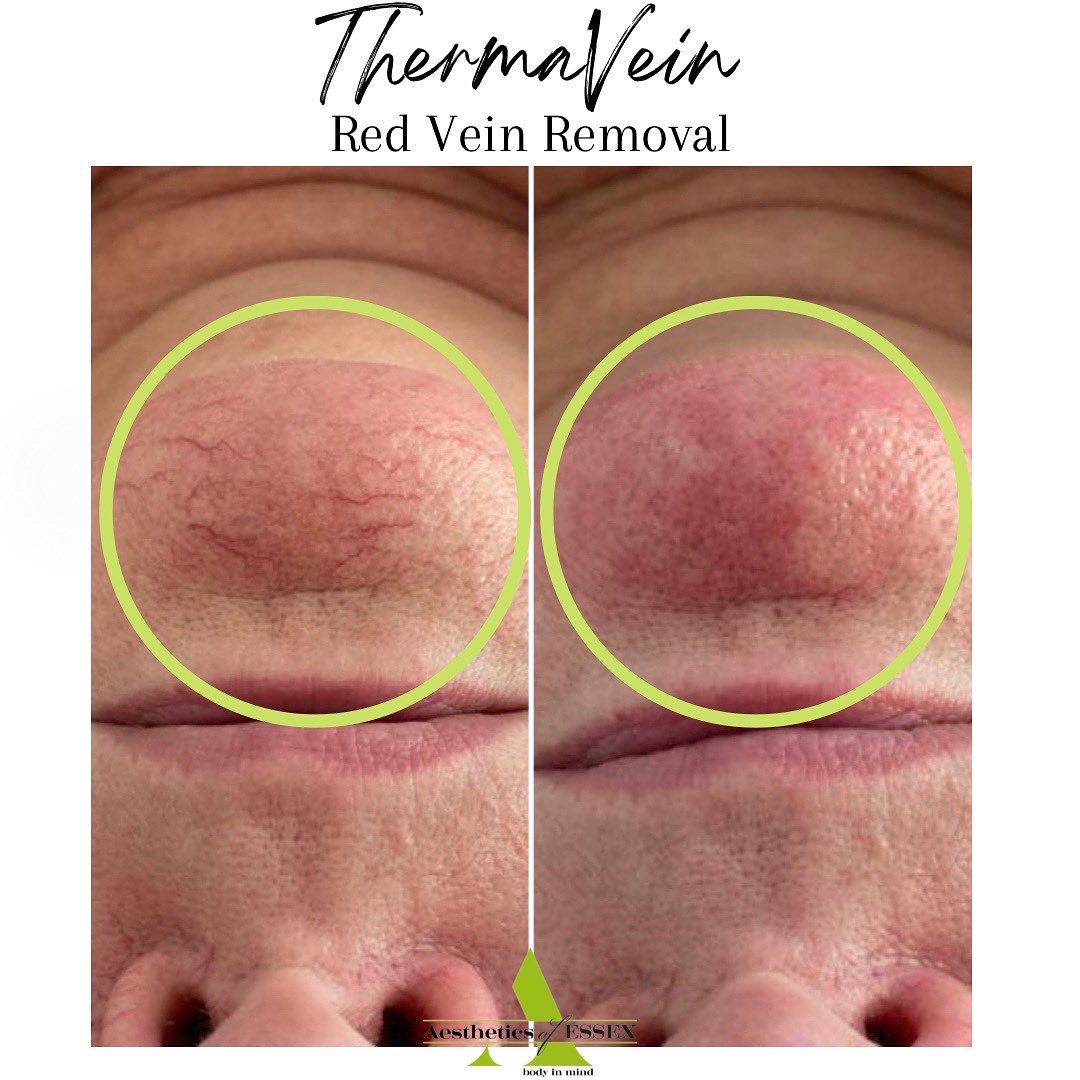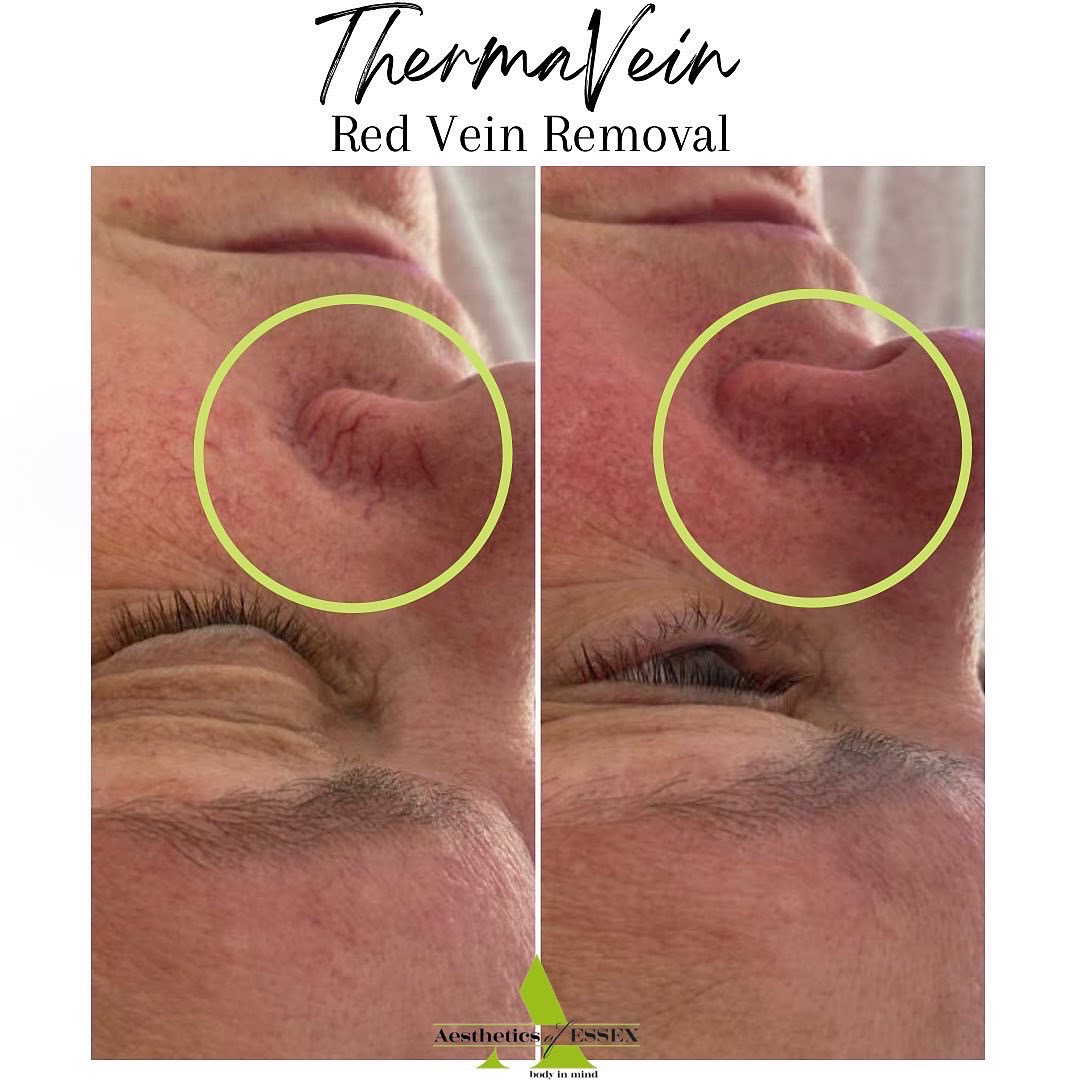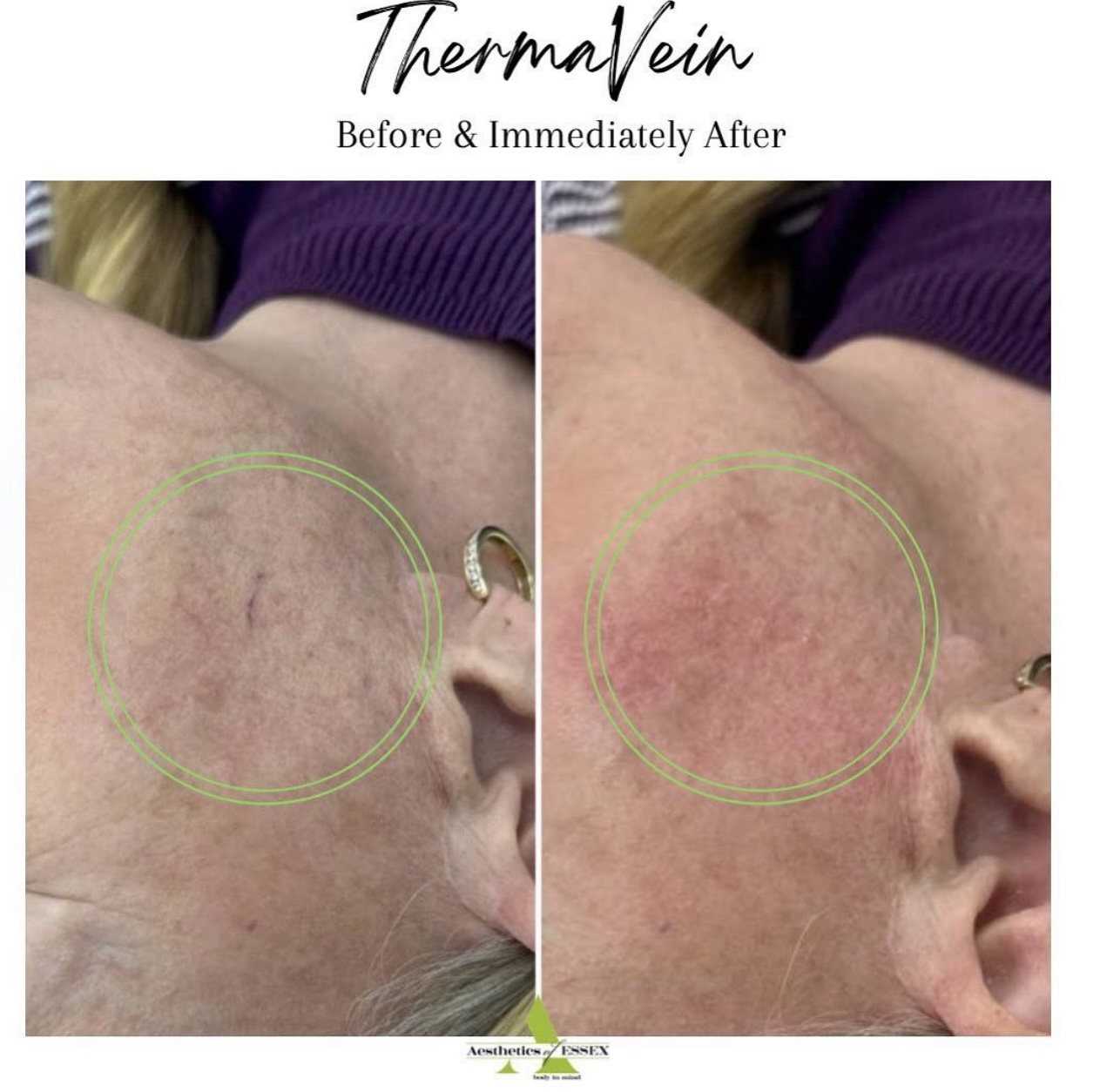 Frequently Asked Questions
How does ThermaVein work?
A tiny probe, the size of a human hair, is rested above the vein to close it together (Fig.1)
The next step is to deliver a 0.2-second pulse to seal the vein, the process is repeated along the length of the vein until it is permanently closed (Fig.2)
The blood is naturally absorbed into the body and the vein ceases to exist (Fig.3). The whole process takes minutes and most people report no discomfort whatsoever.
The ThermaVein procedure video:
How long does the ThermaVein procedure take?
A typical treatment should take no more than 15 minutes. Instantly after treatment you will see a significant improvement in your skin condition if not a total eradication.
How many treatments are required on average?
Many clients can be treated in just one session (depending on the extent of the condition) and it would be unusual for a client to require more than 3 sessions.
Does the treatment cure the condition?
The treatment will remove visible signs of the condition and in many cases prevent it from recurring.

There are a wide range of underlying causes to conditions which may lead to new areas developing, however, a top up treatment will clear the condition.

If there are concerns of recurrence we advise a review 8 weeks after the treatment and a yearly review to stop any new areas developing.
Are ThermaVein treatments painful?
Although unable to classify the treatment as pain-free due to different individuals varying tolerance levels, patients regularly tell us that they hardly feel a thing.

The sensation has been described as a pinching sensation or having a hair plucked. Any sensation felt during treatment will subside as soon as the treatment stops.
Will I need downtime?
Side effects can last up to 2 weeks after your treatment. Please see bellow for side effects
How quickly will I see results?
Are there any known side effects?
Side effects can include but at not limited to, localised swelling, redness and scabbing. You must avoid sun exposure pre and post treatment, however, you can go back to work immediately.

Most clients feel a little pinching sensation which we are informed is easily bared.
How much is ThermaVein?
Single Vein – £85
Small area (15 mins) – £185
Medium area (30 mins) – £285
What are the benefits of ThermaVein?
Visible veins disappear instantly
No downtime
Side effect free treatment
No recovery time needed
Instant results
Who cannot be treated?
We would strongly advise against having this treatment if you are pregnant, have epilepsy (due to head contact rather than the treatment) or recently applied false tan. Individuals that have recently been on a sunbed or in the sun are suitable for the treatment.
Further information
It is important to us that all our clients feel safe and in good hands when they come to Aesthetics of Essex.
Please do feel free to ask to view your practitioners full certificate when you are in clinic.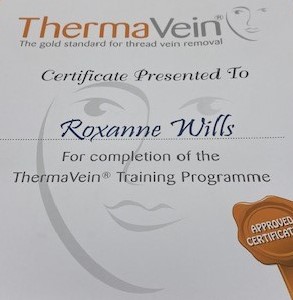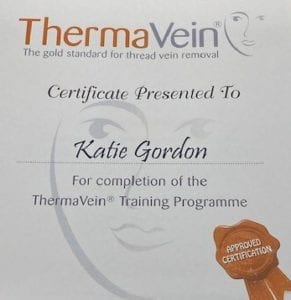 Summary of your Treatment
Procedure Time
5-30 Minutes estimated
Full Recovery
24 Hours estimated
Duration of Results
1 Year
Back to Work
24 Hours estimated
Sensitivity Period
2-4 Hours estimated
Risks and Complications
Light marks, similar to cat scratches, in the treated area, as well as redness
Results
Immediately Visible