About PicoSure Tattoo Removal
As tattoos become increasingly popular in all aspects of society, more and more people will get tattoos that they regret later in life or even a year. So it's no wonder people are constantly researching tattoo removal methods!
A lot of people will think that they need to have hours and hours of extensive, painful tattoo removal laser treatments in order to remove these, search for alternative methods for removal or just make-up to cover them up.
That really is not the case… introducing the world-famous Picosure Tattoo Removal, the world's leading and fastest laser tattoo removal machine, also featured on Channel 4's Tattoo Fixers.
Favoured above other tattoo removal methods, PicoSure® is now the world's leading and fastest laser tattoo removal machine and is capable of removing tattoos of all colours across approximately six treatments, a minimum of eight weeks apart – although some treatments may not take as long.
To ensure your body has adequate time for the treated area to recover, there must be a minimum of 8 weeks left between treatments.
Procedure Time? Dependent on the size of the tattoo. This treatment is extremely quick though.
Please note that this treatment is offered in our Upminster and Maldon clinics.
How Does PicoSure Laser Tattoo Removal Work?
PicoSure laser technology works by delivering short pulses of energy into the tattoo ink, breaking it into tiny particles, much smaller than those created by traditional lasers and other tattoo removal methods. These particles are then disposed of by your body's immune system.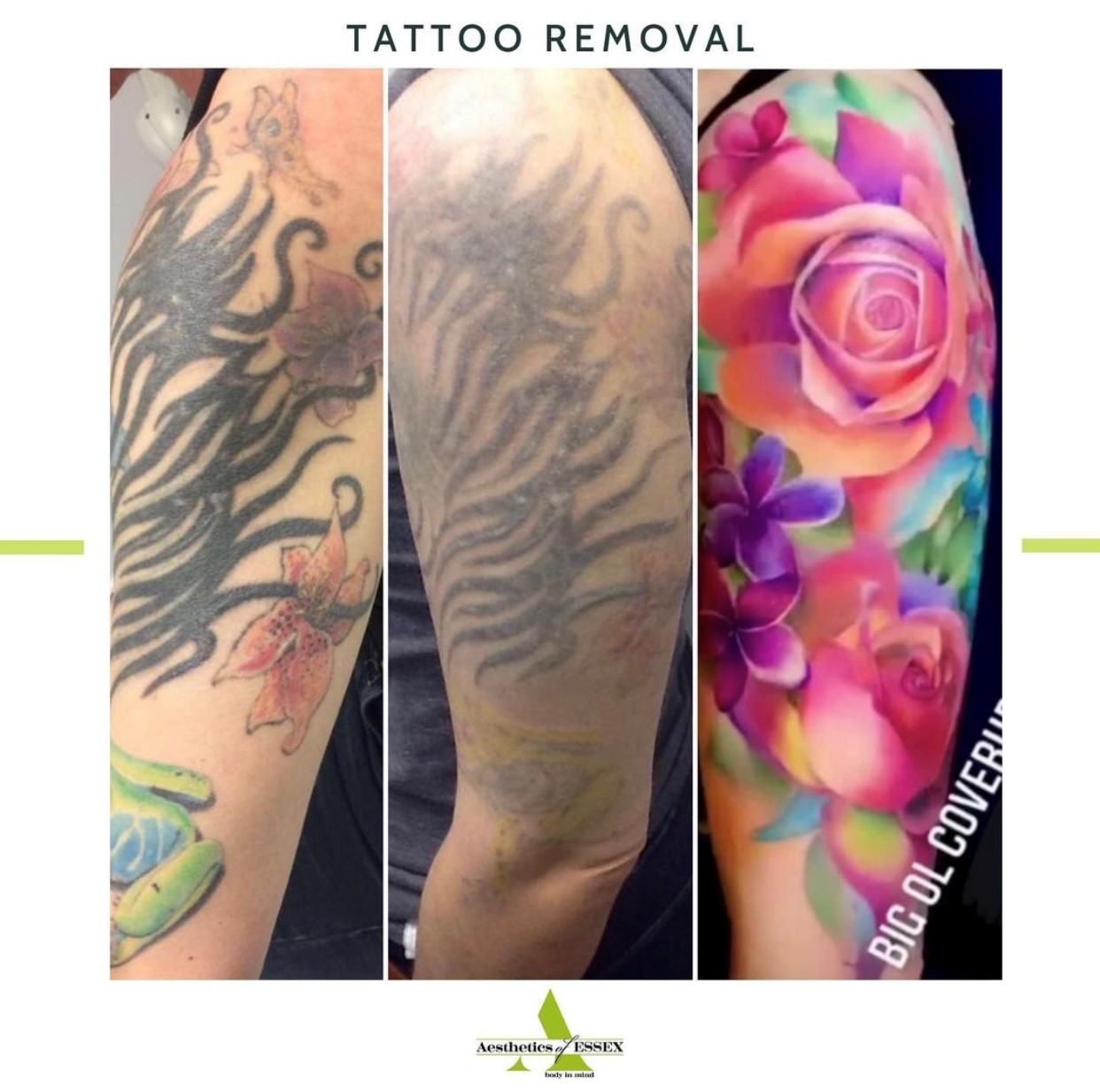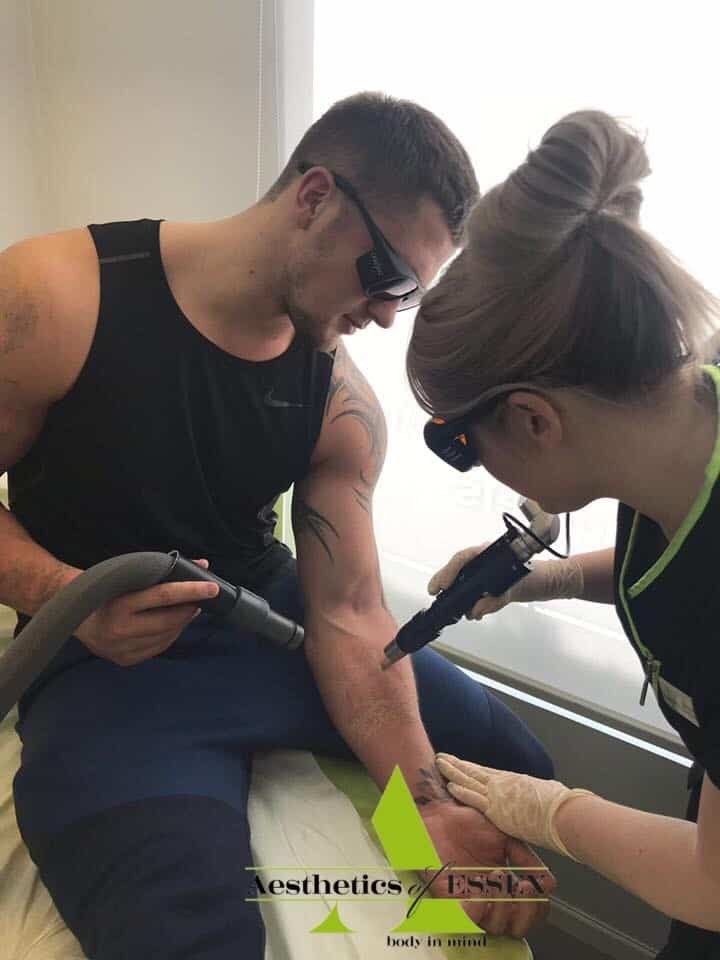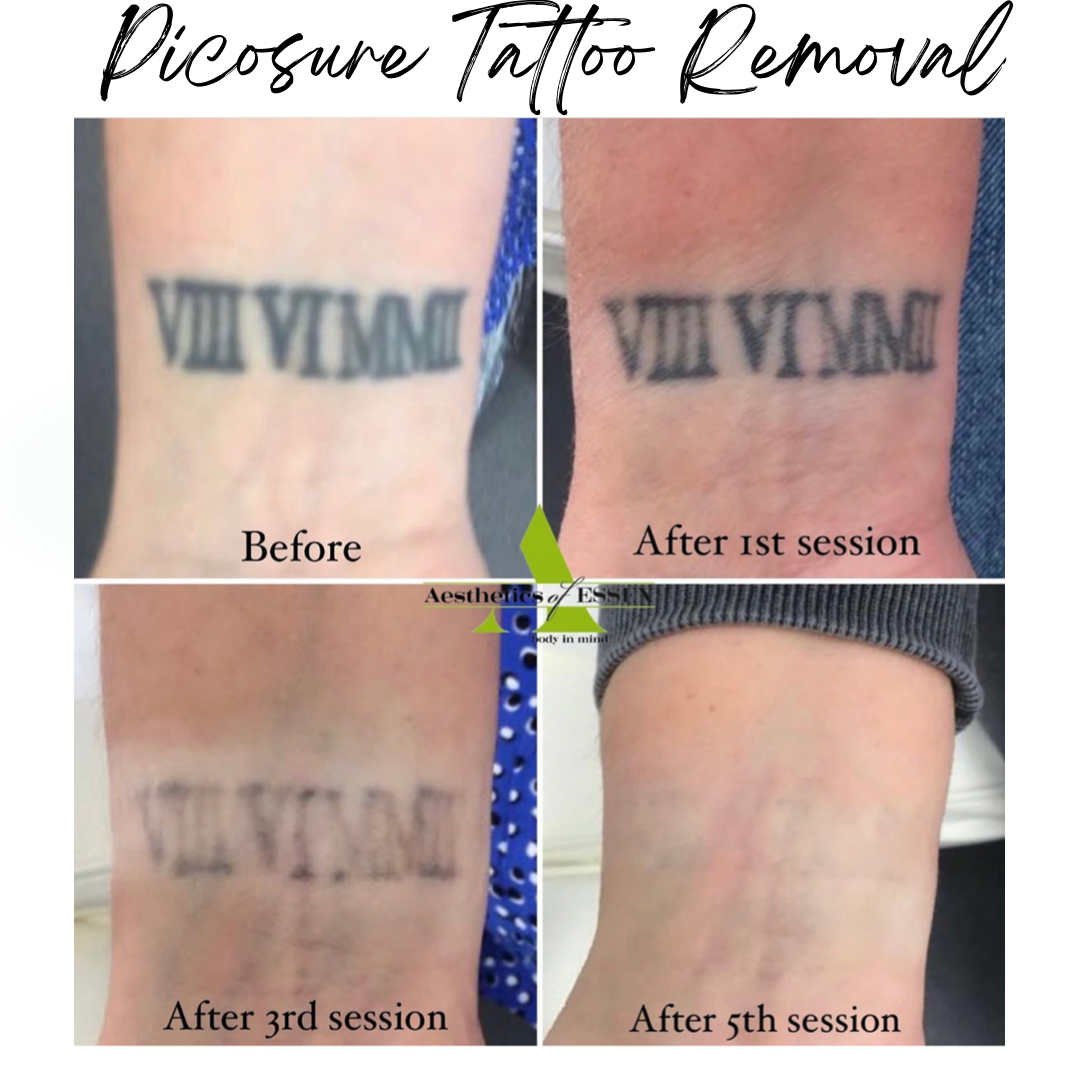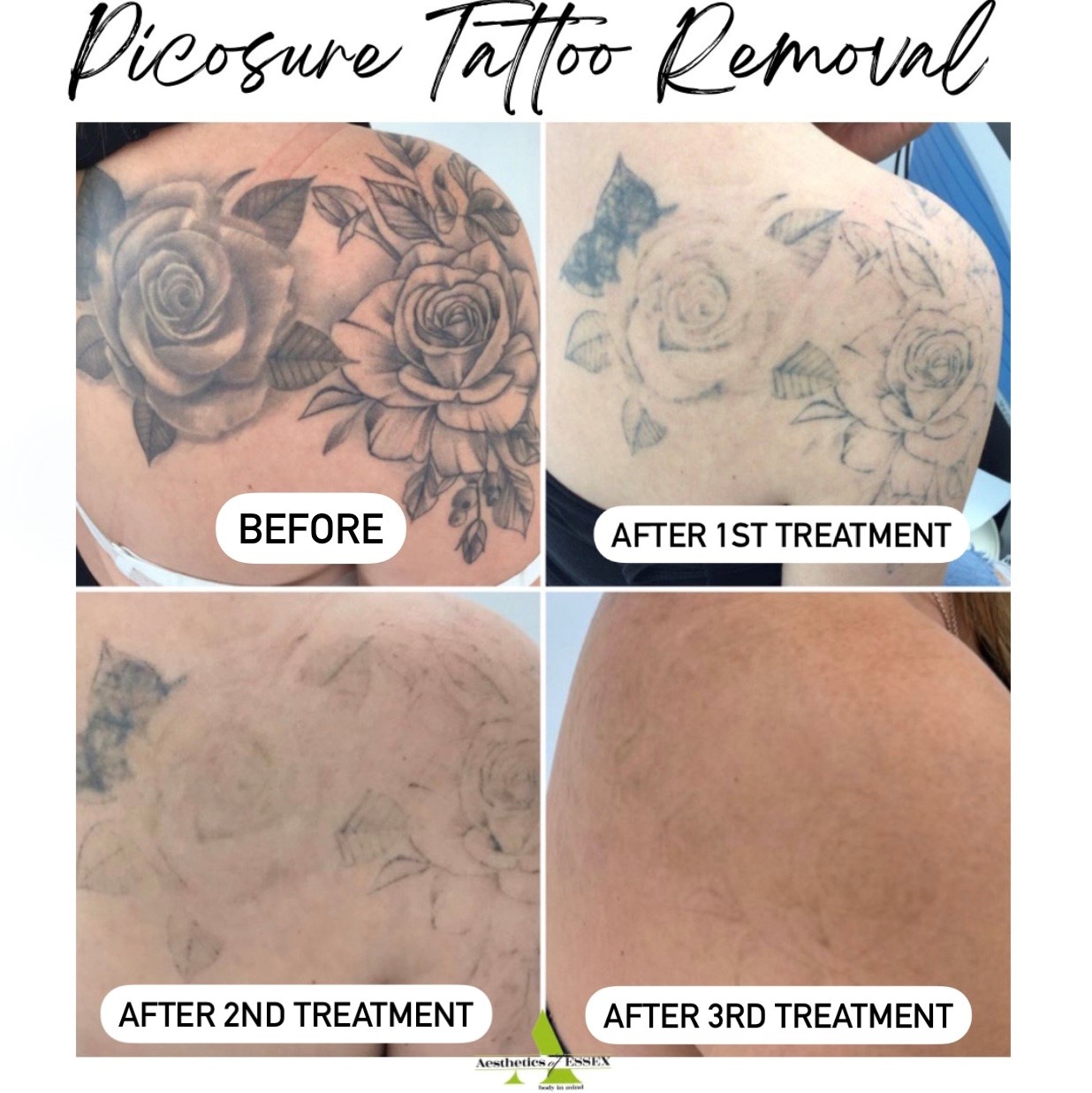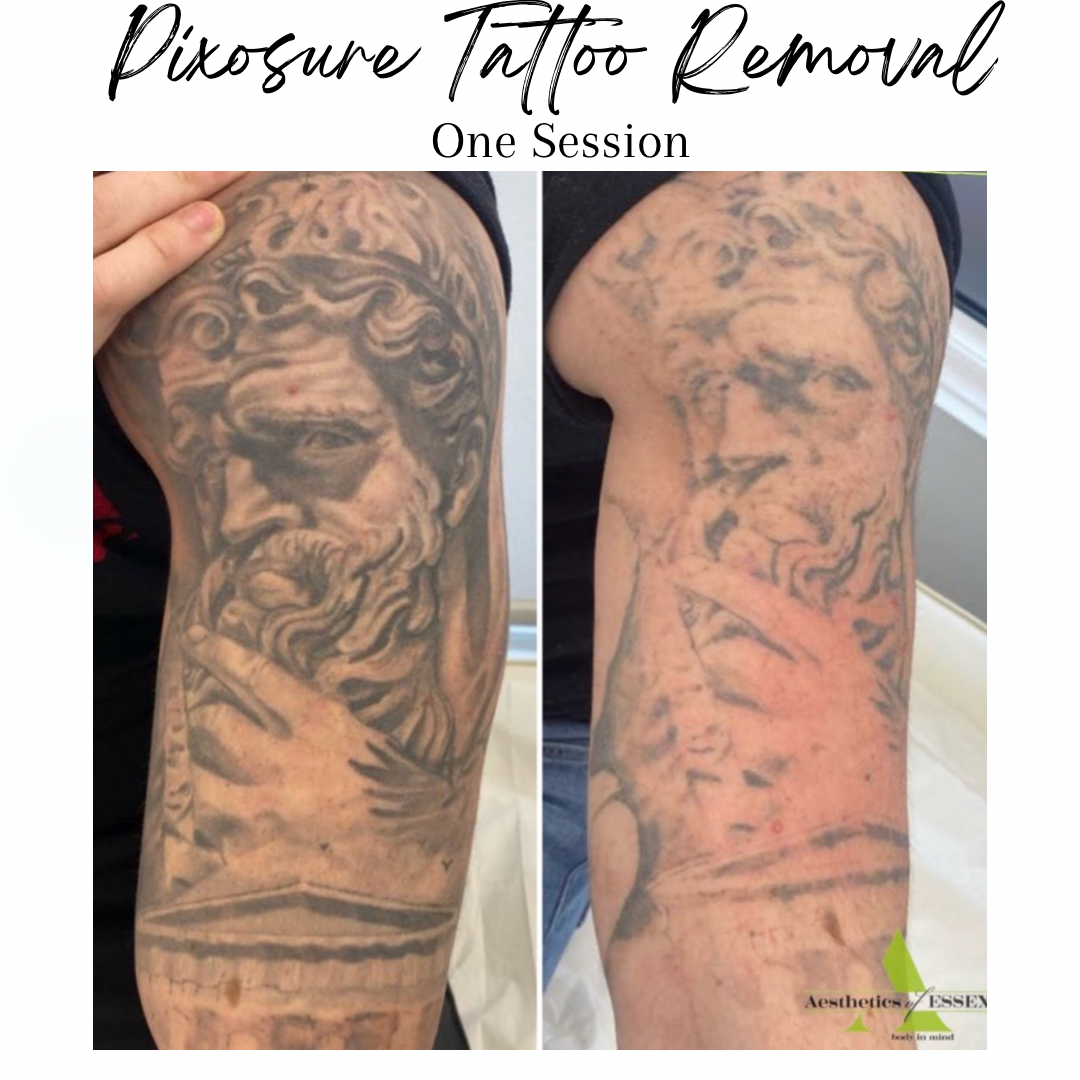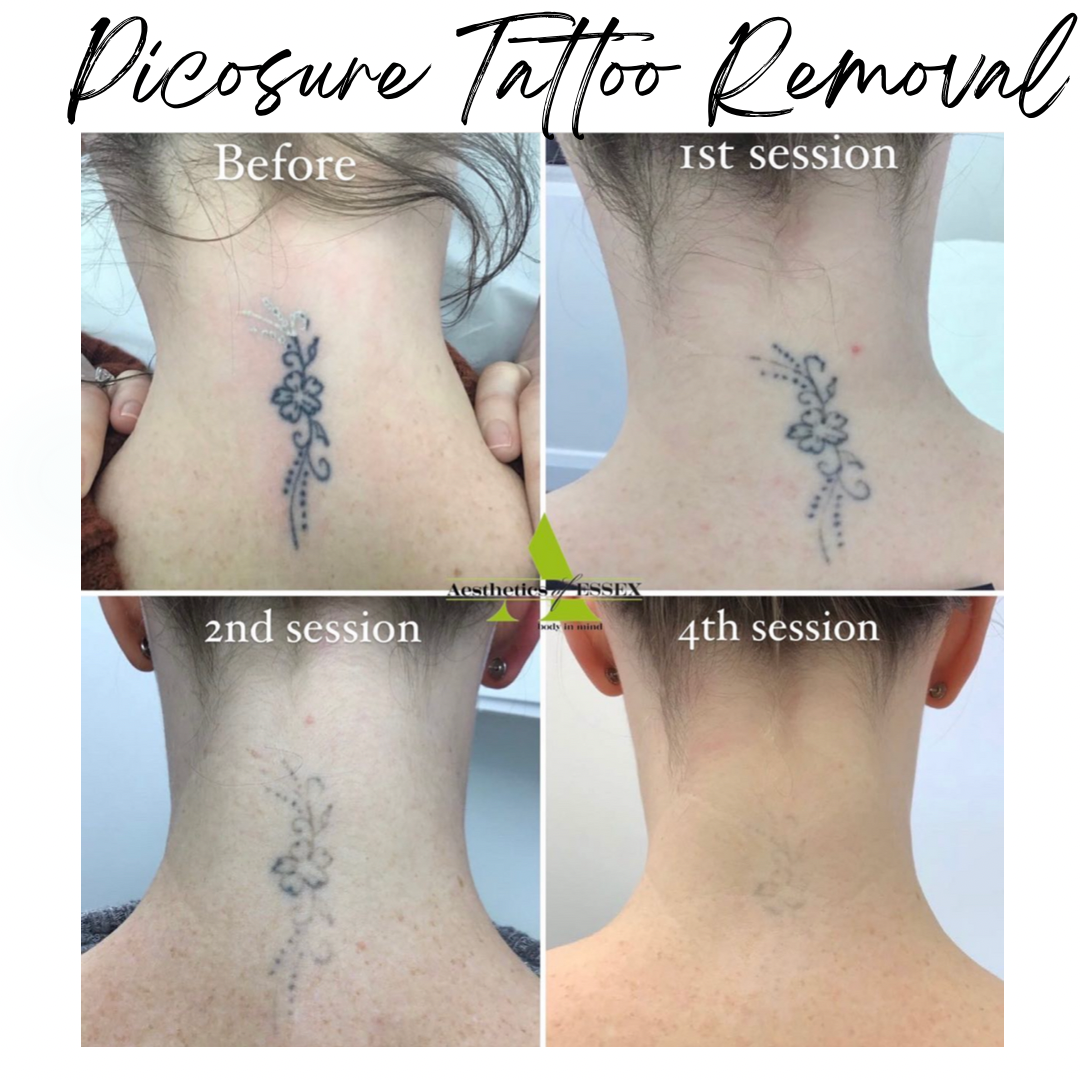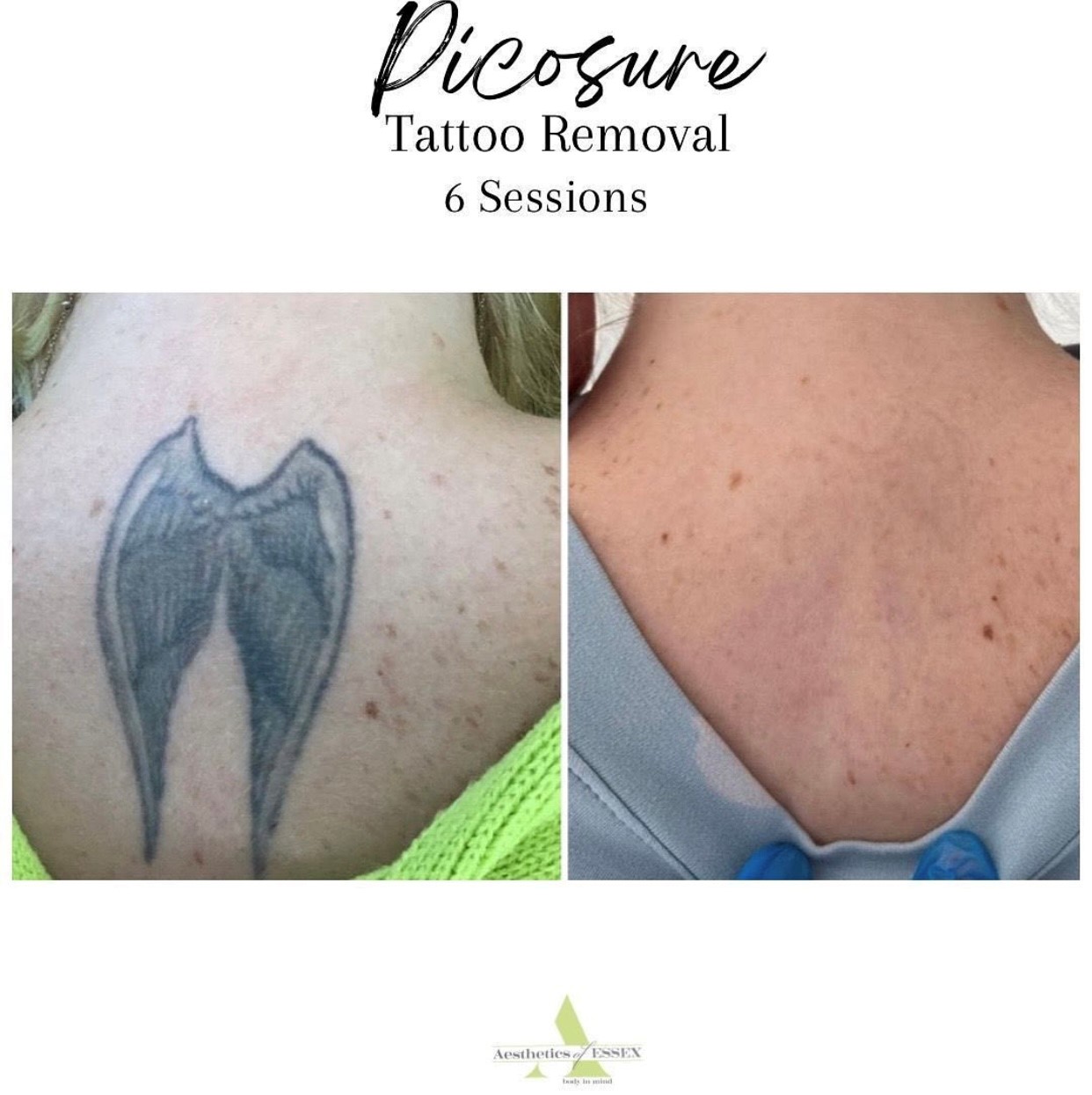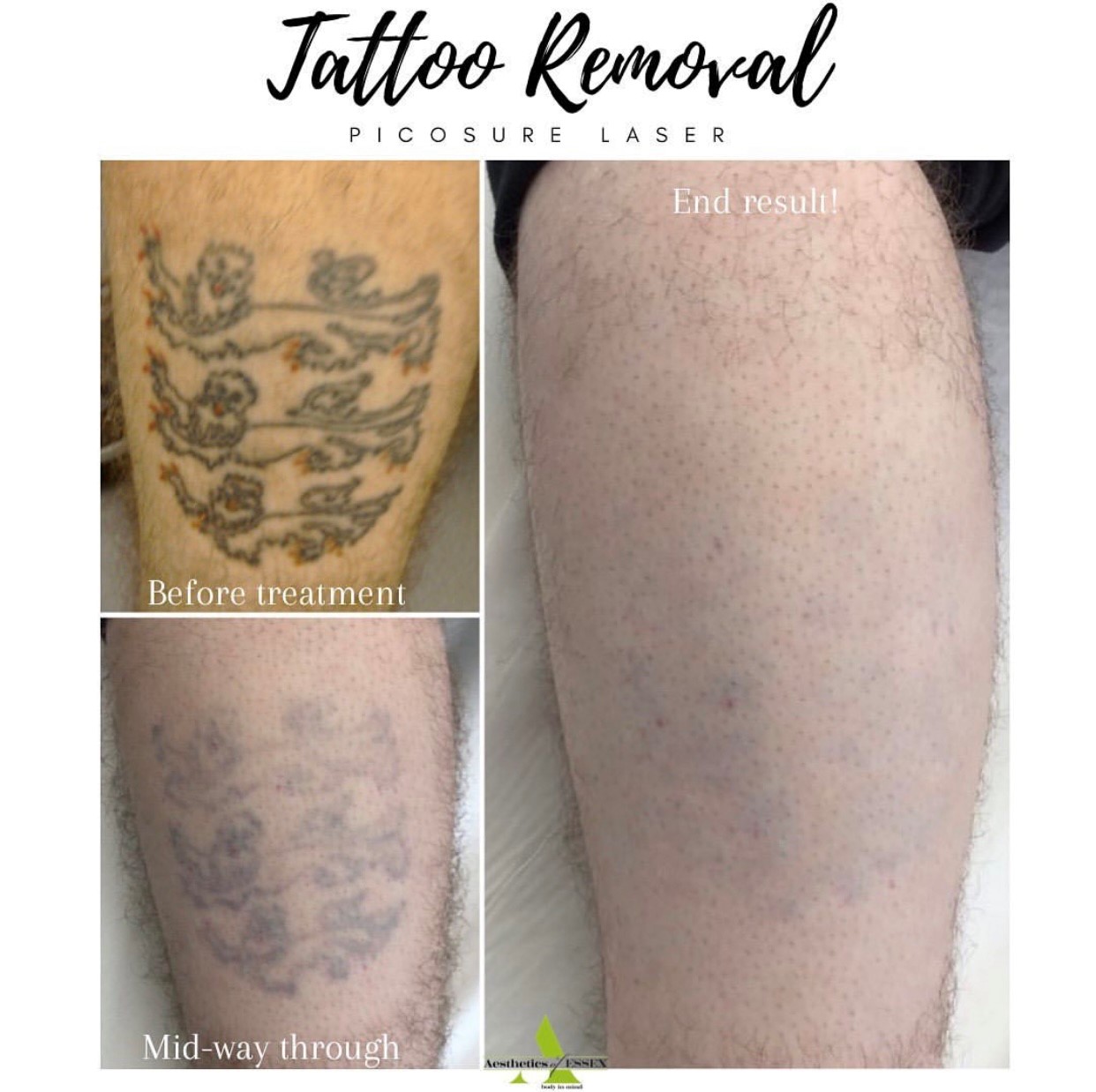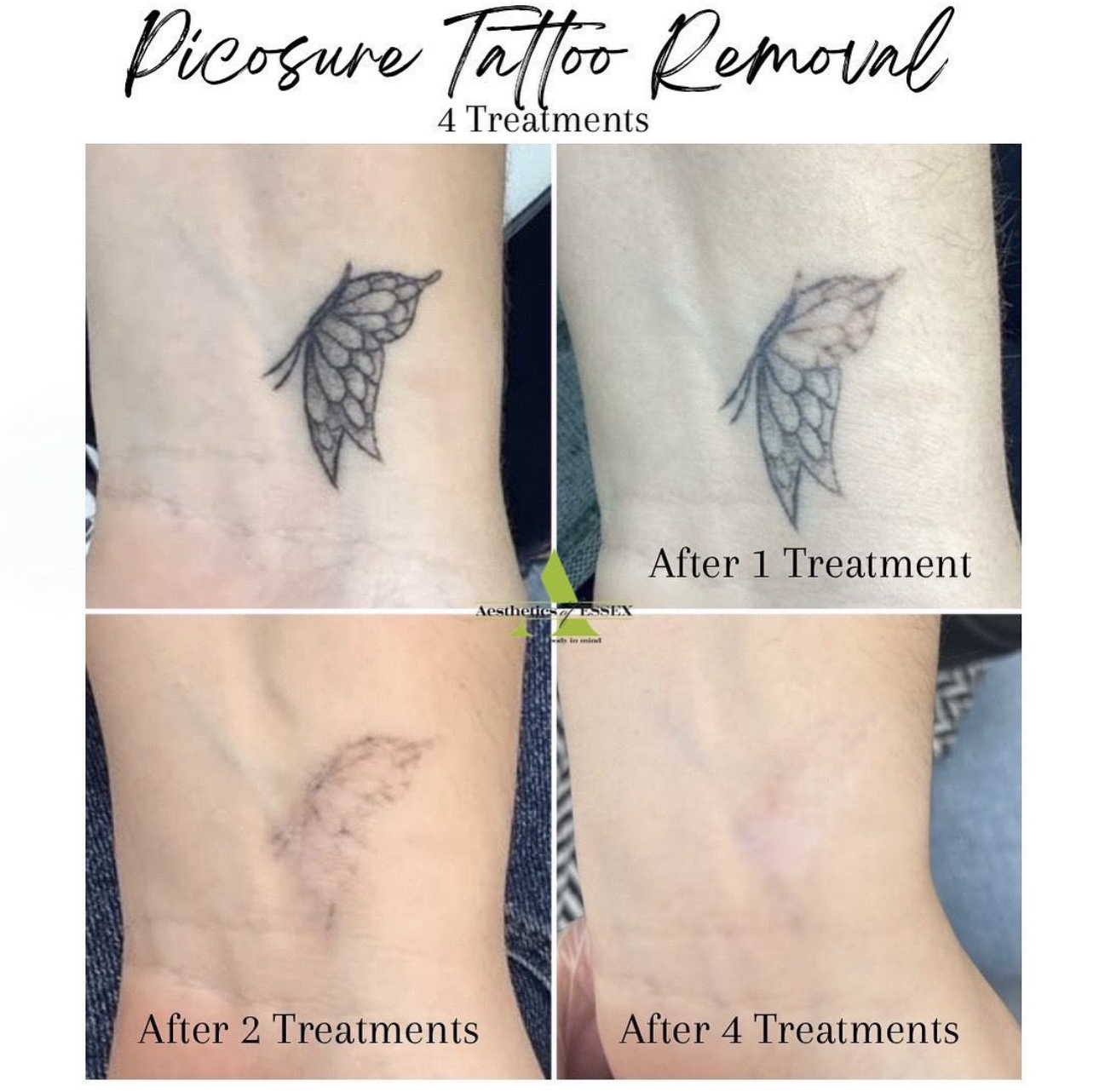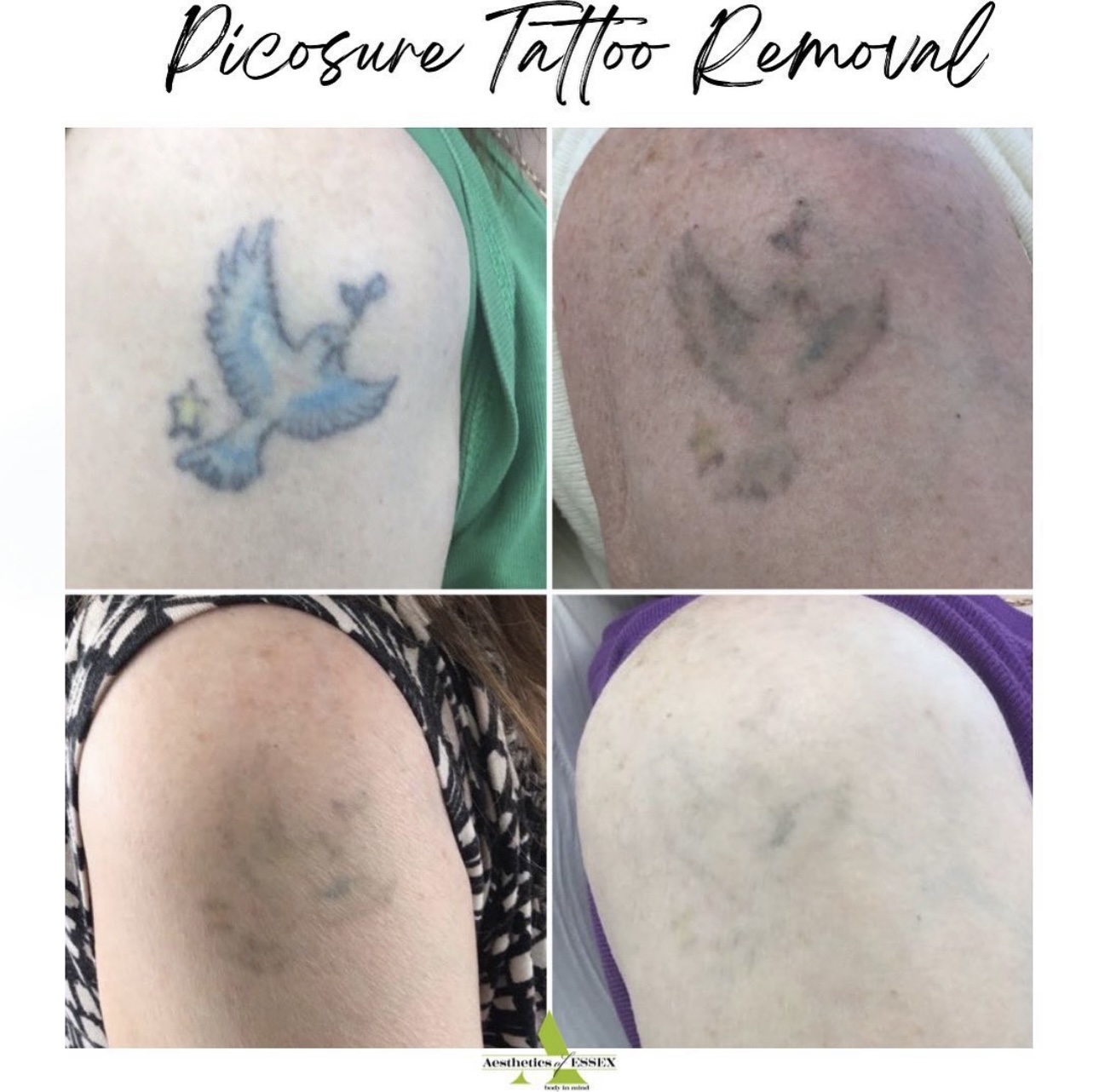 Frequently Asked Questions
What can Picosure Rejuvenation Treat?
· Unwanted Tattoos
· Acne Scarring
· Uneven Skin Tone
· Freckles
· Sun and Age Spots
Will there be downtime?
The skin will be swollen, red and sensitive for max 2 weeks.
During the healing process, you can also form blisters on the area which is very normal and these tend to last for 48 hours.
Does it hurt?
You should feel no more than mild discomfort. You will be able to feel a gradual build up of heat on the skin and a small feeling of prickling to the skin als
How much is it?
Size
Price per Treatment
Course of 4 –

(3 sessions plus 1 free)

Course price per session

with discount

XS –5cm x 5cm
£75
£225
£56.25
S –7.5cm x 7.5cm
£120
£360
£90
M- 10 cm x 10cm
£180
£540
£135
L – 15 cm x 15 cm
£250
£750
£187.50
XL
Price on consultation
Price on consultation
Price on consultation
XXLarge
Price on consultation
Price on consultation
Price on consultation
*All prices will be quoted at consultation and these measurements are used as a guideline only
How long does this tattoo removal procedure take?
This is completely different for each person. It would depend on how big your tattoo is, the design, where it is and how many different colour pigments there are within it. However, the actual procedure is quite quick, lasting anywhere between 5 and 60 minutes.
How many treatments are needed?
You will probably need more than one treatment – on average round 6 – however some people require fewer treatments. Again, this will depend on the components of the tattoo that need to be removed.
Is Picosure tattoo removal safe?
It absolutely is. Having been featured on Channel 4's Tattoo Fixers, the Picosure machine can be relied upon to quickly remove all tattoos in all colours.
For approximately 14 days following the procedure you may feel some sensitivity and you may feel some irritation and itching, which is all normal. It is recommended that you don't shower in the 24 – 48 hours following the removal, as the area will remain sensitive to heat.
Apart from that, you will be ready for your second session of Picosure tattoo removal in no time at all. But again, results differ from person-to-person.
Can Picosure remove every part of the tattoo, or will some remain, like the outline?
Around 95% of all tattoos can be removed completely with Picosure later tattoo removal – even the outline. You should expect an initial reduction – after your first treatment – of 30% and then a further 10 – 15% reduction to the tattoo pigment for each treatment that follows.
So, regardless of the size and design of your tattoo, and the number of colour pigments within it, if you're looking into laser treatments, you should consider using Picosure, as a safe and reliable option.
Summary of your Treatment
Procedure Time
Varies from 5 minutes to 60 minutes
Back to Work
Same day/Next day
Sensitivity Period
14 days - estimated
Risks and Complications
Redness, bleeding, irritation, itchiness
Aneasthetic
None, topical if required
Results
Long term, tattoo gone