B12 Injections Essex
What are B12 Injections?
Also known as hydroxocobalamin injections, Vitamin B12 injections are a popular way to ensure adequate nutritional intake.
B12 is a water soluble vitamin that can exist in a number of forms, all of which contain the mineral cobalt. Performing several roles within the body, B12 supports the normal function of nerve cells and plays a vital part in the synthesis of red blood cells and DNA.
Many people don't consume enough Vitamin B12 in their diet and therefore experience a vitamin B12 deficiency, those who follow a vegetarian and vegan diet for example. This is because B12 is only found naturally in many foods including animal products, such as meat, fish, dairy products, and eggs.
However, you could still benefit from B12 injections if you eat these foods as part of your diet. Some people just don't absorb it very well due to a lack of a substance called intrinsic factor – a protein produced in the stomach that binds to B12, helping it to be absorbed into the blood.
B12 levels can decrease with age, as well as being lower in people who have undergone weight loss surgery, or suffer from pernicious anaemia, Crohn's or celiac disease.
What are B12 Injections used for?
A vitamin B12 deficiency can often lead to a feeling of extreme tiredness, lack of energy and muscle weakness alongside many other symptoms.
Therefore, many people regularly choose to have B12 injections in Essex to help with their energy levels and brain function.
This is because your body needs B12 to make the healthy red blood cells that transport vital oxygen to your organs. Optimum B12 levels mean more oxygen to your brain, helping to reduce fatigue and help concentration.
Vitamin B12 may also play an important role in bone health, as studies have shown that low blood levels of B12 can be associated with an increased risk of osteoporosis in women.
Additionally, adequate levels of B12 in the blood are thought to contribute to healthy eyes, decreasing the risk of macular degeneration.
Whilst the effect of Vitamin B12 on mood is not yet fully understood, it plays a vital role in the synthesis and metabolism of serotonin – the chemical responsible for regulating your mood. Low levels of B12 could potentially lead to a decrease in the production of serotonin – ultimately causing or contributing to depression. Studies support the use of B12 injections alongside antidepressants for improving the symptoms of depression.
Where are B12 Injections given?
When you receive your Vitamin B12 injections in Essex, our expert clinicians will administer the injection intramuscularly into the arm, with many clients reporting an almost immediate effect.
We recommend a dose every 3-6 months for optimum health and wellbeing. Regular treatment should reduce symptoms such as headaches, tiredness, lack of energy and breathlessness.
Where to get B12 Injections in Essex?
If you're experiencing a vitamin B12 deficiency and are looking for a way to feel healthier and more alert, B12 injections in Essex could be a great option. Here at Aesthetics of Essex, we're regarded as one of the leading providers of hydroxocobalamin in the UK, and we're always happy to be of assistance.
Perhaps you've adopted veganism and have started to feel run down? Maybe you struggle to sleep and are tired all the time? Or perhaps you experience frequent 'mental fog' and grogginess?
Vitamin B12 injections could make a huge difference. Our team of skilled medical aestheticians have significant knowledge and experience in administering B12 injections in Essex and can perform this non-invasive treatment quickly and safely.
Book an appointment for B12 Injections in Essex today
Before making an appointment for vitamin B12 injections in Essex, we ask all clients to give us a call for a free one-to-one consultation. This is an opportunity for us to establish your goals and advise on your suitability for vitamin B12 injections.
To find out more about B12 injections in Essex, or arrange your complimentary consultation, please don't hesitate to get in touch.
You can either give us a call on 01708 225555 or send an email to info@aestheticsofessex.co.uk and we'll get back to you as soon as possible.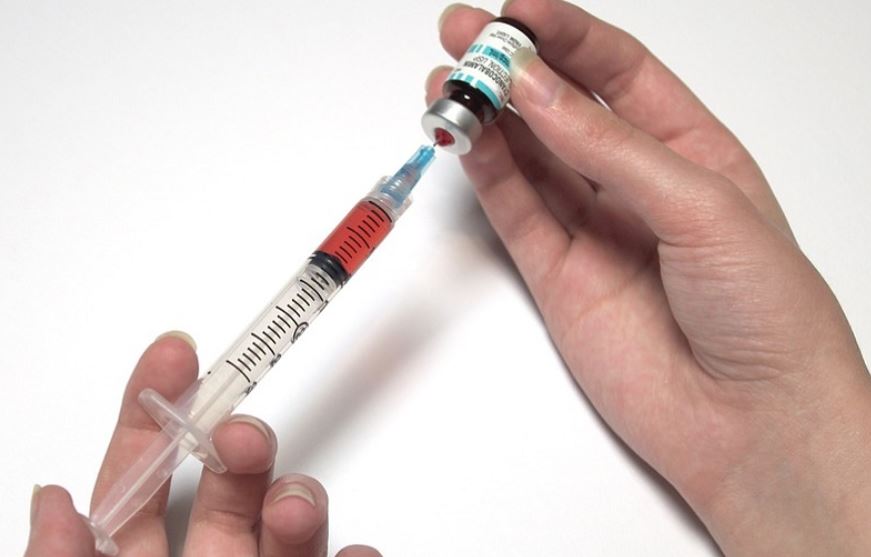 Frequently Asked Questions
How long do B12 Injections take to work?
Since our experienced clinicians administer injections directly into your muscle, it bypasses your digestive system entirely. This means that they can begin to work much faster than other supplements such as B12 tablets and other medications.
People who are experiencing a vitamin deficiency may begin to feel the benefits of vitamin B12 immediately, but typically our patients experience the positive effects of this treatment between 24-72 hours following the B12 injection.
How long do the effects of B12 injections last?
The effects of Vitamin B12 injections vary between individual clients, and are heavily influenced by diet and lifestyle, as well as underlying medical conditions.
Whilst some people may require a single B12 injection to improve their symptoms of tiredness and brain fog, maintaining adequate levels thereafter through a diet rich in nutrients, others may find that they need regular injections to keep their levels within the optimum range.
Are B12 injections safe?
Vitamin B12 injections are largely considered to be very safe, with no major side effects regularly reported.
It's important not to use B12 injections if you are allergic to cobalt or have a form of vision loss known as Leber's disease. If you experience any side effects after your B12 injection, you should speak to your GP.
Additionally, you should consult with your GP before commencing B12 injections if you:
Are pregnant or breastfeeding
Have ever had liver or kidney disease
Have ever had an eye-related disease
Are receiving any treatment that affects your bone marrow
Are suffering from a folic acid or iron deficiency
If you have any questions about whether B12 injections would be suitable for you, don't hesitate to contact our knowledgeable team.
Will I Need Downtime?
No – this is a super quick treatment that involves one singular injection.
Will the injections hurt?
Mild discomfort. The injection is usually inserted into a muscle in your arm so slight numbness and a sting is common.
How Much Is The Treatment?
How Does the Treatment Work?
Vitamin B12 works by increasing your levels of B12 so that you can produce more red blood cells to help carry oxygen around your body – this helps to increase your energy and promote a healthier well-being
Certificates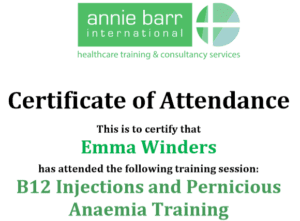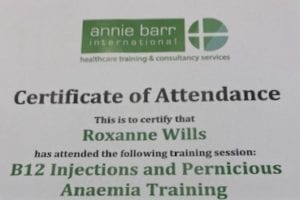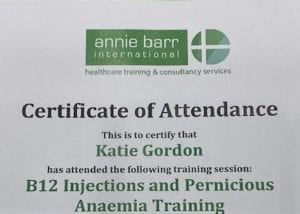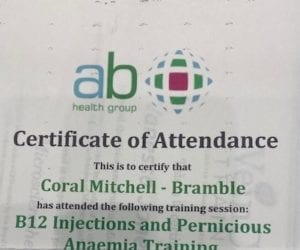 It is important to us that all our clients feel safe and in good hands when they come to Aesthetics of Essex.
Please do feel free to ask to view your practitioners full certificate when you are in clinic.
Summary of your Treatment
Procedure Time
30 Minutes Estimated
Full Recovery
24 Hours estimated
Duration of Results
3 - 6 months
Sensitivity Period
1 Hour
Risks and Complications
Infection, bruises, drooping brow, allergic reactions (e.g. swelling)