Women put in a lot of effort to get their skin irresistibly smooth; waxing, shaving, plucking and now investing in laser treatments to slow down body hair growth so they stay smoother for longer. Surprisingly, it seems men are no exception to this method, as laser hair removal for men is no longer uncommon.
Male Hair Growth
While some men enjoy hairiness – they believe it makes them feel more masculine, giving them self-confidence – others feel embarrassed or self-conscious about their very hairy shoulders and back, and would consider their hair growth as excessive.
What Causes Excessive Hair Growth in Men?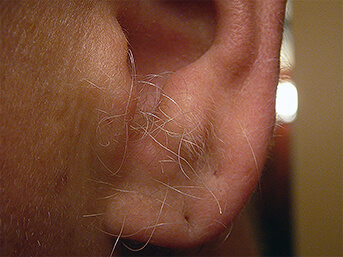 Excess hair growth in men is caused by a range of factors. These include; hereditary factors (passed down through genes most commonly found on the maternal side), age, ethnicity, and an imbalance of hormones, specifically Testosterone.
Testosterone is an important hormone for males, especially from the start of puberty through to adulthood. This male hormone plays an important role in regulating fat metabolism, improving sexual libido, increasing muscle strength and mass, and is responsible for every physical or emotional trait that reflects masculinity (deeper voice, Adam's apple, and growth of facial and body hair).
Men with high levels of Testosterone usually have high levels of Dihydrotestosterone (DHT), which is an even stronger male sex hormone. The amount of DHT correlates to the rate of hair growth. An imbalance of this hormone can cause excessive hair growth in men and even women!
Indications of high DHT levels in men include coarse hair growth from the nose and ears, bushier eyebrows, shoulder and back hair.
Women can develop a moustache, chest hair and darker, coarser hair as a result of high testosterone levels.
Stop Hair Growth with Laser Hair Removal
Fortunately, there are affordable methods of hair removal available for men and women suffering with extreme hair growth.
Common hair removal methods involve razor shaving, waxing, epilating and tweezing and some need to be performed more frequently than others. Although, these hair removal methods can leave you with prickly stubble…
If you want to slow down hair growth – almost permanently – why not try laser hair removal?
Laser hair removal is becoming increasingly popular in the male grooming regime. Not only do men want to look good, they want to feel good – literally!
Laser hair removal destroys the hair follicle with heat energy, causing it to fall out, leaving surrounding skin undamaged. This treatment slows the rate of hair growth as it targets the direct source, rather than just trimming the hair on the surface.
A series of sessions will gradually reduce hair growth in the treated area and prevent it growing back as fast. Results can last a year or so, however, having long-term treatments can result in permanent hair removal.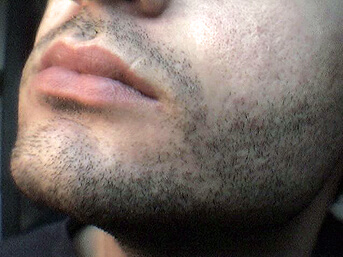 Treatment Areas For Laser Hair Removal:
– Facial hair – side burns, upper lip, chin, neck
– Arms and underarms
– Shoulders and back hair
– Chest, nipples and abdomen
Did you know: The average person can shave 11,540 times in one lifetime? It's not surprising to see why more and more people are considering this effective treatment. Just imagine how much time you will save!
This treatment is carried out by our fully qualified Aesthetic Practitioners who have been specially trained in performing laser hair removal treatments on our clients in Brentwood, Romford, Basildon, Southend – all areas of Essex.
If you are considering this treatment and would like some more information about laser hair removal costs, or the procedure, you are welcome to book a free consultation with us.
Start your series of treatments now and have a hairless summer! (25% off your first treatment*).