Cellulite is a common cosmetic problem that is estimated to affect 80% of women above the age of 20 years old. It tends to make an appearance in the majority of women in the legs, typically the outer thighs, the back of the legs, the buttocks, the front of the legs, and, to a lesser extent, on the inner thighs too. Cellulite is not a medical condition, and it causes absolutely harm to you physically, yet it is still a massive worry for many of those it affects, and can negatively affect the confidence of the afflicted. Unfortunately for the ladies, it is a problem that mainly affects them, with some practitioners having never treated a man for cellulite. Aren't we lucky ladies!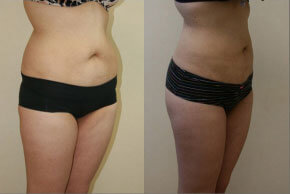 What are the causes of cellulite?
Cellulite does not always mean that there is an excess of fat in the affected area, and, it affects slim women in the same way as it does those who are overweight. There cannot be one single factor attributed to the cause of cellulite, and many studies have been conducted trying to narrow down the possible causes. There is strong evidence that suggests that people are born with a strong hereditary predisposition towards the problem.
As well as this, causes of cellulite are also considered to be things such as a poor diet, smoking, slow metabolism, lack of physical activity, hormonal changes, dehydration, the percentage of total body fat, and the thickness and colour of the skin. This is all before we get into the scientific explanations such as 'abnormal vascular patterns' or 'cellular dystrophy'!
Basically, there are a lot of factors that contribute to the presence of cellulite.
Treating cellulite
As most of the causes of cellulite are down to lifestyle, it is reasonable to expect changing your lifestyle will affect the presence of cellulite. Legs are most prone to cellulite due to our sedentary lifestyles. Most of us work in an office or have a desk job that does not require use to be physically active throughout the day. It has been confirmed by new research that regular activity throughout the day can ensure we have the good cardiovascular health, which would help the breakdown of the fatty deposits that create the 'orange peel' look of cellulite.
As a result, any clinical treatment of cellulite must come hand-in-hand with lasting lifestyle changes in order for the results of to be most successful. Despite advances in the science of the treatment, cellulite remains impossible to 'cure', but it can be improved, maintained and prevented from worsening through the combination of treatment and lifestyle choices, such as sticking to a healthy diet, keeping yourself hydrated, and exercising regularly, and remaining committed to these choices.
So now you know what you have to do, let's discuss what we can do for you!
Liposuction
The most effective treatment for cellulite is Liposuction.
Our liposuction treatment is an effective body contouring cosmetic prodedure which effectively smooths the lumps and bumps associated with cellulite. Our next-generation, anti-ageing, and skin tightening device – BodyTite – melts and quickly removes the unwanted fatty deposits in arms, stomach, hips, buttocks, thighs, and legs whilst gently heats soft tissue and encourages your skin to tighten.
We also offer two forms of skin tightening: Near Infrared (NIR), and Accent XL that are effective at improving the appearence of stubborn cellulite.
NIR Skin Tightening
NIR Skin Tightening stands for Near Infrared. Near Infrared emits light that heats the tissue under the skin's surface, causing collagen fibres to contract, causing the skin to tighten without damaging the surface of the skin. This procedure is very comfortable and totally pain-free. This treatment is not only suitable for the treatment of cellulite, but also improves the treated skins overall appearance, as the rejuvenated collagen cells cause the skin to, once again, appear taut and youthful.
Accent XL Skin Tightening
Revolutionary Accent XL treatment uses radio waves to heat fat cells deep beneath the skin, whilst keeping the outer layer cool. The heat helps to destroy these fat cells and breaks up their connecting tissue which causes cellulite. The use of heat also stimulates the production of new collagen to reduce the appearance of wrinkles and make skin look softer. Accent XL can also be used for body contouring. This is an all-round effective treatment that has been receiving rave reviews!
Both treatments are non-invasive and have little-to-no recovery time.
Springtime is when these treatments are their most popular, as people prepare for the summer, so beat the rush and take advantage of our fantastic offer of 10 treatments for £625, consisting of 5 NIR sessions and 5 Accent XL sessions to get you the best possible results! Contact us to make a booking.