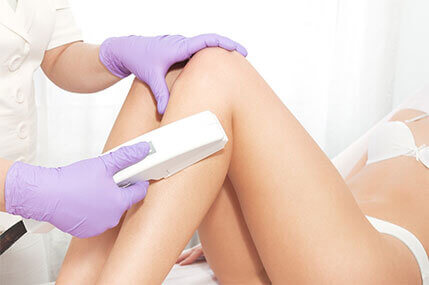 Whichever hair removal technique you prefer, having hair in less favourable places often impacts our self confidence. Sometimes we don't have the time to shave and it can cause us to cover up or feel self conscious. Quite frankly, unless it's the hair on our head, the majority of us women prefer to be hairless and are happy remove it!
However, excessive or unsightly body hair doesn't only affect women, it can also be upsetting for men. The good news is there's a safe and effective way of getting rid of unwanted hair – laser hair removal. Laser hair removal is a gentle way of removing unwanted hair. It's medically proven to give you more permanent hair removal than shaving and waxing with statistics showing 60-95% of targeted hair is permanently gone after the recommended amount treatments have been complete.
Our hair removal machine glides over the skin and works by sending wavelengths of heat to the hair root or follicles, killing the hair and preventing future growth. The amount of hair removal treatments you need will depend on your hair color, and hair thickness. Several treatments are usually required to permanently remove underarm hair, and maintenance sessions are sometimes required to continue to prevent hair growth.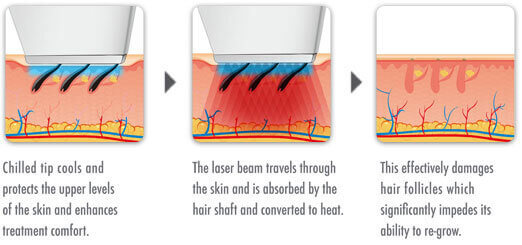 To ensure you get the best results possible from your laser hair treatment, there is a free consultation before your treatments starts. Our trained professional will create a treatment plan that's right for you.
Areas that can be treated

The areas that can be treated by laser hair removal include:
– The upper lip, chin, beard and jawline
– Legs and bikini line
– Armpits and arms
– Chest and abdomen
– Neck, ears and nose
Wouldn't it be fabulous not having to worry about body hair this summer?
The benefits of laser hair removal include reduced thickness and amount of hair regrowth, no ingrown hairs, and minimal discomfort during treatment. Unlike waxing and shaving which can cause irritation bumps, darkening of the skin, and discomfort.
Start your laser hair removal treatments today so as you can wear the clothes you want, feel good about yourself and appearence, and not have to worry about shaving or waxing this summer. Prices start from £35 so contact us or call us on 01708 225555 to book your free consultation!