There's no denying that eyelashes and eyebrows have been at the forefront of our concept of beauty. Trends in the shape, length and thickness of eyelashes and eyebrows have changed significantly over the decades, with bold, long lashes and strong brow – like Cara Delevingne – being the current desired look.
Factors affecting growth

Age, hormones, stress, illness and genetics can all influence the growth and density of your lashes and brows, as well as the hair growth cycle. For those of you who dislike the appearance of your eyelashes and eyebrows, there are many options available that artificially improve the appearance of lashes and brows. These include eyelash extensions, fake eyelashes, eyebrow tinting, and fibre applicators. Although these may be inexpensive ways to achieve fuller, longer lashes and stunningly shaped eyebrows, the majority of these options are only temporary, require daily maintenance and are only 'hiding' the problem.
Cue lash and brow serums…
You may have heard about these award winning Eyebrow and Eyelash Enhancing Serums which claim to transform weak, sparse lashes and brows in as little as 60 days. They condition, restore and repair the appearance of your eyelashes and eyebrows with daily usage, and have a number of glowing reviews.
However, most of these conditioning growth serums contain un-approved ingredients, such as Prostaglandin (PG), which is a pharmaceutical substance that should not occur in cosmetic products. PG analogues can cause side effects such as eye irritation, itching, eye pain, change of iris colour, dark pigmentation around the eye, contact dermatitis and fungal infections.
Put the 'wow' back in your brow!

So what is a long term solution to sparse eyelashes and unshapely eyebrows? Our recommendation is Semi-permanent make-up. Semi-permanent make-up (also known as Micropigmentation) is a cosmetic procedure that involves tattooing pharmaceutical graded pigments into the skin to give a natural make-up appearance. It is increasingly being used on men and women, and offers cosmetic enhancement to various facial features to enhance natural beauty.
Semi-permanent make-up can be applied to the eyebrows to give them a new shape and density. It can also be applied to the eyelids to brighten the eyes, give lashes a thicker appearance, and for perfect eyeliner all day, every day. Lastly, it can be applied to the lip border as lip liner to add colour and achieve fuller, more defined lips.
For those of you who desire fuller lips and want to maximise the effects of lip liner, we offer a 'Lip Queens Special'.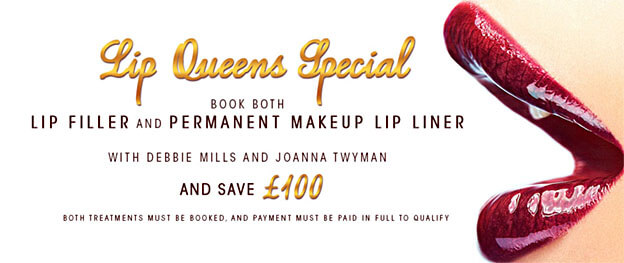 This offers a £100 saving on Dermal Fillers and Semi-permanent lip liner to give you the perfect pout.
Our Semi-pemanent cosmetic treatments are performed by our qualified technician, Joanna Twyman, who will assess your facial features and aim to give a treatment result which will enhance your natural beauty and restore your self-confidence.
It is a relatively pain free procedure, no more painful than having your eyebrows tweezed. The results will last anything from 6 months to several years, however we recommend top-up treatments every year for the best continued results.
Call us now on 01708 225555 for more information, or to make a booking for your free consultation and patch test.