Cryopen Treatment
Lesions and imperfections of the skin are, unfortunately, very common and people often seek the help of their doctor to get rid of them. However, it's important to note that: no matter how unsightly or unattractive you think your skin lesion or imperfection is, it will not be removed by the NHS unless it is causing you pain or discomfort in some way. This is why so many people head to private clinics, in search of a specialist treatment that might help – including, for example, the innovative and highly-effective CryoPenTM treatment currently available at Aesthetics of Essex.
A Brief Explanation of CryoPenTM Treatment
Traditional cryotherapy treatments use liquid nitrogen to freeze away the skin lesion or imperfection and, as a result, they are renowned for being quite painful. By contrast, the cryotherapy pen is virtually painless and safe enough to use on children. A pressurised, superfine jet of nitrous oxide is emitted from the tip of the pen with millimetre precision. Essentially, this jet freezes the intercellular fluid within the tissue, breaking down the cell membranes and eventually destroying the unwanted skin. The healthy skin tissue surrounding the imperfection is spared and the entire procedure takes approximately 5-25 second from start to finish. It is quick, simple, and incredibly effective.
Can CryoPenTM Treatment Be Used for Age Spot Removal?
One type of skin imperfection that can be treated using the CryoPenTM includes sun or age spots. Age spots are flat brown or black marks that appear on the surface of the skin and they are typically found on the face, hands, shoulders, upper back and forearms. Doctors don't really understand why they develop, but they do know they are caused by the excess production of melanin or skin pigment and they are probably the result of skin ageing and frequent exposure to the sun.
Age spots are nothing to be concerned about; many people aged 40 and above have them and treatment certainly isn't necessary. However, because of their unattractive appearance, age spot removal is becoming an increasingly popular procedure. People want to achieve that perfect youthful-looking skin and, therefore, they often decide to undergo effective treatments such as the CryoPenTM Age Spot Removal, currently available here at Aesthetics of Essex.
CryoPenTM Age Spot Removal at Aesthetics for Essex
Here at the Aesthetics of Essex, our team of experienced therapists can effectively remove unsightly age spots, or liver spots, using the cryotherapy pen. Compared with older more traditional versions of cryotherapy, the CryoPenTM treatment leads to much better results. It is quicker, it is much more precise, it won't cause you any pain or discomfort and you may be pleasantly surprised by the cost. So why not get in touch today and find out how our innovative CryoPenTM treatment can help you!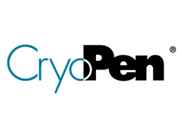 The Procedure
Before the treatment is conducted, an analysis of the treatment area will be conducted, taking into account the age, location, and size of the lesion and skin type. The duration of the treatment time will depend on the surface area and the thickness of the tissue being treated. The treatment will consist of two stages: the first freezing cycle and the second freezing cycle – this offers the best opportunity for success.
Imperfections will be removed by controlled circular movements that stay within the limits of the treatment area. The CryoPen has a penetration rate of freezing of approximately 1 mm per 5 seconds with a maximum freezing depth of 3 to 6 mm – the amount of time needed will relate to the depth of the lesion. The area will then be left to thaw (for 30 seconds) and dried with a tissue then followed by a second freeze. Some pain will be experienced during the treatment which will feel like a ballpoint is being pushed into the skin. If you are uncomfortable with the amount of pain experienced, the treatment will stop. A follow-up visit is recommended after 2 to 4 weeks to confirm that all pathological tissue has disappeared or that a follow-up treatment is necessary. Minor residual stinging may occur for a few minutes after treatment. Occasionally, a blister may also form and will last for a few hours.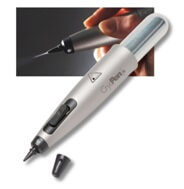 Before and Afters


Removal of wart, skin tag and blood blister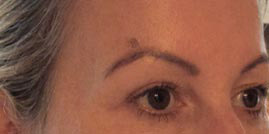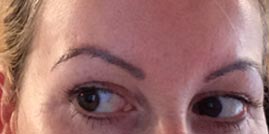 Customer results after removal of sunspot
Watch the Procedure Video
| | | |
| --- | --- | --- |
| | Procedure Time | 5-30 minutes |
| | Back to Work | Immediate |
| | Anaesthetic | None |
| | Recommended number of treatments | varies |
| | Sensitivity Period | 1-2 hours |
| | Full Recovery | Up to 4 weeks |
| | Duration of Results | Permanent |
Treatment Costs
Free consultation
From £40