A tattoo is a memory that can never be forgotten. Or is it? Often our reasons behind getting inked are the reasons behind having them removed. And, although a tattoo may have once represented deep sentimental value, tattoo removal is becoming ever more popular.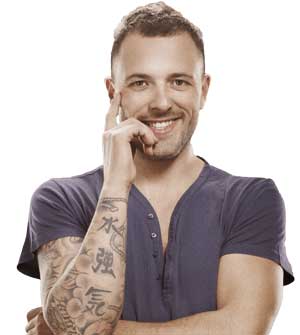 Many of our clients are happy to share the stories and reasons behind having their tattoo removed. Reasons have included; break-ups, changes in interests, career prospects and maturity.
According to research by machine manufacturer Syneron Candela, nearly four in 10 consumers with a tattoo regret having had them done – furthermore the survey revealed tattoos of partners names and those done as a joke or dare were the most regretted.
What Does The Treatment Involve?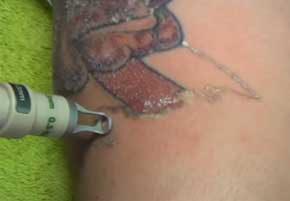 We use the Q-Switched laser that delivers light quickly in a billionth of a second. The device applies powerful pulses of energy which are absorbed by the unwanted tattoo. The resulting heat will penetrate through the top layer of skin and shatter the tattoo ink into pigment particles.
These particles are absorbed gradually by your body's immune system and result in apparent gradual fading after each treatment before complete removal. Our Q-Switch laser technology offers high efficiency at very low risk. It enables effective tattoo removal with little chance of side effects.
After your treatment you will see frosting over the pigment and the tattoo will look white. This frosting is an indicator that the laser has successfully shattered pigment. It's common to see swelling and minor inflammation and blistering after treatment.
How Many Treatments Are Needed?
To determined the number of treatments necessary for complete tattoo removal, a consultation is required with our therapist.
During this time factors such as tattoo location, size and colour, and patient's age and skin type will be considered before an estimated number of treatments is given for complete removal. Our tattoo removal treatment is especially suited to the removal of dark blue and black inks, and has the ability to remove red and orange tattoos.
Most Removed Tattoos: Top 10

1. Name of an Ex
2. Dolphin
3. Misspelt foreign quote
4. Barbed wire
5. Star
6. Butterfly
7. Chinese symbols
8. Celtic design
9. Signs of Zodiac
10. Fairy
To ensure you are a suitable candidate for laser tattoo removal treatments, contact us and book your free consultation.