This month, there's been a new challenge trending over Social Media with its own hashtag: #kyliejennerchallenge. The Kylie Jenner challenge sparked after world-wide controversy over Kylie Jenner's luscious lip transformation. Her dainty thin lips seemed to have doubled (if not, tripled) in size into a bee-stung pout over night, which has left everyone questioning whether it was down to her expert make-up skills, or – more likely – cosmetic lip filler injections?
The challenge is being attempted by thousands of teenagers who desire the same lip enhancement as Kylie. Girls and boys are sucking into shot glasses and other c—shaped containers to create a tight, vacuum suction around the mouth, which causes their lip tissue to swell significantly. This DIY method is supposedly meant to give you similar results to Lip Filler injections, unfortunately, the results posted from teenagers attempting the challenge were not as glamorous as expected…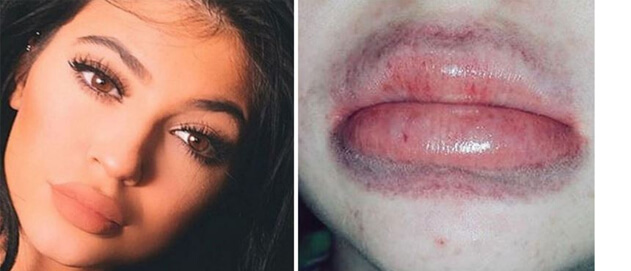 Many have experienced pain, severe bruising around the mouth, breakage of glass used to achieve the vacuum suction, and swollen, unsightly lips that have been blown up to ridiculous proportions. This amature method of lip plumping has been deemed 'unhealthy' and 'potentially dangerous' by medical experts!
Such trends are for fun, some raise awareness, and others are quite frankly unbelievable, however this challenge has highlighted the fact that many young people are prepared to take risks with DIY beauty solutions in an attempt to look like their celebrity idols (now more than ever). The Kylie Jenner challenge has even generated controversial discussion over cosmetic surgery and aesthetic treatments, such as lip fillers and anti-wrinkle injections.
Lip Enhancement Treatments
We certainly don't recommend attempting this challenge yourself. What we do recommend is that you consult with us about your desire for thicker and bigger lips. We can offer you a safe, alternative treatment that will last longer than just a couple of hours, with minimal risks, performed by our fully qualified and experienced senior nurse, Debbie Mills.
Lip filler injections are popular with many celebrities such as Geordie Shore's Charlotte Crossby and Holly Hagan. Both have recently been 'hot topics' on Social Media due to their drastic transformations on weight-loss and lip enhancement.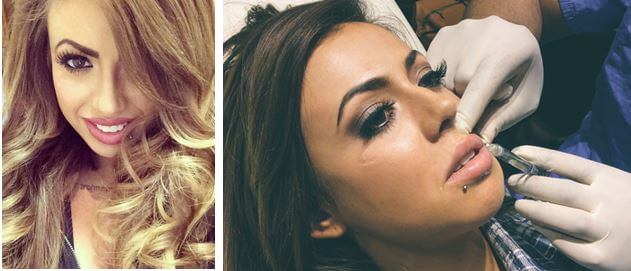 However, cosmetic treatments are no longer exclusive to celebrities. You too can add extra definition and volume to your lips with lip enhancement treatments; Lip Filler injections and Semi-Permanent lip liner. With regular top-ups, results are long lasting! Contact us on 01708 225555 for more information about our lip treatments and our special Lip Queens Offer!