It has come to our attention that local beauty businesses in Essex (especially Upminster) are offering discounted aesthetic treatments to the public. Non-invasive anti-ageing line and wrinkle fillers, dermal fillers, and lip filler injections are ALL being performed by unqualified, inexperienced beauticians. This is a major concern for us as your health and well-being is at risk. These businesses are not professionally trained or experienced in the safe practice of these treatments, however promise amazing anti-ageing results for a fraction of the average price.
Furthermore, popular coupon websites such as Groupon and WowCher are endorsing cheap aesthetic treatments (for as little as £60 in Essex) from beauty salons and independent mobile practitioners, offering pain-free dermal fillers with instant results. Be cautious – if it sounds too good to be true, it probably is.
Non-surgical facial fillers are also costly for a reason; safe practice requires a qualified Medical Aesthetic Practitioner, legal product, sterile equipment and a safe environment. Unlike Botox (used to relax muscles to prevent forehead wrinkles and frown lines), fillers are not yet legally regulated. In fact, nearly anyone can inject fillers under the law in Britain – and that's scary!
Many of the beauty therapists offering these discounts are using new, cheap brands of fillers that have not yet been legally trialled or tested. Therefore, the risks of using these facial fillers risks to health are unknown, and as a result, cost less.
Safety in Beauty
The #SafetyInBeauty campaign, launched early October (2015), was set up to spread awareness about the risks of cosmetic injections – highlighting bad practices on Social Media, offering support and educating the public about industry related topics.
Two recent articles emerged about a nurse offering a Botox lottery prize draw on Facebook, another involving a beauty therapist performing lip augmentation on her friend without sterile gloves (see image below), before her friend goes on a boozy night out.
Alarm bells should be ringing!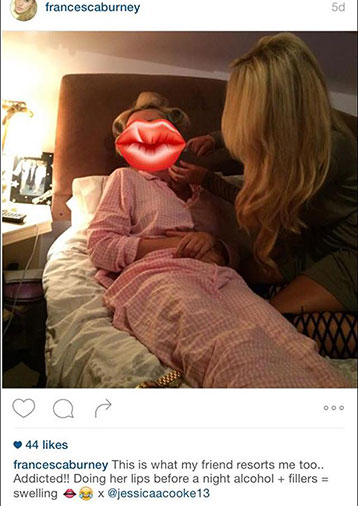 It is devastating when we read about non-surgical cosmetic treatments going wrong due to lack of care and training; botched lip jobs, severe bruising, facial asymmetry and infection are just a few of the potential risks involved.
Unfortunately far more serious complications have been reported, including facial disfigurement, blindness caused by fillers being injected into blood vessels under the eyes, even people suffering strokes where the filler has travelled all the way to the brain!
If you decide to get temporary fillers containing Hyaluronic acid (a natural protein made by the body) you can ensure your own safety by choosing a qualified Medical Aesthetician that will provide a consultation to make you aware of the risks involved.
Don't just opt for the cheapest deal you can get online. Do your research. Learn about the business, the person administering your treatment and educate yourself of the products being used before you get it done.
We recommend you attend a consultation where you can discuss the procedure, risks and results with a qualified aesthetic practitioner who has had experience and training in the treatment you're after.
We offer free no-obligation consultations for dermal fillers and lip fillers us at our Upminster clinic. Book your consultation with us and you will receive professional advice from one of our qualified practitioners.
Fillers truly are an amazing anti-ageing treatment that can completely rejuvenate your face, makeing you appear younger and boost your self-confidence. They are also cheaper than cosmetic surgery and results are instant.
Dermal fillers can be used to fill forehead wrinkles, eye creases and plump cheeks, while lip fillers can be injected into mouth lines and add definition and volume to your lips. However, they should be carefully considered as much as any other cosmetic treatment or surgery, even if you are getting it as a 'one-off'.