There is a lot of publicity around dermal fillers and treatments going wrong. And, when it comes to having dermal fillers or Botox, there are a lot of opinions that revolve around the treatments and whether or not it is right (or wrong) to have them.
However reasons behind having these non surgical treatments are often personal to the individual.
As a popular cosmetic clinic in Essex with many years of experience, our clients reasons behind having fillers have ranged from improving their appearance to correcting a-symmetry of facial features.
Our senior nurse, Debbie Mills, has performed thousands of treatments for a number of different reasons, ensuring beforehand the client is fully aware of the process involved.
The fact is dermal fillers (if administered by a fully trained professional) are a versatile substance that can be used to correct a vast number of aesthetic problems.
They are great for creating a more youthful appearance, smoothing out deep wrinkles – by plumping the skin and replacing collagen lost due to natural ageing or skin damage – and helping regain lost self confidence.
Our most popular dermal filler treatment is lip fillers. Both young and older women that desire fuller looking lips choose to have fillers – Juvederm and Restylane – injected into the lip area, adding instant volume and enhancement to their chosen facial feature.
However, whichever reason you have behind wanting dermal fillers, you have to be aware of the risks and consequences related to not having your treatment done by an experienced, qualified professional…
TV programmes like Botched up Bodies highlight the serious effects and risks that come as a result of going to untrained beauticians for cosmetic procedures. But it's important to realise most of the side effects are due to the treatment being administered by an untrained, inexperienced individuals.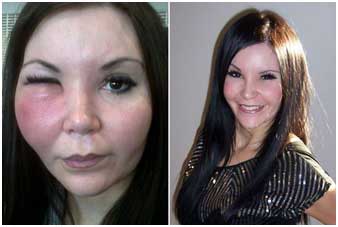 Tips for Choosing a Safe Clinic:
When having a consultation and deciding who you are going to allow have inject needles into your face, you need to be aware and consider things such as the kind of training or credentials the person has and how many procedures they have done in the past – more is better.
Do not choose based on the lowest price or convenience just because you're desperate to create a "perfect" appearance. The more experienced the practitioner, the better your experience and results will be.
Here at Aesthetics of Essex, Debbie Mills is our senior nurse injecting anti-line and wrinkle treatments, dermal fillers, and lip fillers in Essex. She has over 17 years' experience as a nurse practitioner of aesthetic medicine and trainer of Doctors and Nurses in aesthetic medicine.
Clients feel warmth and confident with Debbie's professional manner, and always comment on how pleased they are with their natural-looking results. She takes her time to advise her clients, and assesses every treatment individually. Her treatment recommendations are always based on what is suitable for your own facial structure.
Debbie isn't just popular with the women of Essex, but in UK media as well. She's seen as a high profile practitioner, with appearances in TV documentaries, radio programmes, as well as featuring in press interviews, and is highly regarded with a wide number of clients including celebrities.
All consultations for dermal fillers, lip injections and Botox are FREE at Aesthetics of Essex. Visit our clinic in Upmister to make a booking and discuss your treatment with our senior nurse or call us on 01708 225555 or contact us to book an appointment.