Got a tattoo on a whim? Maybe you didn't think through the design properly, your tastes have evolved, or your tattoo reminds you of someone you'd rather forget. We've all been there.
Whilst tattoos used to be for life, advances in technology mean that your tattoo (and the associated regret) no longer need to be permanent.
Here at Aesthetics of Essex, we can eradicate your tattoo quickly and safely using Picosure tattoo removal. Some tattoos can be removed in as few as three sessions. You need suffer your tattoo shame no longer!
Now that we've got your attention, let's talk through the finer points of Picosure tattoo removal, including the most commonly asked questions on the subject.
How does Picosure tattoo removal work?
All laser tattoo removal methods use pulses of light to break up the ink into smaller pieces, which are then absorbed and eliminated by the body.
Older laser tattoo removal technologies, such as Q-switched nanosecond lasers, have been rapidly surpassed by the Picosure laser.
Picosure tattoo removal offers more thorough clearance in fewer sessions, due to the ultra-short duration of the laser pulse. It uses multiple laser wavelengths that can break down the full spectrum of ink colours, including blue and green tattoos, which are notoriously difficult to treat.
Picosure tattoo removal also causes fewer side effects than other, older tattoo removal methods, and will not harm the surrounding skin.
What to expect during Picosure tattoo removal
The number of sessions of Picosure tattoo removal you will need will depend upon the size and colour of your tattoo.
The average tattoo takes between 6 and 12 appointments to be completely eradicated. Expect a minimum of 4 sessions, with up to 12 sessions sometimes necessary for the largest tattoos.
Does Picosure tattoo removal hurt?
We wouldn't like to mislead our clients – Picosure tattoo removal is not pain-free. Most patients describe the sensation as similar to that of getting a tattoo. If required, we will be happy to apply a cryo cooling system to help counteract the discomfort of the treatment.
After Picosure tattoo removal treatment, you can expect to experience a mild sunburn-like sensation, and sometimes temporary whitening of the skin.
The majority of patients can return to their normal routines immediately, with limited downtime required.#
Does Picosure tattoo removal cause scarring?
Scarring following tattoo removal is a common concern. Fortunately, instances of scarring after Picosure tattoo removal are very rare, occurring in only about two percent of cases.
If you do notice any scarring, it will be very light, and can easily be minimised with Vitamin E oil once your skin is fully healed.
There are several things you can do to lower the risk of scarring following Picosure tattoo removal. These include drinking plenty of water, getting a good amount of sleep and quitting smoking (if this applies), all of which will boost your immune system and assist in skin repair.
How much does Picosure tattoo removal cost?
The cost of Picosure tattoo removal at Aesthetics of Essex depends upon the size of the tattoo in question.
We offer a discount for multiple sessions, and our prices are displayed in the table below.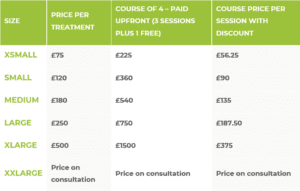 Get in touch
To see examples of the fabulous results that our clients have experienced following Picosure tattoo removal, click on the link.
If you have any questions regarding Picosure tattoo removal or any of our other services, please don't hesitate to get in touch with our friendly and knowledgeable team.
You can give us a call on 01621 491036 or send us a message using our online contact form and we'll get back to you as soon as possible.