Aesthetics of Essex are experts in pigmentation treatments. Skin pigmentation includes thread veins, red veins, age spots and sun spots.
Our treatments are always conducted after your FREE consultation to ensure you receive the best advice before any treatment begins. We use safe and effective pigmentation technology – the Harmony XL Laser – and offer quick pain-free sessions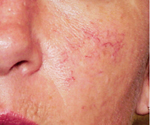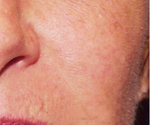 Spider vein removal treatment results
Skin pigmentation and small broken veins on the face can be the result of exposure to the sun, part of the ageing process, hormones or simply genetics.
Regardless of the cause, pigmented lesions are simply spots on the skin where there is a higher concentration of melanin. Red veins occur when small blood vessels are permanently dilated, called telangietasias.
The good news is all of these skin conditions are easily treated with the Harmony XL Laser.
The Harmony XL laser offers effective, long-lasting results without major side effects or complications. You will see an overall improvement in the appearance of your skin; its texture and colour will be smoother and more even. Experience nothing but joy with this non-invasive skin treatment for pigmentation as its both comfortable and safe!
Treatment Areas Include:
Forehead
Cheeks
Chest
Around your eyes
Upper lip
The neck area
Some patients may experience redness or swelling after treatment which will last a few days, however, this is a safe pigmentation treatment for all skin types.
Please note: This treatment is specifically designed to treat thread veins and pigmentation on the face and neck ONLY.
If you require thread vein removal or have skin pigmentation on an area of your body lower than the chest, please read about our other removal treatment for the body – Thermavein.
Thermavein treatments are safe to use on both the face and body, and can treat other skin conditions such as skin tags.
The Procedure
The procedure is relatively quick, at only 20 minutes per session.
It works by exposing pigmented lesions to short light pulses. The pulses of light sharply raise the temperature of the skin, enough to breakdown the cells containing melanin.
The body then uses it's natural healing process to replace these cells with new cells, eliminating skin discolouration.
No anaesthesia is required for this safe and effective treatment.
Pigmentation and the appearance of veins is dramatically reduced after just one treatment, so we are sure you'll be pleased. Sometimes a course of treatments is advised to achieve maximum results. The results achieveable with the Harmony XL pigmentation treatment are long lasting.
Pigmentation on the face and chest can also be reduced and lightened with special skin care products.
Skin Products for Skin Pigmentation
We recommend the following skin care products to help fade sunspots, brighten skin pigmentation and even out your skintone:
Circadia Bright White Serum – Brightens and helps to fade hyperpigmentation, including sun spots and post-pregnancy melasma – £45.
Circadia Vitamin A Gel – Contains 1% retinol which improves the signs of ageing whilst reducing the appearance of pigmentation from UV damage – £47.50
Circadia White Vein Brightener – Brightens unevenly-pigmented skin. Results are improved with the use of Vitamin C Reversal Serum – £4