Skin Peeling Treatment
A facial peel is a specialised medical lotion which, when applied to the surface of the skin, intensively exfoliates the skin by removing the outer surface to unveil a fresh layer of new skin. This type of treatment is popular with all skin types and of all ages.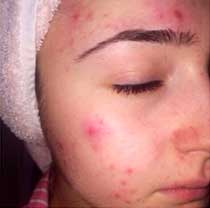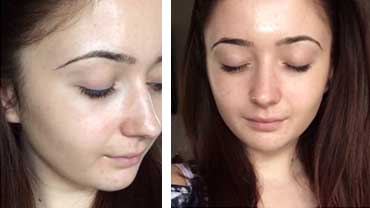 Results after 3 superficial peels and use of Glo Therapeutic products.
We provide a selection of peels which have qualities that cater for a particular skin problem. Such features include fine lines, mild scarring, certain forms of acne, hyperpigmentation, congestion and dehydrated skin.
The majority of these peels predominantly target the facial area to improve skin complexion, treat skin conditions and provide anti-ageing benefits. Our products are pharmaceutical graded and medical strength that target multiple skin conditions using natural fruit acids and highly concentrated ingredients, as well as antioxidants, to ensure healthier skin with instant noticeable results.
Some treatments can be combined with microdermabrasion to give maximum results.
Our therapists are fully trained and sympathetic to any skin condition you may be suffering with, whether it is Rosacea acne, sun damage or ageing for example. We are here to advise and provide you with information regarding homecare products and what treatments will be best suited to you and your skin.
Exclusive hand and foot treatment including Lactic Peel
Conditioning milk cleanse
Microdermabrasion to remove dead skin cells
Brightening polish
Lactic Peel
This helps to rehydrate the skin leaving you with beautifully soft hands and feet – £40.
Modified Jessner 14%
Contains effective acids designed to transform skin, reducing the appearance of melasma, freckles and acne. This chemical exfoliation is suitable for a mature, acneic, pigmented skin type. It will help to reduce fine lines and wrinkles and strengthen the skin. Directed by a medical professional.
TCA (Trichloroacetic Acid)
The TCA peel is a more intense, deeper peel that can only be done every 3 months. This medical skin exfoliation is recommended for oily skin, aging skin, sun damaged skin or uneven skin tone and texture. It will also improve the appearance of lines and wrinkles. We offer a £125 course of 3 sessions with a homecare kit (worth £200). Directed by a medical professional. Suitable for all skin types.
Flower Enzyme
Revitalizes the skin with fruit enzymes that gently remove superficial dead skin cells. Flower extracts contribute mild organic acids to gently stimulate and tone skin while providing antioxidant protection. We recommend this peel if you're experiencing dry, dull, uneven skin tone. Suitable for all skin types, including sensitive skin.
Lactic Peel 15%
An antioxidant-rich cocktail of berries that provide anti-inflammatory benefits to smooth, hydrate and brighten the skin. Suitablefor dry, dehydrated, pigmented, mature and slightly sensitive skin types. This facial uses mulbelly, bilberry and blueberry which offer a deep exfoliating action whilst maintaining moisture within the skin leaving a smoother, more plump look and reduced fine lines.
Enzyme
This facial uses fruit enzymes and salicylic acid to help break down dead cells for a smoother clearer skin. Also helps to reduce the production of oil – making it a perfect treatment for combination to oily skin tones with congestion, dehydrated skin or acne prone skin. May take up to three days to see full results.
Salicylic 30%
A rejuvenating facial that deeply cleanses pores with the help of cranberry, bio astin and totarol. Deeply cleanses pores with antiseptic properties. Treats oily, congested and acne-prone skin and balances the complexion.
Glycolic
Suitable for oily, problematic, sun damaged and mature skin. The citric fruit acids effectively rejuvenate, repair and regenerates damaged skin. Helps soften fine lines, uneven tone and texture. Glycolic 30% will take 0 – 5 days rejuvenation, 60% may take up to 10 days.
Advanced Rosacea and Acne Treatment
Oxygenising Oxygen treatment is scientifically proven to be highly effecting in improving the appearance of acne and rosacea. It reduces redness and soothes inflamed skin.
For Rosacea oxygen has been found to be very effective in controlling bacteria associated with demodex, follicularum, the common skin mite often prominent in individuals suffering from rosacea. This treatment is helpful in controlling the susceptibility to infection and further redness.
Watch the Procedure Video
Treatment Costs
Includes free consultation
Modified Jessner – £85
TCA – £450
Facial – £28 – £45
Flower Enzyme – £45 – £60
Lactic Peel – £55 – £70
Enzyme – £55 – £70
Salicylic – £55 – £70
Glycolic – £55 – £70
Rosacea & Acne – £85