HydraFacial
What is HydraFacial?
Do you want a revolutionary facial that uses state-of-the-art technology to give you a skin peel, microdermabrasion and a hydrating mask in one treatment?  Our HydraFacial treatment does just that.
Unlike other facials, HydraFacials are performed using a specialised device that extracts impurities from deep within the pores, whilst also moisturising and exfoliating.  At the end of the HydraFacial, we use LED lights to reduce redness and further stimulate collagen and Vitamin D production.  This will leave your skin glowing!
During a HydraFacial at Aesthetics of Essex, your skin will be replenished with essential nutrients.  These include hyaluronic acid and antioxidants, which will tone your face, reduce wrinkles and help to prevent environmental damage.
If you struggle with acne, blackheads, scarring or clogged pores, a HydraFacial is the perfect treatment for you.  Excess oils which contribute to acne will be removed, and the deep exfoliation, salicylic acid and glycolic acid peels will greatly improve facial scarring.
All treatments are carried out by fully qualified and experienced aestheticians.
Introducing HydraFacial
Treatment time: 45 minutes
Visible results: Reduces fine lines, wrinkles and scarring, and gives skin a healthy glow.
Price: From £130
How does a HydraFacial work?
Unlike traditional facials or chemical peels, there is no uncomfortable squeezing or peeling with a HydraFacial; it feels like a light, relaxing massage.  The HydraFacial works by using suction to unblock your facial pores, and introducing active serums deep into your skin whilst the pores are still open.
All of the impurities collected from your skin are sucked into a bottle attached to the machine, so you can see the results instantly!
What does the HydraFacial treat?
The HydraFacial is capable of reducing the appearance of:
Tired and dull skin
Fine lines and wrinkles
Irregular skin pigmentation and hyperpigmentation (age spots)
Uneven skin tone and texture
Oily, congested, blemished skin
Enlarged pores
Spots
Does HydraFacial have side effects?
Aside from a little redness for about an hour after treatment, the HydraFacial procedure doesn't have side effects.   We advise that you avoid wearing makeup after the treatment because of the softness of the skin but can continue to do your everyday tasks.
The steps of HydraFacial at Aesthetics of Essex
Step 1 – A specially formulated draining technique helps increase circulation to the skin and eliminates toxins.
Step 2 – Skin is cleansed and exfoliated.  Dead skin cells and impurities are gently removed for a deep cleaning result.
Step 3 – A gentle brightening agent, containing a solution of glycolic and salicylic acid, helps to loosen any remaining debris from your pores.
Step 4 – Blackheads are then gently extracted using honey extract and salicylic acid.
Step 5 – Your skin will then be plumped and hydrated with a combination of hyaluronic acid, antioxidants and peptides.
Step 6 – Finally, LED light is used to stimulate collagen production and reduce any redness, leaving your skin glowing.
If your skin needs instant hydration and rejuvenation, get your HydraFacial booked in today!
To arrange your appointment for a HydraFacial in Essex, please contact us online or call us on 01708 225555.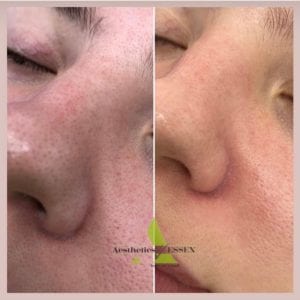 Recommended Treatments
HydraFacial