Testimonials
"Had an amazing facial today, would like to thank Amanda and Sarah, feel really relaxed, highly recommended!! Great new salon in Howard Road, Upminster xx – with Aesthetics of Essex" Victoria Bloomingdoyles
Does your skin look puffy or too loose? Or are you just generally in need of some TLC? Give your skin a boost of life with one of our nourishing facial treatments – no need for harsh chemicals, lasers or surgery.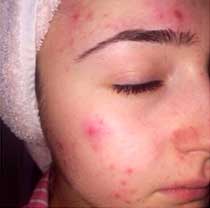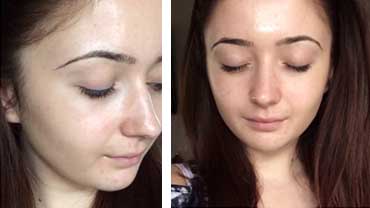 Results after 3 superficial peels and use of Glo Therapeutic products.
We understand that feeling good in your own skin is something we all strive to achieve. Your skin is the largest organ in the human body, so it makes sense that it needs plenty of care and attention to keep it in peak condition.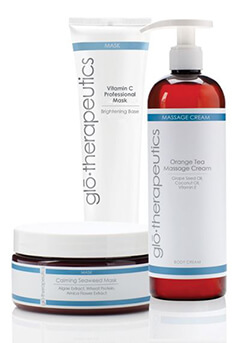 Most people lack the right products and knowledge on how to properly care for their individual skin type and as a result, their complexion suffers.
We use Glo-Therapeutics skin care products with our facials. These products have been specifically designed to treat multiple skin concerns such as hyper pigmentation, sun damaged skin, rosacea and acne prone skin, deep lines and wrinkles.
Our facial masks and chemical exfoliants are perfect for those of you who desire a clearer complexion, and who want to rejuvenate and refine uneven skin tone and texture.
Some Glo products we use are available to purchase as a home skin care kit. This can further improve results post-treatment! Please contact us for more information.
All of our products are pharmaceutical graded and contain natural fruit acids and high levels of anti-oxidising ingredients – these help to slow down the ageing process in the skin and stop bacteria and oils from building up. They come in a variety of consistencies, such as oils and lotions, which suit different skin types; clients with dry skin may benefit from a cream or oil, acne clients from a gel and so on. None of our products leave heavy residues.
Our qualified therapists use relaxing facial massaging techniques to instantly boost collagen activity under the skin to increase plumpness, whilst our products help to cleanse and improve tone and texture. Results can be seen after your very first session!
Facial Masks
Vitamin C Professional MaskRich in L-asorbic Acid, this intensive treatment softens hyperpigmentation and revitalizes the skin, delivering a brighter, luminous complexion.
Calming Seaweed MaskRich in L-asorbic Acid, this intensive treatment softens hyperpigmentation and revitalizes the skin, delivering a brighter, luminous complexion.
Cucumber Gel MaskRecommended for sensitive or dehydrated skin. Reduces inflammation using naturally calming ingredients designed to refresh, soothe and decrease transepidermal water loss. Also relieves puffiness and helps to tone the skin, reducing visible fine lines and wrinkles.
Orange Tea Massage CreamNourishes skin with vitamins and botanicals recommended for all skin types and conditions. Contains anti-inflammatory, antioxidant properties and creates a sensory relaxation experience.
What is my skin type?
Your skin type is base on how much oil is produce in the follicles from the sebaceous glands, the amount of lipids found between the cells and how large the pores are in the T-Zone and throughout the face. Find out more about skin types and discover yours in our blog.
Treatment Costs
Starting from £50